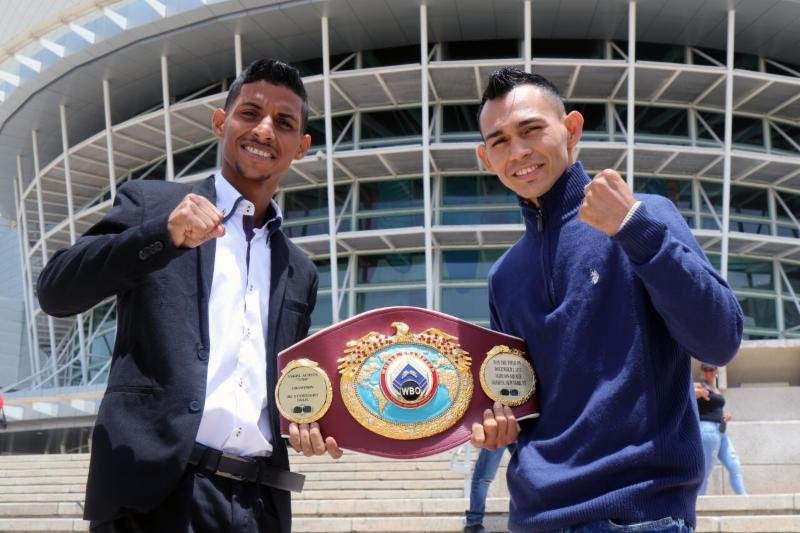 The final "La Batalla" press conference was held today in advance of this Saturday's pay-per-view card, headlined by the 12-round main event between World Boxing Organization (WBO) Light Flyweight World Champion Tito Acosta (17-1, 17 KOs) and challenger Carlos "Chocorroncito" Buitrago (30-3-1, 17 KOs), airing live on PPV from the Coliseo de Puerto Rico Center in Hato Rey, Puerto Rico.
La Batalla: Acosta vs. Buitrago is presented by Miguel Cotto Promotions, and H2 Entertainment, in association with DIRECTV Puerto Rico.
Integrated Sports Media is distributing the La Batalla: Acosta vs. Buitrago card in the United States on cable, satellite and digital pay-per-view via iN Demand, Vubiquity, DIRECTV, DISH and live-streamed worldwide (excluding Puerto Rico.on the FITE.TV app and website (www.fite.tv), starting at 9 p.m. ET / 6 p.m. PT, for a suggested retail price of only $34.95.
PRESS CONFERENCE QUOTES
Tito Acosta: "I am very excited about this Saturday night's fight. I've been training really hard to get a big win over Buitrago. I only have one thing to tell him about Saturday: he will fail to capture the title and I will remain as a world champion in front of all my fans in Puerto Rico."
Carlos Buitrago: "I feel healthy and strong. I had a very intense camp I came here with my mind clear and focus with my dream of becoming a world champion this victory is for my country of Nicaragua"
PPV BOUT SHEET
MAIN EVENT – WBO JUNIOR FLYWEIGHT WORLD CHAMPIONSHIP (12)
Tito Acosta (17-1, 17 KOs), Champion, San Juan, Puerto Rico
vs.
Carlos "Chocorroncito" Buitrago (30-3-1, 17 KOs), Challenger, Managua, Nicaragua
CO-FEATURE – JUNIOR WELTERWEIGHTS (8)
Kevin Nieves (12-1-1, 5 KOs), Comerio, Puerto Tico
vs.
Jean C. "Lobo" Torres (10-0, 7 KOs), Trujillo Alto, Puerto Rico
FEATHERWEIGHTS (8)
Bryan Chevalier (9-1-1, 8 KOs), Bayamon, Puerto Rico
vs.
Ricardo Rodriguez (10-2-1, 6 KOs), Mayaguez, Puerto Rico
SUPER FEATHERIGHTS (6)
Edwin "Chin" Valentin (4-0, 4 KOs), Salinas, Puerto Rico
vs.
Pedro Vincente (5-1, 2 KOs), Mayaguez, Puerto Rico
(all fights & fighters subject to change).
WBO: Officials Named for Title Bout Between World Champion Ángel Acosta and Carlos Buitrago
The World Boxing Organization (WBO) announced the officials for this Saturday, June 16, clash between WBO Jr. Flyweight Champion, Angel 'Tito' Acosta, from Puerto Rico, and ranked No. 10 by this sanctioning body Carlos 'Chocorroncito' Buitrago, from Nicaragua, in a scheduled 12 rounds bout.
The world title match will take place at the Coliseo de Puerto Rico in San Juan as the main event of a boxing evening presented by the Cotto Promotions. The Puerto Rican Luis Pabón will be the referee of the clash. Pabón is a veteran of over 400 professional boxing fights, including 168 world titles bouts.
The Coliseo de Puerto Rico, was the scene of Miguel Cotto's first world championship, when the today's promoter was crowned WBO Jr. Welterwweight Champion on September 11, 2004 after defeating Kelson Pinto, of Brazil, by technical knockout in the sixth round.
Puerto Rican Jerry Martinez of Guaynabo and from the United States, Rocky Young, of Florida, and William Lerch, of Illinois, were appointed judges for the bout. The WBO Supervisor will be WBO President of the Classifications Committee Edgardo López Sasso, Esq.
For Acosta (17-1-1, 17 KOs), it will be his first world title defense of the title he won last December by knocking out Mexican Juan 'Pinky' Alejo in the tenth round. On his part, Buitrago (30-3-1, 17 KOs) has held the WBO Youth and Latino Mini Flyweight titles.