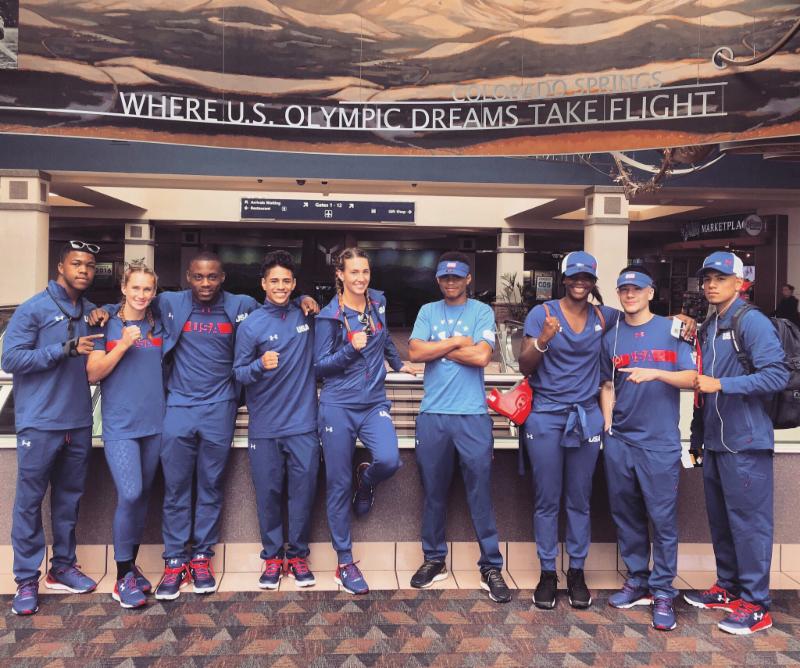 The United States Boxing Team has arrived safely in Rio de Janeiro in preparation for the 2016 Olympic Games. The eight qualified athletes and their coaching and support staff touched down at Galeao International Airport in Rio de Janeiro at approximately 12:30 p.m. local time today after departing at approximately 3:30 p.m. MT from Colorado Springs on Tuesday.
The U.S. squad will now complete their Olympic preparations in a final acclimation camp on the ground in Rio de Janeiro before the start of competition on August 6 at the Riocentro Pavilion. Prior to their departure on Tuesday, the squad wrapped up their domestic training camp on Monday morning at the Olympic Training Center before a special celebration at the facility's newly renovated Visitors Center. Hundreds of fans lined up to meet the athletes, wish them luck at the Olympic Games and grab an autograph or snap a photo with their favorite Olympic boxer.
Prior to their send-off on Monday evening, the U.S. team received a special package of clothing and shoes as well as their competition gear from USA Boxing apparel sponsor Under Armour. The team spent Tuesday morning packing up and departed the Olympic Training Center for the airport at approximately 1:40 p.m., on Tuesday.
2012 Olympic gold medalist Claressa Shields (Flint, Mich.) and Women's Head Coach Billy Walsh (Colorado Springs, Colo.) are both heading back to the craziness of the Olympic Games, having experienced the world's biggest sporting event previously. Shields won gold in the Olympic debut of women's boxing in London and Walsh competed in the 1988 Olympic Games for his native Ireland and has previously worked the Olympic Games as member of the Irish coaching staff.
Male light flyweight Nico Hernandez (Wichita, Kansas), male flyweight Antonio Vargas (Kissimmee, Fla.), male bantamweight Shakur Stevenson (Newark, N.J.), female lightweight Mikaela Mayer (Los Angeles, Calif.), male lightweight Carlos Balderas (Santa Maria, Calif.), male light welterweight Gary Antuanne Russell (Capitol Heights, Md.) and male middleweight Charles Conwell (Cleveland Heights, Ohio) are all competing in their first Olympic Games in Rio de Janeiro.
Support coaches Joe Guzman (Colorado Springs, Colo.) and Israel Acosta (Milwaukee, Wis.) are heading back to familiar territory at the Olympics. Guzman joined the U.S. squad as a training partners coach at the 2012 Olympics and Acosta was a member of the 2000 U.S. Olympic Coaching Staff. USA Boxing High Performance Director Matthew Johnson (Colorado Springs, Colo.) has joined the squad as Team Manager and athletic trainer Dana Johnston (Colorado Springs, Colo.) and Dr. Robert Nielson (Saratoga Springs, N.Y.) will help keep the athletes healthy during their time in Brazil.
Olympic boxing competition will run from August 6 – August 21 at the Riocentro Pavilion 6. For a full schedule of Olympic boxing competition by day and weight class click here. A full list of U.S. athletes by the abbreviation as noted on the online schedule (kilograms) is below.
W 60 – Mikaela Mayer
W 75 – Claressa Shields
M 49 – Nico Hernandez
M 52 – Antonio Vargas
M 56 – Shakur Stevenson
M 60 – Carlos Balderas
M 64 – Gary Antuanne Russell
M 75 – Charles Conwell