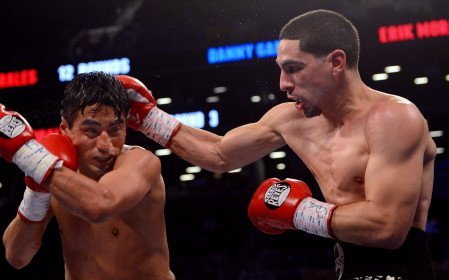 Blog Talk Radio's, "The Pugilist KOrner's: Weekend Wrap" is proud to present a special tribute to Erik "El Terrible" Morales tonight at 9:00 PM EST.
Pugilist KOrner listener line: 718-506-1506
On tonight's broadcast, we will be dissecting this weekend's big action, including Garcia/Morales, Malignaggi/Cano, Quillin/N'Dam, Alexander/Bailey, and much more.
During the 2nd half hour, "The Pugilist KOrner" is honored to feature elite level trainer Ronnie Shields. The expert boxing proponent will give us his take on this week's fight action and boxing related news. Mr. Shields will also discuss future events on the upcoming boxing calendar.
Throughout the final half hour of the program, expert fight strategist James Gogue will break down proposed match-ups between Peter Quillin and the top fighters at 160 pounds. The master strategist will analyze keys to victory for all fighters discussed. Mr. Gogue will also examine future pairings for Danny "Swift" Garcia in the ultra competitive Junior Welterweight division.
All listeners are encouraged to call in to "The Pugilist KOrner" to share your thoughts on anything boxing. To be a part of the show, please call in with 718-506-1506 (Don't forget to dial 1 to be placed in the hosts' cue). All questions and comments are welcomed.
Tonight's show will be hosted by Radio commentator James King and Boxing writer and announcer Joseph Herron.
To listen to the "Pugilist KOrner", simply use the following link:
Tune in tonight to the "Pugilist KOrner"!!