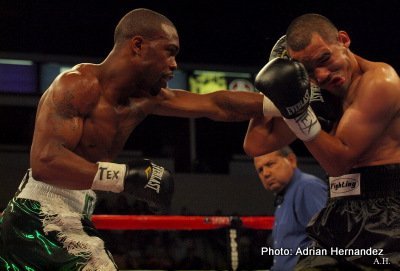 Blog Talk Radio's "The Pugilist KOrner" is proud to present Featherweight prospect and former Olympian Mr. Gary Russell Jr, expert trainer and former Light Heavyweight contender "Iceman" John Scully, and talented, young fight trainer from Salinas, California, Sam Garcia.
Pugilist KOrner listener line: 718-506-1506
"The Pugilist KOrner" is honored to feature Featherweight prospect and former 2008 Olympian Mr. Gary Russell, Jr. (20-0, 12 KOs). The DMV resident will discuss his upcoming Showtime appearance on Friday, November 9th, at the Fantasy Springs Resort & Casino in Indio, California. The talented young fighter will headline a very special "Olympic" themed event, which will also mark the pro debut of several members of 2012 American Olympic squad in London, England.
"The Pugilist KOrner" is also proud to welcome back to the show, former Light Heavyweight title challenger and world class trainer "Iceman" John Scully. The Hartford, Connecticut, born fight proponent will discuss the future of Mr. Bad Chad Dawson, and also share his thoughts on the upcoming Ward/Pavlik super fight in January of 2013. The "Iceman" will also give us his insight into various relevant issues in the current world of boxing.
Also making his return to the "The Pugilist KOrner" will be talented young fight trainer and astute boxing proponent, Mr. Sam Garcia of Team Garcia Boxing out of Salinas, California. Sam will be helping us review the entire November 10th boxing agenda, which includes Mares/Moreno, Martirosyan/Lara, as well as the returns of Alfredo Angulo and Mikey Garcia.
Tonight's show will be hosted by Radio commentator James King with Boxing writer and announcer Joseph Herron.
To listen tonight's two hour program, please copy and paste the attached link:
Tune in tonight to "The Pugilist KOrner"!!