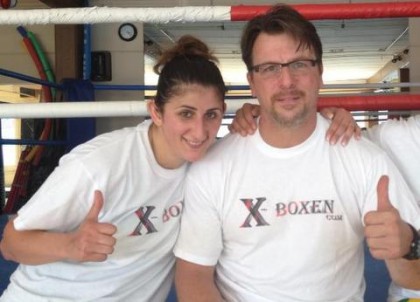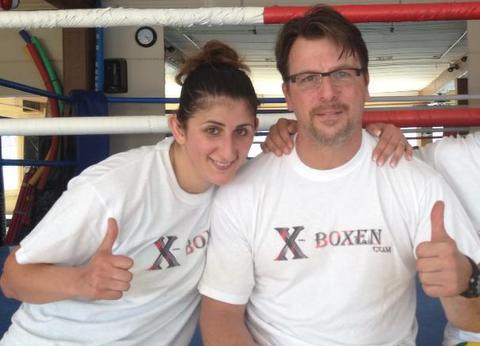 One of the most amazing comeback stories in boxing history will continue when Rola El Halabi (11-1, 6 KOs) goes for the vacant World Boxing Federation Womens World Light Welterweight title on August 3 at the 5500 capacity open-air Laubach Arena in Laubach, Germany.
In April 2011 she was shot in hands, knees and feet by her estranged stepfather, just minutes before a world championship fight, and she was never expected to box again, and certainly not competitively at world level.
But in January of this year she did return to the ring, and immediately proved her miraculous comeback was not just for show when she put on a great performance against Italian Lucia Morelli for the WBF World Lightweight crown.
While she didn't win that night in Neu-Ulm, she put on such a spirited effort that her stock rose in defeat as she got the short end of a majority decision. So close, but not quite there.
She has since published a book about her struggles, but the fairytale is nowhere near over. On August 3 it continues when El Halabi squares off with former European title-challenger Dalia Vasarhelyi (4-3, 0 KOs) from Hungary, and this time she must be considered the favourite to finally win a WBF World Championship.
Having prepared diligently for the fight, sparring with the aforementioned three-time world champion Lucia Morelli among others, 28-year-old El Halabi is determined to bring the world title back to her hometown of Ulm, less than an hours drive from Laubach, saying:
"After the loss to Morelli I promised my fans to return and win a world title for them, and this is what I will do on August 3. My fans have supported me so much over the years, so this fight is as much for them as it is for me and my team."
Once again, just as was the case with the Morelli fight in January, no matter the outcome Rola El Halabi is already a winner in life. However, it seems that she will not be content with just fighting for the world championship, she wants to win it this time!
Boxnight Laubach will be promoted by Thomas Dillenz and his KnockOut Laubach.