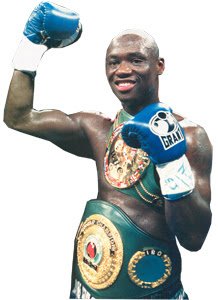 The International Boxing Hall of Fame announced today Antonio "Magic Man" Tarver will be in Canastota to participate in 2018 Hall of Fame Induction Weekend festivities set for June 7-10th and celebrate the enshrinement of his close friend Winky Wright.
Antonio "Magic Man" Tarver
"During his reigns as world champion Antonio Tarver brought tremendous excitement to the sport of boxing," said Hall of Fame director Edward Brophy. "We are thrilled that he will be in Canastota to be part of the 2018 activities with fans from around the world."
Fighting out of Tampa, FL, Tarver capped an impressive amateur career by capturing light heavyweight bronze for the USA at the 1996 Olympic Games. As a pro he would capture multiple light heavyweight championships (WBA/ WBC / IBF / IBO) and the IBO cruiserweight title. Tarver scored wins over Reggie Johnson, Eric Harding, Montell Griffin, Roy Jones Jr., Glen Johnson, Clinton Woods and Danny Green among others. In his last contest, he drew with Steve "USS" Cunningham in 2015. Tarver, who portrayed Mason Dixon in Rocky Balboa in 2005 opposite Sylvester Stallone, owns a professional record of 31-6-1 (22 KOs).
"Great 2018 class of inductees! I'm especially looking forward to my good friend Winky Wright's induction. See you in Canastota for 2018 Hall of Fame Weekend!" said Tarver.
Many events in "Boxing's Hometown" of Canastota throughout the four-day celebration are planned, including a 5K Race / Fun Run, golf tournament, boxing autograph card show, VIP Cocktail Reception, Parade of Champions and the Official Induction Ceremony on the Hall of Fame Museum Grounds. The Hall of Fame Weekend evening events include Friday night's Fight Night at Turning Stone and Saturday's Banquet of Champions. Both events will take place at Turning Stone Resort Casino.
The Class of 2018 includes boxers Vitali Klitschko, Erik Morales, Winky Wright and Sid Terris; ring announcer Johnny Addie, promoters Lorraine Chargin and Klaus-Peter Kohl and broadcasters Steve Albert and Jim Gray.
An impressive list of over 35 boxing greats from the United States and abroad are scheduled to participate in weekend festivities.
For more information on the Hall of Fame's 2018 Hall of Fame Induction Weekend, please call the Hall of Fame at (315) 697-7095, visit online at www.ibhof.com, on Facebook at www.facebook.com/InternationalBoxingHallofFame and on Twitter at www.twitter.com/BoxingHall.