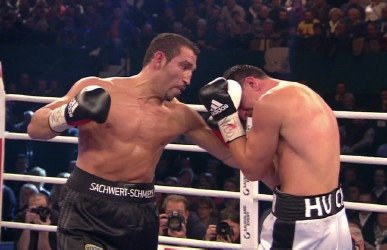 Just a few weeks ago, Firat Arslan fought the fight of his life against WBO cruiserweight champion Marco Huck. Only the judges prevented that Arslan became a two-time world champion when he lost a disputed decision against Huck on November 3rd. But, instead of resting and mourning after the controversial defeat, Firat Arslan will be back in the ring on Saturday, December 1st 2012 at the "ran Boxen: Die Super Fight Night – powered by Felix Sturm" boxing event in Dusseldorf, Germany. He took the fight only on a two-day notice. "He agreed to fight immediately after Ruslan Chagaev pulled out of his fight", promoter
Felix Sturm said. "I have an enormous amount of respect for Firat Arslan. He is a true warrior." The 42-years old former champion is happy to showcase his skill, despite the short break: "It's a great opportunity to be back in the ring just weeks after the Huck bout. I'm excited and ready for Saturday." Arslan will face Alex Mogylewski, 27, from Aachen, Germany.
The main event of "ran Boxen: Die Super Fight Night – powered by Felix Sturm" will feature Susi Kentikian's conquest to become world champion again. The "Killer Queen" will try to win the vacant WBA title at Flyweight against American Carina Moreno – live on SAT.1. The "Killer Queen" held three championship belts until last May, when she lost a disputed decision. "This is all or nothing for me", the 25-years old Kentikian, who is fighting out of the Sturm Box-Promotion stable since October 2012, said. "I will prove how strong I am and will do everything to win my titles back, one by one. I'm as motivated as they come and I guarantee a clear outcome."
The event will be broadcasted live by SAT.1, starting at 11PM/CET, and on ran.de, starting
at 8PM/CET.
###
Weights from Dusseldorf
Main Event (Vacant WBA Female Flyweight Title):
Susi Kentikian (50.3 Kg / 110.89 lbs) vs. Carina Moreno (112 lbs)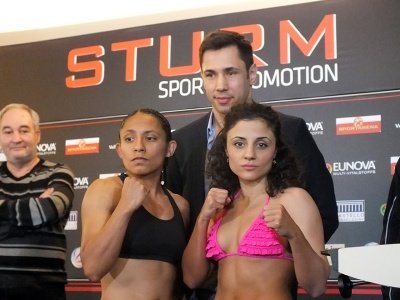 Cruiserweight Special Attraction:
Firat Arslan (TBA) vs. Alex  Mogylewski (TBA)
(Both fighters will weigh in later today)
German Light Middleweight Title:
Mike Keta (68.8 Kg / 151.68 lbs) vs. Andreas Reimer (68.7 Kg / 151.46 lbs)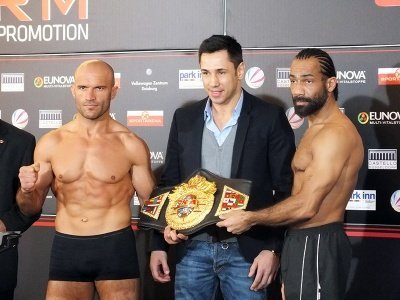 Light Heavyweight Bout (Scheduled for 6 Rounds):
Patrick Dobroschi (79.8 Kg / 175.93 lbs) vs. Roman Javoev (78.6 Kg / 173.28 lbs)
Heavyweight Bout (Scheduled for 6 Rounds):
Adnan Redzovic (105 Kg / 231.49 lbs) vs. Ladislav Kovarik (TBA)
(Kovarik will weigh in later today)
Super Middleweight Bout (Scheduled for 4 Rounds):
Alex Born (76 Kg / 167.55 lbs) vs. Piotr Tomaszek (74 Kg / 163.14 lbs)
Also on the card will be a K1 Special Attraction, when Remo Arns and Jonny Keta battle for Arns World Title in a rematch of an explosive encounter earlier this year.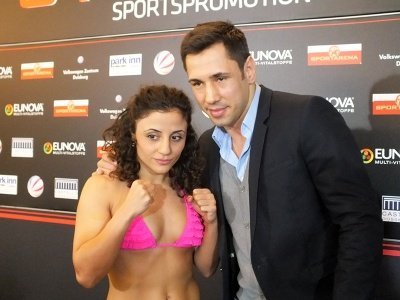 ###
Susi Kentikian Public Workout Photos and Videos
Photos by Team Sturm: Former Female World Champion Susi Kentikian in a public workout three days before her WBA title fight against Carina Moreno. The bout will be aired live on SAT1 in Germany at 23:00 local time. Felix Sturm presents the "ran Boxen: Die Super Fight Night" boxing event on December 1st 2012 at the CASTELLO in Dusseldorf, Germany featuring Susi Kentikian as she faces Carina Moreno for the vacant WBA Flyweight Championship. Former Heavyweight Champion Ruslan Chagaev will face Yakup Saglam after Mike Perez pulled out due to injury.