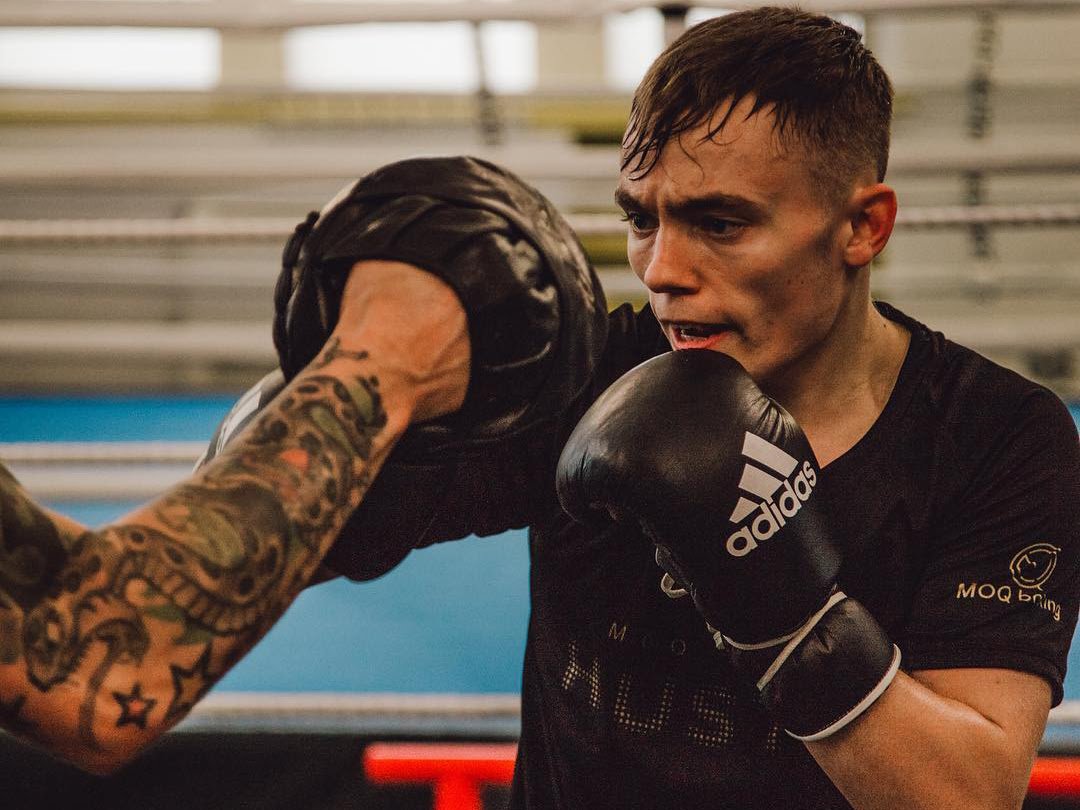 Ryan Farrag believes the conduct of Sunny Edwards and his brother Charlie suggest victory – and the WBO European super-flyweight title – is already his.
The Edwards brothers both had plenty to say to Liverpool's Farrag at Thursday's weigh-in and the challenger was quick to claim a psychological edge ahead of Friday's clash at York Hall – live on BoxNation.
Farrag said: "Sunny might be able to do what he wants to do what he wants to do for two or three rounds but then it's all going to be my fight after that.
"I can see that I've won the fight already before I've even got in the ring. I've been where he is before – a champion defending a title. I know what the pressure's like but he's let his emotions get the better of him. I'm going to control him and then hurt him.
"That there was Charlie protecting his little brother because he needs protecting. They're not confident in Sunny's ability. I tried to get the Charlie fight a couple of years ago and he didn't want it. He's never said a peep to me so I was quite shocked he piped up today.
"I'll shake Sunny's hand after the fight because I'm a true sportsman. If he wants to make it like this, I'll go with him on that but afterwards I'll shake his hand like a gentleman."
A stellar line-up also sees world-ranked welterweight Michael McKinson take on local hero Sam McNess, Cuban starlet Neslan Machado bid for a WBA ranking title, the unbeaten Johnny Coyle face Arvydas Trizno and much more.
Edwards: I'll Call The Shots
SUNNY EDWARDS INSISTS it will be his decision alone when it comes to setting the tempo for his big BoxNation bill-topper against Ryan Farrag at York Hall on Friday evening.
The 22-year-old defends his WBO European flyweight title against the 30-year-old former European champion in a match-up that has caught fire across social media platforms, with hostilities being exchanged on almost a daily basis.
"I see this fight playing out in one of two ways and really it is down to me to decide which way it goes," reasoned Sunny, who is entering into his ninth professional fight. "Don't get me wrong, I see him as a tough fighter in the sense that he'll be there and he will look to have a go in every round – he won't go missing or hide.
"But, if I stick to my boxing and moving, which I think I've displayed in certain fights and everyone in the gym knows I can be an absolute nightmare in that if I don't want to get hit, I will not get hit. For sure, I honestly believe hand on heart, I could completely outbox him for ten clear rounds no question about it.
"However, I've worked on a lot of things and I am a much changed fighter from what I was in the amateurs and even the last year. So I'll be looking to seize opportunities where perhaps before I didn't and, of course, I am headlining a BoxNation show so I am looking to put on a performance.
"I know he thinks I will be running away for the whole fight, but that is just that boxer vs fighter mentality where, when they lose, they can just say 'he ran away from me for ten rounds'. I just use ring skills."
Edwards went on to explain in his Fighter Diary column on www.frankwarren.com that he had no intention of kicking off an anti-social media campaign against his opponent when the fight was called, but an online olive branch was swiftly rebuffed by the 19-3 Farrag.
"He is a big step up for me, I know that. The three fights he's lost were against two world champions and a European champion, so he is a good fighter.
"Yes things have got disrespectful but, being completely honest, when the fight was made the day after the board ordered for him to fight Jay Harris for the British title, so it looked like I was going to have my biggest fight snatched away from me. So I messaged him saying I respected him for taking the fight and wished him the best in camp.
"I tried to be respectful because, at the end of the day, we both know the fight had enough interest that we didn't need any nonsense. It is a good level fight, hence the headline status without question.
"He then replied 'thanks squirrel face'. After that I thought 'this is gonna be fun then' and it set the tone for what has happened since."
WBO European super-flyweight king Sunny Edwards welcomes the threat posed by the experienced Ryan Farrag at York Hall on Friday night.
A lengthy verbal battle will end when the pair trade blows live on BoxNation – topping a card that includes world-ranked welterweight Michael McKinson against Sam McNess, the unbeaten Johnny Coyle and a host of promising debutants.
Farrag (19-3-KO5) presents a significant step up for Edwards (8-0-KO3) but the champion is relishing the prospect of exploring his own ability under a sterner examination.
Edwards said: "I'm just 22 and a lot of people respect me for taking a fight like this so early. I could build slowly but that doesn't stimulate me mentally or physically. I don't want it easy. If I had it easy, I'd fall out of love with the sport very quickly.
"I've stopped kids that a lot of fighters have been taken the distance by and there's no buzz there. There's no hair on the back of my neck standing up as I'm waiting to get in the ring. Fights like the Farrag one give me that. They're the ones I want because those are the ones that will help me improve.
"If Farrag beats me, my level will be shown. What's wrong with your level being shown? You get in the same fighter as you get out – everything else is just a mental image.
"The opportunity beyond it is my driving force rather than the actual defence of the title here.
"In the next 12 months, I want to push on. I'm looking at titles. I want that British title. I don't want to be stagnant. It's already hard for me to get opponents, though, and I see it getting harder once I put in a good performance against Farrag.
"This will boost my world rankings as he's been world-ranked in the division above. I don't think I'm ready for world title fights yet. I need a good two or three more years at least to mature, strengthen and grow in the professional game. I'll take domestic level fights with both hands at this stage though.
"Despite being an eight-times London champion growing up, I never had the honour of fighting in York Hall so this will be the first time in over 50 fights I'll have fought there. I'm really buzzing to be headlining it live on TV.
"Everything has fallen together. There are some really good fighters on the card – Johnny Coyle and the Michael McKinson vs. Sam McNess fight and there are five debutants including the Uzbek Olympians. It's good that MTK Global is giving these fighters a UK platform because it's one of the biggest fanbases.
"It's a massive show with good fighters from top to bottom. It's a top Friday night of boxing."
BUY TICKETS TO #CAPITALGAINS: mtkglobalstore.com/tickets
Stay up to date at mtkglobal.com and on social media @mtkglobal