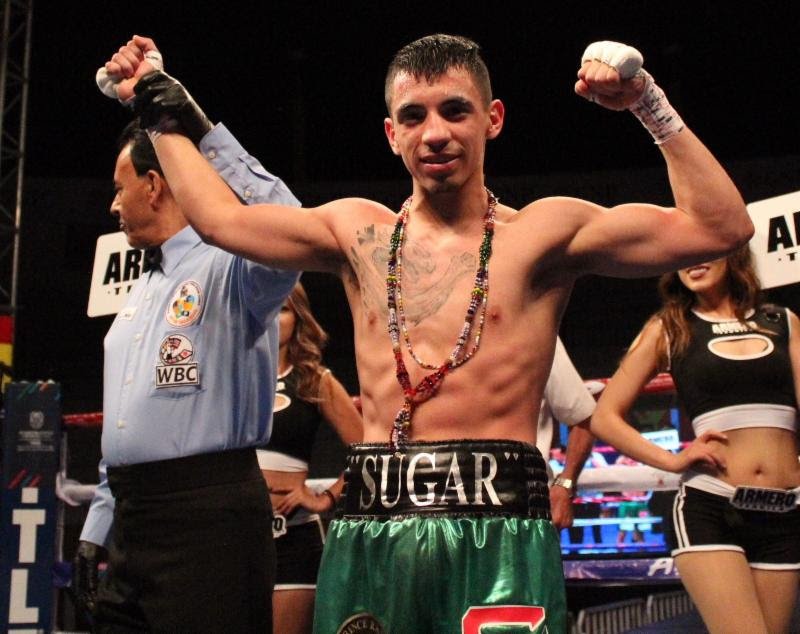 Unbeaten super-flyweight prospect, Damien "Sugar" Vazquez (14-0, 7 KOs), who recently captured the WBC Youth title in his last bout against Luis Golindano (9-1, 6 KOs), is looking to take his career to the next level.
"I really like what Tom Loeffler is doing with the "SuperFly" series," said Damien Vazquez, who is managed by Prince Ranch Boxing's Greg Hannley. "It's giving fighters like myself, who fight in the smaller weight classes, the exposure needed to garner the proper attention from the TV networks. As we all seen, Roman "Chocolatito" Gonzalez stormed on to the scene with a brilliant performance when he first fought on HBO. Before he got dethroned by Wangek, he was considered one of the best pound-for-pound fighters in the world. I'm working my way to getting on that level."
With two fights under his belt in 2018, Vazquez is looking to close strong with a few more fights by the end of the year. As a standout amateur, Vazquez had an outstanding record of (86-3, 46 KOs), in addition to beating seven national champions.
"At only 21-years old, I feel that I've learned a lot about being a pro, since I turned professional at age 16," Vazquez continued. "I still have a lot to learn, but my boxing IQ is getting better as I'm in the gym on a consistent basis. My trainers Bones Adams and Joel Casamayor are teaching me how to sit on my punches more, and its making a big difference in my power. I'm hoping to get into another meaningful fight by the end of the year."
JOHNNY "THE HITMAN" HERNANDEZ MAKES HIS COMEBACK TO THE PARAMOUNT ON JUNE 8TH
OHNNY "THE HITMAN" HERNANDEZ (8-3 1KO) makes his homecoming on June 8th at The Paramount in Star Boxing's "Rockin' Fights" against JUAN de la CRUZ RODRIGUEZ (8-8-1 7KO'S) of Haymarket, Virginia. Hernandez is coming off of a tough majority decision loss to Anthony Laureano at Star Boxing "SLUGFEST at the SUN" in November, and is looking to get back in the win column on June 8th.
In his fight against Laureano, "The Hitman" put on a pace and pressure that kept the crowd on their feet round after round. Fans in attendance witnessed Hernandez's determination and ability to provide non-stop action throughout the entire six round contest. Although he would not come out on top, Hernandez kept it extremely close, losing by a majority decision.
Hernandez has seen much success fighting in front of his hometown Huntington fan base, at The Paramount. Making his pro-debut in 2014, Hernandez has appeared nine-times at The Paramount, earning seven victories.
"The Hitman" has earned the name, based on his fighting style, as he is unafraid to exchange with anyone in the center of the ring. Hernandez utilizes a smart fighting style, picking his spots to unleash his hands.
Across from Hernandez will be veteran JUAN de la Cruz RODRIGUEZ, who returns to the Paramount looking for vengeance. Rodriguez is no stranger to getting fans off their seats. In September of 2017, the Virginia native went against a tough and upcoming, Maynard Allison (then, 9-1). Rodriguez was relentless with his pressure and continuously poured it on Allison throughout the match. Finally, the fight had to be stopped in the second round, giving Rodriguez the TKO victory.
Rodriguez is coming off a TKO loss to Danny Gonzalez at Star Boxing's "Rockin' Fights" in March. Rodriguez and Gonzalez were pitted in a grudge match, until a flurry of punches landed on Rodriguez caused the referee to call a stop to the action.
Both fighters have their eyes set on getting back into the win column in this scheduled six-round bout.
The Undercard:
Also included on the undercard are undefeated New York prospects, Tyrone James (7-0 3KO's), MICHAEL STOUTE (3-0), JOHN ARROYO (3-0 1KO) and Long Island fan favorite JOHN HERNANDEZ (8-3).
TYRONE JAMES highlights a sensational undercard attempting to become the next undefeated star to come out of The Paramount, alongside the likes of CHRIS ALGIERI, JOE SMITH JR., and CLETUS SELDIN.
JOHNNY HERNANDEZ is a Long Island warrior, having fought seven-times at The Paramount. He brings the crowd to their feet in every bout and will look to continue rising the ranks come June 8th.
MICHAEL STOUTE will be in a battle of the undefeated against ANDREW STROUDE (4-0 1KO) of Colorado. Only one man will leave The Paramount unblemished, but both are guaranteed to leave everything in the ring.
JOHN ARROYO returns the Paramount on June 8th for the second time, looking for his fourth professional win. The crowd roared during his last fight in March, and his Brentwood faithful will be out in full force once again for another great "Rockin Fights."