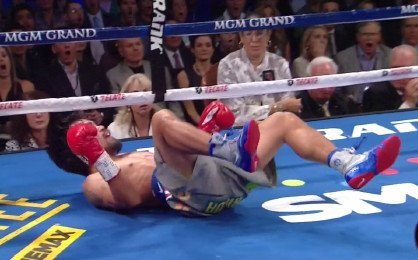 Blog Talk Radio's, "The Pugilist KOrner's: Weekend Wrap" is proud to present a special "Dinamita KOs PacMan" Edition tonight at 9:00 PM EST.
Pugilist KOrner link: http://www.blogtalkradio.com/ wcsteelerfan/2012/12/10/tha-weekend-wrap
Pugilist KOrner listener line: 718-506-1506
During tonight's broadcast, James and Joseph will be dissecting Juan Manuel Marquez's colossal victory over future Hall of Famer and top pound for pound fighter Manny Pacquiao, which took place last night in Las Vegas at the MGM Grand Garden Arena. A special preview of next week's event in Houston, Texas between Nonito Donaire and Jorge Arce will also be shared with the listening audience.
During the 2nd half hour, "The Pugilist KOrner" is honored to feature elite level trainer Ronnie Shields. The expert boxing proponent will give us his take on last night's shocking KO victory, as well as upcoming events on the boxing calendar.
Throughout the final half hour of the program, expert fight strategist James Gogue will pick apart last night's action between Manny Pacquiao and Juan Manuel Marquez, and analyze what factors set up the KO punch.
All listeners are encouraged to call in to "The Pugilist KOrner" to share your thoughts on anything boxing. To be a part of the show, please call in with 718-506-1506 (Don't forget to dial 1 to be placed in the hosts' cue). All questions and comments are welcomed.
Tonight's show will be hosted by Radio commentator James King and Boxing writer and announcer Joseph Herron.
To listen to the "Pugilist KOrner", simply use the following link:
Tune in tonight to the "Pugilist KOrner"!!