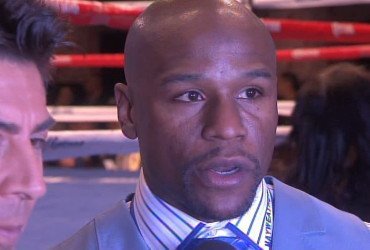 Blog Talk Radio's, "The Pugilist KOrner's: Weekend Wrap" is proud to present another special "Mayweather Jr. versus Alexander or Guerrero" edition tonight at 9:00 PM EST.
Pugilist KOrner link: http://www.blogtalkradio.com/wcsteelerfan/2013/02/11/tha-weekend-wrap
Pugilist KOrner listener line: 718-506-1506
During tonight's broadcast, James and Joseph will talk about Floyd Mayweather Jr's tweet last Sunday night, which stirred up the usual brand of Floyd controversy throughout the boxing world. The Money man of boxing tweeted the news that successful negotiations were almost completed with current IBF Welterweight title holder Devon Alexander for the big May 4th event at the MGM Grand in Las Vegas, Nevada. Was Floyd on the level, or was it merely a negotiation tactic?
The Pugilist KOrner's dynamic duo will also discuss all of the latest boxing news and breakdown this weekend's big action, including the winning performances of Carl Frampton, Andy Lee, Kevin Bizier, and Baha Laham.
Throughout the second half-hour of tonight's program, "The Pugilist KOrner's: Weekend Wrap" is proud to welcome elite level trainer Ronnie Shields. The lifelong boxing proponent will give us his thoughts concerning who Floyd will more than likely choose as an opponent on May 4th. Mr. Shields will also discuss the upcoming events on the boxing calendar as well as the impact of the big cancellations during the month of February.
During the final half-hour of the program, we will be visited by master strategist James Gogue. The lifelong fight trainer will strategically breakdown the upcoming Adrien Broner vs. Gavin Rees bout which will be aired on HBO this Saturday night from the Boardwalk Hall in Atlantic City, New Jersey. Mr. Gogue will also discuss Abner Mares' recent decision to compete in the Top Rank heavy 126 pound weight division.
All listeners are encouraged to call in to "The Pugilist KOrner" to share your thoughts on anything boxing. To be a part of the show, please call in with 718-506-1506 (Don't forget to dial 1 to be placed in the hosts' cue). All questions and comments are welcomed.
Tonight's show will be hosted by Radio commentator James King and Boxing writer and announcer Joseph Herron.
To listen to the "Pugilist KOrner", simply use the following link:
http://www.blogtalkradio.com/wcsteelerfan/2013/02/11/tha-weekend-wrap
Tune in tonight to the "Pugilist KOrner"!!