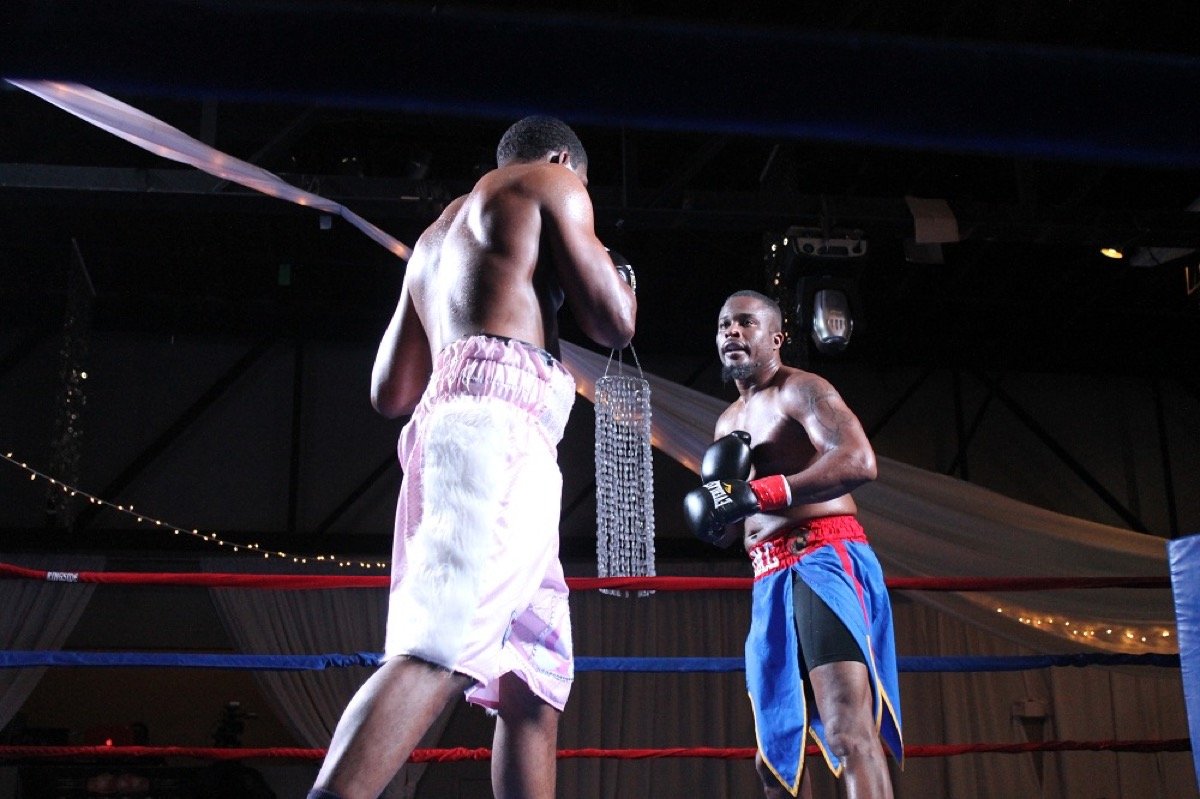 JacQuan Townes And Michael Williams Jr. Win WBF Titles, LaVonte Earley Makes A Successful Return, Lei'D Tapa And Monika Harrison Battle To A Draw, And Chordale Booker Delivers "The Gift" With A Highlight Reel KO On The Sold Out Vegas Grand Boxing Promotions' Card.
Charlotte, North Carolina (November 19) – Vegas Grand Boxing Promotions' Founder and CEO LaVonda Stacey-Earley was a little nervous going into her show on Saturday night. She had a million thoughts and a million questions running through her mind, "Will the fans forgive her? Will the crowd show up? Will the fans pack the house? Will they enjoy the show? Are the fighters happy? Will my son be ok?" At about 7:35 PM, LaVonda was able to relax, a little, as she turned away a throng of fans from the filled to capacity Extravaganza Event Center in Charlotte, North Carolina. The rest of the night was wildly exciting and filled with knockouts and action as the sold-out crowd watched JacQuan Townes and Michael Williams Jr. earn WBF titles.
Townes 6-1 (4 KO's), the 2017 North Carolina Newcomer of the year, predicted in January he would take over the cruiserweight division and earn his first title in 2018. Townes stayed true to his word by taking the action to Miree "The Pink Panther" Coleman 6-6 (4 KO's) for ten lopsided rounds to earn a Unanimous Decision win and the World Boxing Foundation Cruiserweight title.
Coleman 6-6 (4 KO's) made a grand entrance into the ring, unfortunately, he left all of the excitement outside the ropes. For five full rounds, Coleman did not throw a punch. Coleman would set up, pause, and whack, whack Townes would hit him with a double jab or two piece combo. Eventually, Townes began to load up and throw an overhand right which routinely found the back of Coleman's head. When in trouble, the veteran Coleman began to hold on tight and the two routinely fell back into the ropes. The holding was so excessive both fighters were warned and both fell to the canvas several times. Townes became so frustrated with the holding he spun Coleman around and tossed him to the canvas on three separate occasions. When they did have free hands, Townes worked behind a stiff jab to set up his right hand. Coleman did nothing and afterward explained, "I was trying to set up counters but never got off my punches. No excuses, I just didn't punch enough until it was too late," said Coleman. Townes did enough and then some to earn his first title in a highly hyped and anticipated fight billed as "Army vs Marine." Unfortunately, the fight closely resembled the 1980 fight between Larry Holmes and Muhammad Ali when Ali took unnecessary punishment for ten rounds and finally retired in his corner.
Michael Williams Jr. will be a huge star. With the great Roy Jones Jr. in his corner and an awesome support team, Team Williams Jr. is slowly grooming a young fighter to be a champion and superstar. So, it is no surprise Williams Jr. was in a tough but very winnable fight. While fans came to see an explosive Williams Jr. win over what they perceived as a pushover opponent in Stephon McIntyre, Williams Jr. and McIntyre treated the raucous sell-out crowd to an exciting back and forth fight which Williams Jr. had to dig in and win.
Williams Jr. 8-0 (6 KO's) learned very early the veteran McIntyre wasn't there for a quick and easy payday. McIntyre, who is a veteran of fifty-three (53) fights, was rough and tried to step through the punches of Williams Jr. Fighting in a crouched stance, the much shorter McIntyre would let Williams Jr. fire off three and four sharp shots at a time, then McIntyre would try to uncoil and land a vicious counter hook. McIntyre was successful three times catching Williams Jr. square on the jaw and face. Williams Jr. wasn't rattled and proved to everyone in attendance he has one hell of a chin. Williams Jr. shook off the punches and showed amazing skill and ring intelligence using angles, changing punch speeds, using legs to avoid trouble, and knowing when to tie up his opponent on his way to a UD win and the WBF title.
LaVonte Earley has waited exactly one year to show out inside the ring for his large fan base. Earley did not waste any time reminding the crowd why he is the best and most exciting fighter in Charlotte. After being touched by a right hand from challenger LaShawn Alcocks, Earley showed major league poise and other level skill. Working behind his jab and incredible defense, Earley picked Alcocks apart. At times, Earley would start on Alcocks' right side, land a jab then right hand, avoid punches, dip under, create an angle and land combos on Alcocks left side all the while keeping perfectly in balance. Earley 7-0 (4 KO's) was so efficient he could have literally fought inside a phone booth and not been touched by the walls or his opponent's gloves. He put on a master class of boxing over four rounds en route to an impressive four round UD win.
In the fight of the night, Female Heavyweights Lei'D Tapa and Monika Harrison battled to a draw. From the opening bell, both fighters landed heavy leather. Tapa, a southpaw, jumped out early landing big punches and moving the shorter Harrison around the ring, but Harrison stayed in her shell and when Tapa tired, Harrison would land a crushing body shot then open up on Tapa's head. The action went back and forth for four rounds. Both fighters, at times, were visibly in trouble, but both were able to weather the storms and fire back. Some fans had it for Tapa and some for Harrison, but the entertaining fight was officially ruled a draw by the judges. Everyone in the arena, including the largely pro-Tapa crowd, cheered for both warriors. Respect for the awesome performance was flowing throughout… and then all hell broke loose in the ring.
During the post-fight interviews being conducted in the ring, Tapa 2-0-1 (2 KO's) and Harrison 1-0-1 (1 KO) were addressing the crowd and both were slowly getting hyped about a rematch. Tapa talked on the mic and Harrison responded. At some point, the ladies faced off and exchanged words in a playful but aggressive manner. With hands to their side, chests sticking out, and foreheads being mashed together, playful went from serious to dangerous really fast. Harrison kissed Tapa square on her lips and Tapa reverted to her MMA background. A long tussle on the canvas ended with Tapa on her back holding Harrison, who was on top of Tapa with her back to Tapa, in the leg vice grip of hell and even worse Tapa had a firm choke hold and grip on Harrison. The cheers turned to gasps as they finally removed Harrison from the death grip of Tapa. Both ladies apologized, and Tapa said, "Everything was cool until she kissed me." Well, everyone in attendance and watching via the multiple social media streams can't wait for the rematch. And, it will Happen. Hopefully, this time as the Main Event and for a title (WAR II Tapa vs Harrison For The Heavyweight Championship of the World).
Chordale "The Gift" Booker promised North Carolina he would bring an early Gift to Charlotte, and he delivered in GRAND fashion. Booker 13-0 (7 KO's) showed off his southpaw skills and superb defensive reflexes making Jason Wahr miss and punishing him with finely timed counter punches that zapped the life out of Wahr. But, when Booker got low to make Wahr miss and followed with an atomic bomb counter left hand, Wahr went to sleep standing up and fell dramatically to the canvas. It was by far the KO of the night on a night of many KO's. Booker posed for the cameras then hit a James Brown split to drive the sell-out crowd into a fever pitch.
Other winners on the night included Deandre "The Matrix" Neal, Khalil Smoot, Angel LaGrandier, Luis Hernandez, Preston Wilson, Kevin Asmat, Lionel Charles, and Akheim Nurse.