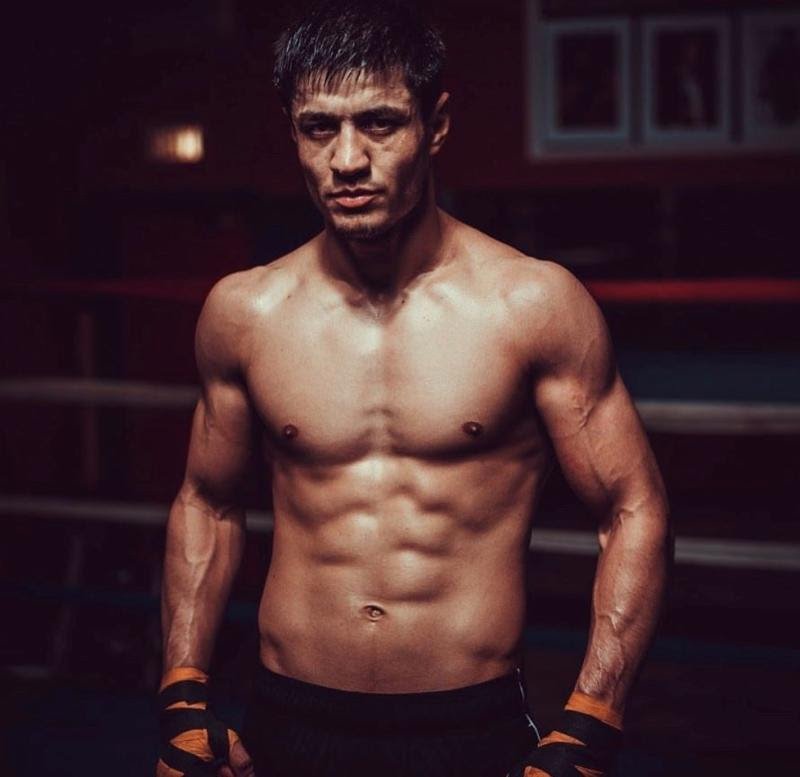 Uzbekistani super lightweight Shohjahon "Shoh" Ergashev finished a sensational 2018 with yet another first-round KO, this time over respectable Argentinean veteran Nazareno Gaston Ruiz.
Fighting at Olimp Sports Palace in Krasnodar, Russia, Ergashev needed just 18 seconds to demolish Ruiz, a 50-fight veteran (32-18, 11 KOs) against solid opposition, who had never heard the 10 count before in his career and had only been stopped once in 2010 and once in 2007. He was also on a three-fight winning streak before running into the full force of Ergashev's fury.
This was Ergashev's fifth fight this year. Four have been knockouts, the last two in first round.
"I want to make a statement every time I step in the ring," said the fearsome Ergashev. "I am the best super lightweight in the world and I guarantee that the champions don't go the distance with me."
Ergashev's 2018 was so impressive, normally reserved promoter Dmitriy Salita is now dropping some pretty big names in reference to his fighter.
"Shohjahon is proving to be one of the hardest punchers in all of boxing! He stops his opponents in brutal fashion ala Mike Tyson and early Golovkin. He's one of the most exciting fighters in the sport and he is willing to fight the best!"
###
A year ago, Shohjahon "Shoh" Ergashev was a little-known super lightweight prospect from Central Asia.
However, being able to punch holes in brick walls has a way of helping people remember your name and the Uzbekistani power puncher has taken the boxing world by storm this year.
With over 300,000 followers on Instagram and his brutal knockout videos on YouTube regularly getting over 500,000 views, 2018 is Shoh time.
Promoted by Salita Promotions, boxing's Russian diamond mine, Ergashev (14-0, 13 KOs) has recently signed a co-managerial deal with TV executive turned super manager Mark Taffet. He will be looking to further his growing reputation on December 14 in a 10-round showdown against Uganda's Badru Lusambya (26-4-2, 24 KOs) in Krasnodar, Russia.
"I am very happy to be able to show my skills to my fans in Russia on December 14 and I am training hard for a great victory," said Ergashev. "Nothing will stop me from realizing my dreams!"
The showdown against Lusambya will be Ergashev's fifth ring appearance this year (4-0, 3 KOs). He started the year with an impressive nationally televised TKO 3 over then 18-0 Sonny Fredrickson.
"Shohjahon has had a tremendous year fighting both in the US and Russia on a consistent basis," said Dmitriy Salita of Salita Promotions. "His skills, power and charisma are making him a star on both continents. I look forward to a spectacular performance against Lusambya to end the year."
26-year-old Ergashev Ergashev is the current WBA International Super Lightweight Champion. His brand-new co-manager Mark Taffet says he appreciates the Uzbek's willingness to take on dangerous opponents anywhere and any time.
"We are very excited that Shohjahon will be returning to the ring in Russia in what should be a tremendous fight between two knockout artists. The fans are in for a real treat December 14 as Shoh continues his march toward a world title."
###
Uzbekistan-born junior welterweight sensation Shohjahon "Shoh" Ergashev will return to action on Sunday, August 19, at the Korston Club Hotel Moscow, in Moscow, Russia. The fearsome punching southpaw Ergashev (12-0, 11 KOs) will face Kampala, Uganda's Juma Waswa (10-2-1, KOs) in the 10-round main event.
In his last fight, at the Barclays Center in Brooklyn in April, the WBA #7-ranked Ergashev went the 10-round distance for the first time while winning every round and the WBA International title against former World Series of Boxing Champion Zhimin Wang of China.
Ergashev, who spends most of his time training at the Kronk Boxing Gym in Detroit, says that even though Wasma has never been stopped or knocked down in his career, he is shunning the boxer's convention of saying he will go for the KO only if it presents itself.
The fearless Uzbek says he's only out for one thing in this and every fight.
"I am happy to be fighting in Moscow in front of my fans from Russia and Uzbekistan. My goal is to score exciting knockouts and that's what I plan on doing August 19."
"Shoh is one of the hardest punchers in boxing," said Ergashev's promoter, Dmitriy Salita. "I believe he has all the ingredients to be a dominant force and one of the most exciting fighters in the sport. On August 19, he will take another step toward his goal of winning a world title in the near future."
Salita, says the 25-year-old is a bright light, even in his formidable stable of Soviet Bloc fighters that includes undefeated Kazakhstani junior welterweight showman Bakhtiyar Eyubov, world-rated super middleweight Aslambek Idigov, world-rated light heavyweight Umar Salamov, undefeated heavyweight Apti Davtaev, world-rated Ukrainian-born Korean Arnold Khegai, cruiserweight contender Alexey Zubov, undefeated women's future champion Elena Savelyeva, top-rated bantamweight Nikolai Potapov and undefeated IBF #1 contender Elena Gradinar.