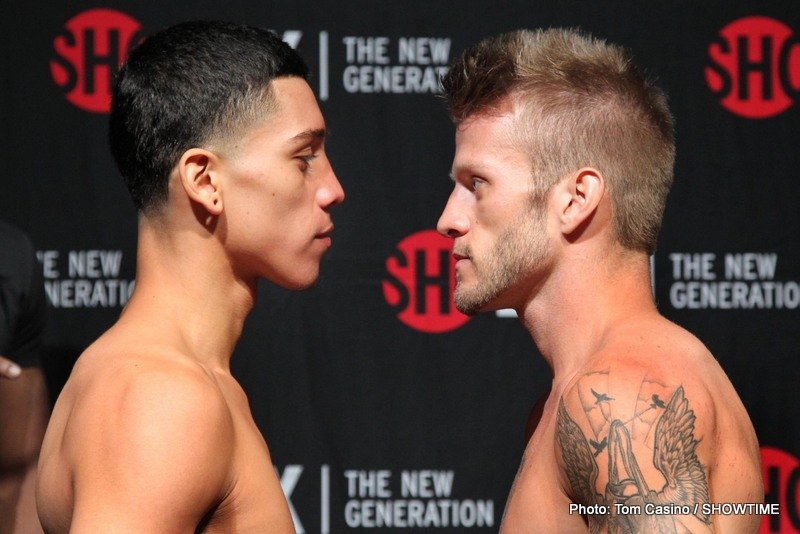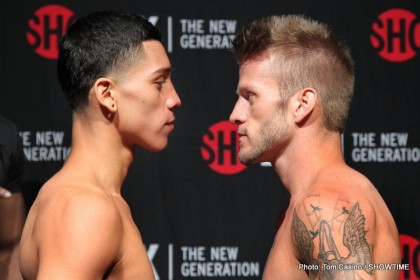 Undefeated super featherweight prospect Joel Diaz Jr. and once-beaten Tyler Asselstine both measured at the 130-pound limit during Thursday's official weigh-in for their 10-round main event showdown tomorrow/Friday, May 16 on ShoBox: The New Generation, live on SHOWTIME® at 10 p.m. ET/PT (delayed on the West Coast).
Streaking junior middleweight prospect Frank Galarza weighed in at 153 pounds and fellow undefeated prospect Sebastien Bouchard tipped the scale at 154 pounds for their eight-round co-feature bout on ShoBox.
Co-promoter and former world champion Jean Pascal presided over Thursday's weigh-in at Fox Theatre at Foxwoods Resort Casino in Mashantucket, Conn., the site of Friday's ShoBox doubleheader. The event is promoted by DiBella Entertainment in association with Jean Pascal Promotions. Galarza-Bouchard is also promoted in association with New Legend Boxing.
Eight of Diaz's (15-0, 12 KOs) 12 career knockouts have come in two rounds or less, with six coming in the first round. The Glendale, Calif., resident, who is guided by renowned trainer Abel Sanchez, is looking to make a move in the lightweight division but faces his toughest opponent to date in Asselstine (14-1, 7 KOs), a former Canadian amateur standout.
Brooklyn's Galarza, who is returning to ShoBox for the second time in 2014, has knocked out four consecutive opponents, including a career-best KO of previously undefeated prospect John Thompson this past January on the series. Bouchard, a former two-time Canadian amateur champion, is an up-and-coming boxer in his native Quebec.
Here's what the fighters had to say during Thursday's weigh-in:
JULIO DIAZ JR.:
"I can't wait, especially because it's the main event. I've been dreaming about this since I was a little kid to fight in the main event and now my dream is becoming a reality. I'm on SHOWTIME once again, main event, 10 rounds, I'm ready to rock and roll.
"This is a great opportunity for me to show my fans how I've developed since I last fought on SHOWTIME. I want to show them what I've worked on and I think I'll win over some new fans tomorrow.
"Working with Abel has done a lot for my career. He's a very good guy, outside the ring and inside the ring. He's improved my boxing skills and I can't wait to show them off.
"This might be the toughest opponent of my career. We'll find out the first round. But we're not going to get too big-headed. We're just going to go in there, follow our plan and hopefully our plan gets us the victory.
"Style-wise, this is a good matchup for me. He's a southpaw. I've actually been sparring with a lot of southpaws, from (Daniel) Ponce de Leon to Ivan Redkach. This training camp was full of southpaws. So whatever the guy brings to the table I'm ready for it.
"If I can get a knockout I'm going for it. But, if we can't, we're ready to go the distance. We had a good six- week training camp, good sparring partners and hopefully everything goes as planned."
TYLER ASSELSTINE:
"I would say he's the toughest opponent I've faced. He definitely has the most power of anyone I've been in there with. He had a decent amateur career and he's strong. But I've seen a lot of things I can capitalize on in the ring.
"At times his style and aggression will be a challenge. At the same time, he leaves himself open and I can sneak in there. The more he throws the more I can sneak in and do my work.
"This is my first fight at 130. I think 126 is definitely a better class for me – I only had to cut two pounds for this fight. I know I'll be the smaller guy in there, but I'll be fine. This fight is a huge opportunity for me so I had to take it. It's not like me to turn down an opportunity, especially one like this. After the fight I'll move back down to 126 or even 122.
"My focus is just on this fight. After that, we'll see what happens and go from there. But I have a huge chance here and I need to take advantage of it."
FRANK GALARZA:
"I think every time I step into the ring I'm always looking to put on a show, to entertain the fans and give them what they want. They like to see people fight and dish it out, so that's what I'm going to do.
"This is going to be the fourth undefeated fighter we've faced. And I don't mind that. I actually look forward to facing top prospects that are undefeated. It gives me more confidence as far as my boxing ability and what I feel capable of.
"If he wants a war we'll give him a war. Sometimes you have to be careful what you ask for. The fans are going to see an exciting fight. I'm always going to put on a show, that's my thing.
"I just want to stay active and stay busy. We're looking for a few more fights in before the year is up."
SEBASTIEN BOUCHARD:
"It's not the television that makes me nervous. The only thing that makes me nervous is the guy that I'm fighting.
"I think it will be a war. I know that's his style, but that's my style as well. I want to make it a war.
"With this opportunity, my foot is now in the door. I'm going to kick out the door and open it. This is only the start for me."
Barry Tompkins will call the ShoBox action from ringside with boxing historian Steve Farhood and former World Champion Raul Marquez serving as expert analysts. The executive producer is Gordon Hall with Richard Gaughan producing and Rick Phillips directing.