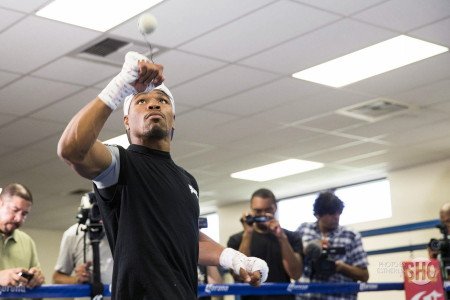 (Photo credit: Esther Lin/Showtime) CARSON, Calif. (Aug. 13, 2014) – Unbeaten IBF Welterweight World Champion Shawn "Showtime" Porter, undefeated contender Kell Brook and seven other boxers who will compete on this Saturday's stacked Golden Boy Promotions' fight card at StubHub Center in Carson, Calif., participated in an open media workout Wednesday at Fabela Chavez Boxing Center in Carson, Calif..
The exciting, offensive-minded Porter (24-0-1, 15 KOs), of Cleveland, Ohio, will defend his 147-pound crown against British banger Brook (32-0, 22 KOs), of Sheffield, England in what figures to be an explosive main event of a world championship tripleheader live on SHOWTIME® (9 p.m. ET/6 p.m. PT).
In other world title fights Saturday on SHOWTIME CHAMPIONSHIP BOXING, WBC Super Middleweight World Champion Sakio "The Scorpion" Bika (32-5-3, 21 KOs), of Sydney, Australia, will risk his 168-pound belt in a rematch against unbeaten Anthony "The Dog" Dirrell (26-0-1, 22 KOs), of Flint, Mich., and undefeated Omar "Panterita" Figueroa Jr. (23-0-1, 17 KOs), of Weslaco, Texas, will defend his WBC Lightweight World Championship against mandatory challenger Daniel "Tremendo" Estrada (32-2-1, 24 KOs), of Mexico City.
Undefeated heavyweight knockout sensation and WBC Continental Americas Champion Deontay "The Bronze Bomber" Wilder (31-3, 31 KOs), of Tuscaloosa, Ala., will be opposed by Jason Gavern (25-16-4, 11 KOs), of Orlando, Fla., in a 10-round scrap on SHOWTIME EXTREME® (7 p.m. ET/PT, delayed on the West Coast). In the opening bout, former two-division world champ Jorge "Niño De Oro" Linares (36-3, 23 KOs) faces Ira Terry (26-11, 16 KOs), of Memphis, Tenn., in an eight-round lightweight match.
Tickets priced at $150, $75, $50 and $25, plus applicable taxes, fees and services charges are on sale now and are available online at AXS.com, by phone at 888-9-AXS-TIX (888-929-7849) and at StubHub Center Box Office (Monday through Friday from 10 a.m. PT to 6 p.m. PT).
VIP Suites are available by calling 877-604-8777. For more information on group discounts or VIP packages, please call 877-234-8425. Doors open at 1 p.m. PT. The first fight begins at 1:00 p.m.
Here's what the fighters said during Wednesday's workout:
SHAWN PORTER, IBF Welterweight World Champion
"Training camp was great; we had some of the camp in Las Vegas and some in the Bay Area. We are ready to rock and roll. I just continue to work hard and sharpen the skills that I already possess.
"I am going into the fight looking for that knockout. I told myself that going four rounds or less would be a beautiful night for me. But at the same time I am prepared for a 12-round fight and being a boxer I know that you must be prepared for anything.
"I welcome the target on my back; I enjoy people talking about me. The good thing about having the target on my back is that I am a very hard target to hit. I am very excited about this fight and looking forward to defending my title. Saturday couldn't come fast enough and after the fight I will be walking out with that title again.
"I am very humble, but everyone knows that when I get into that ring it's my time to shine. I will be showing off for the fans, my team, and for my future opponents.
"StubHub Center is a great outdoor venue. I've been to the venue about six times, but have never fought there. Every time I go there I wish I was the one fighting in the ring, but my opportunity has finally come and I can't wait to get out there and feel the energy of the crowd.
"Being that this is only the second time Kell Brook has fought in America, I hope he feels that added pressure of the big fight. The energy of the StubHub Center crowd will make him feel it, that's for sure. But, at the end of the day I have to get in that ring and handle my business and not worry about all the factors that I can't control. I can't worry about what he feels and thinks. I know that I am full of confidence and positive energy and that I've been counting down for this fight.
"I love the fact that we are both undefeated, it makes for a great story. I know that he is a great fighter and I can't look past him — that would be a huge mistake."
KELL BROOK, Undefeated Welterweight Contender
"Training camp has gone very well. I am ready.
"When you get to this elite level and become a world champion, top fighters want to fight the best and I believe that I am at that level.
"It doesn't matter that this is only my second time fighting in America. It's just another ring and I will be ready to go. Boxing is all I do.
"Porter comes forward with swinging punches. Anyone at this level, you must take it off to them, they are in the ring for a reason. I know that it will be a tough fight, but every top performer can adjust and you will see me adjust. I know that it will be a dogfight but I always find a way to win.
"I am a slick fighter who will be very exciting. You are going to see crisp shots and I think that this fight will be a fight of the year candidate. I refuse to lose, but there will definitely be some fireworks during this fight.
"I have been waiting a very long time for my opportunity to fight in a world title fight, so the added pressure and anticipation will work in my favor. I have never been more prepared for a fight before and knowing that this is the biggest fight of my career only adds to my confidence.
"This is definitely my opportunity to show American fans what all the fuss is about with this British guy. My message to them is that I will go into that ring and give it my all and come out with that world title. Get your popcorn ready."
OMAR "PANTERITA" FIGUEROA JR., WBC Lightweight World Champion
"It's an honor to represent the people in my hometown. I fight for my brothers and the little kids in my city who feel like they have no hope to leave the city. I started fighting when I was six-years-old; success doesn't come over night. It takes a lot of blood, sweat and tears. I want to show the people where I am from that it is possible to be successful and make a good life for yourself. I know that boxing has kept me out of trouble and in some ways saved my life.
"The reason why I moved back home and started training with my dad was mainly because I wanted to be close to my daughter. I missed her terribly when I wasn't home.
"I wasn't able to take advantage of the things that were presented to me by training with Joel Diaz because of my (sore) hands, so I decided to just stay home. If I wasn't able to get the world-class sparring and training, then what was I doing being away from my family? Leaving Joel Diaz had nothing to do with him, I love him. It was solely a personal decision.
"My dad (trainer Omar Figueroa Sr.) grinds my gears, it can be a bit rocky. But with the knowledge I brought over from training with Joel Diaz it can make me grow as a boxer and my dad will grow as a trainer.
"Training is six days a week for three hours and then a jog. I can't put on too much muscle because then I won't be able to make weight. Training and dieting is very hard, but I am proud of myself because I actually kept up with it.
"People take care of me from where I am from. The love and support I feel in Texas makes me feel great.
"My hands will always be an issue. We will find out how long they last me on Saturday. I hope they last me long enough to get rid of my opponent. If not, then I will have to suck it up.
"I haven't looked at any footage of Estrada but my father tells me that he is a straight forward kind of guy. He will get punched a lot and I have to be prepared for that. I am trained in a certain way that will give me the opportunity to exploit his weaknesses. I will focus a lot on the body like I always do.
"Fans can expect a great fight. They will get entertained and get their money's worth and I will put on an excellent show for them."
DANIEL ESTRADA, Leading Lightweight Contender
"It doesn't bother me that I'm sort of the forgotten fighter on this card, but I came here to win my U.S. debut and in my mind I know I will win Saturday and then maybe more fans and media in America will recognize me more.
"I've watched a couple of Panterita's fights and he's a good, tough champion. That's why I prepared so hard in Mexico for this. So I definitely respect him as a champion, but he's not going to win.
"I've waited a year-and-a-half for this opportunity, and that gives me extra motivation. This is my chance and I know it. I train all the time and I've learned from one of the best fighters, Juan Manuel Marquez, who is my advisor and who will be in my corner Saturday.
"I don't like to talk, but I am very confident. My camp went well. My conditioning is perfect. I'm hungry for that world title and can't wait to face Panterita on Saturday night."
JORGE LINARES, Former WBC Featherweight & WBA Super Featherweight World Champion
"I'm the No. 1 contender and mandatory challenger to fight the winner of Figueroa and Estrada. It would be an honor to fight either of them but I am taking nothing for granted and am not taking my opponent lightly.
"I made the mistake once before. They all said I was going to have an easy fight against Sergio Thompson and I lost. That was a crazy fight in Mexico. I got head-butted in the second round, took a knee, and the doctor came in and stopped the fight and I got a loss even though I felt I could continue and the fight didn't go four rounds. So I learned the hard way that on any given night even the worst fighter can beat you.
"I've prepared very hard for this and I'm looking forward to taking care of business on Saturday."
JASON QUIGLEY, Unbeaten Super Middleweight Prospect
"I'm really looking forward to my second fight since my first went so fast (82-second knockout). I just fought in mid-July so it's great to be brought back so soon.
"Getting the pro debut out of the way is somewhat of a relief, but I know I have a lot of work to do. Getting the experience is so important, which is why I train all over Los Angeles. I go to different gyms all the time, looking to spar, work and learn.
"I just know my opponent is also 1-0, not much else. I am grateful for the opportunity to fight on Saturday and looking forward to putting on a good show."
# # #