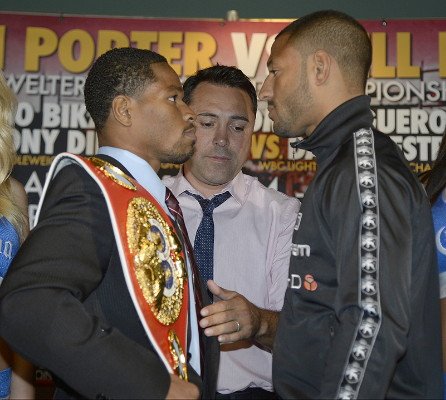 (Photo credit: Hogan Photos) CARSON, Calif. (Aug. 14, 2014) – Oscar De La Hoya and Golden Boy Promotions hosted the final press conference earlier today for this Saturday's potentially explosive world championship tripleheader live on SHOWTIME® (9 p.m. ET/6 p.m. PT) from StubHub Center in Carson, Calif.
In what should be a thrilling, non-stop action three-fight telecast, IBF Welterweight World Champion "ShowTime" Shawn Porter (24-0-1, 15 KOs), of Cleveland, Ohio, will defend against fellow unbeaten Kell Brook 32-0, 22 KOs), of Sheffield, England, WBC Super Middleweight World Champion Sakio "The Scorpion" Bika (32-5-3, 21 KOs), of Sydney, Australia, will risk his 168-pound belt in a grudge rematch against unbeaten Anthony "The Dog" Dirrell (26-0-1, 22 KOs), of Flint, Mich., and undefeated Omar "Panterita" Figueroa Jr. (23-0-1, 17 KOs), of Weslaco, Texas, will put up his WBC Lightweight World Championship against mandatory challenger Daniel "Tremendo" Estrada (32-2-1, 24 KOs), of Mexico City.
The three SHOWTIME CHAMPIONSHIP BOXING world title fights will be preceded by two important bouts on SHOWTIME EXTREME® (7 p.m. ET/PT, delayed on the West Coast): undefeated heavyweight knockout sensation and WBC Continental Americas Champion Deontay "The Bronze Bomber" Wilder (31-0, 31 KOs), of Tuscaloosa, Ala., will take on Jason Gavern (25-16-4, 11 KOs), of Orlando, Fla., in a 10-round match and former two-division world champion Jorge "Niño De Oro" Linares (36-3, 23 KOs) will be opposed by Ira Terry (26-11, 16 KOs), of Memphis, Tenn., in an eight-round lightweight match.
Both Wilder and Linares are mandatory challengers and a victory away from fighting for a world title in the near future; Wilder against WBC Heavyweight Champion Bermane Stiverne and Linares against the Figueroa-Estrada winner.
Tickets priced at $150, $75, $50 and $25, plus applicable taxes, fees and services charges are on sale now and are available online at AXS.com, by phone at 888-9-AXS-TIX (888-929-7849) and at StubHub Center Box Office (Monday through Friday from 10 a.m. PT to 6 p.m. PT). VIP Suites are available by calling 877-604-8777. For more information on group discounts or VIP packages, please call 877-234-8425. Doors open at 1 p.m. PT. The first fight begins at 1:05 p.m.
Speaking before a large contingent of media from the Southern California area and UK, Porter needed a little crowd participation to make his one and only point when it was his turn to talk at the dais.
"Let's let him [Brook] know what time it is," Porter yelled as he stepped up to the mic. Some in the audience responded,"It's "Showtime!"
After repeating this, Porter then stared down at a still-seated Brook and said. "I think you know what time it is. Saturday night I'm going to make sure you know what time it is." Porter said thank you and then sat down.
Here's more from what Porter, the fighters and executives said during Thursday's press conference at StubHub Center:
SHAWN PORTER, IBF Welterweight World Champion
"There was good energy today and the crowd really got me going. I have a lot to offer to this sport. I'm one of the quickest and strongest guys in my weight class. And I'm probably the most confident too. But I can't help that. It's my personality, it's who I am.
"Saturday night, you're going to see it all. You're going to see some boxing, you'll see some aggression, you'll see intelligence, some power and quickness. The whole nine yards.
"I've done enough homework to know that I can beat him. This has been a long time coming, and I look forward to defending my title on Saturday night. Everybody in the UK better stay up late for this one. I'm hoping to get some new fans over there after this is over."
KELL BROOK, Undefeated Welterweight Contender
"This has been a long time coming, but I've finally arrived on the top stage now. It's every fighter's dream to win a world title, and it's all I've been thinking about through all the training and waiting.
"I know Shawn Porter is a very tough customer and a very worthy champion. But this is my time. I'm so ready mentally, and physically, I've got my family here. I'm just in the best place of my life. I'm very confident, totally prepared and Saturday could not come quick enough for me."
OMAR FIGUEROA JR., WBC Lightweight World Champion
"This is the hardest I've ever trained for a fight and now I'm back on one of boxing's biggest stages. I know Estrada likes to come forward so that should make for an exciting fight for the fans.
"This is another very big fight for me. This fight is for my family and all my friends back in Texas.
"I expect a rough fight, but I know I will win."
DANIEL ESTRADA, Leading Lightweight Contender

"I'm dedicating this fight to my family and the memory of my younger sister, Janyn, and her five-year-old daughter, Emery, who died after they were in a car crash less than three weeks ago.
"It's been a very difficult, emotional time for all of us. My sister, who was 27, has always been my biggest supporter in boxing. She always told me that if I continued to work hard I would make it to the top and become a world champion.
"I'm using what she always said to me as motivation for this fight. As bad as we all feel, there was never really a time when I thought I would abandon this opportunity. I know she would want me to take the fight.
"I've been waiting a year to fight for the title and on Saturday I'm going to take advantage of my shot. I recognize Figueroa as a great champion for what he brings to the sport, but I'm a Mexican warrior. I'll show you all that on Saturday."
JORGE LINARES, Former WBC Featherweight & WBA Super Featherweight World Champion
"This is a must-win fight for me which is why I've prepared for a very hard fight. I know I have to win to get my title shot. But I'm not here just to win but to look good.
"I have three losses on my record, but in my heart I feel I've lost only once [against Antonio DeMarco]. I certainly can't afford to lose on Saturday. I'm anxious and ready to go."
JASON QUIGLEY, Unbeaten Super Middleweight Prospect
"My weight is always pretty good because I've never gone up and down between fights; I always try to maintain top conditioning.
"I really enjoy being a pro and being part of all the fight-week activities before a fight -the workout, press conference and weigh-in. It's great to be surrounded by so many great fighters and so much media.
"Saturday is my second pro fight and I'm totally focused and ready to perform."
OSCAR DE LA HOYA, President and Founder of Golden Boy Promotions
"Every single one of these TV fights could be a main event. This is just a stacked card.
"StubHub Center is known for putting on some amazing fights. I like to call it the 'Thuderdome'. You know, the old movie with Mel Gibson and Tina Turner where they just go to fight. Every single fight we've staged at StubHub has been incredible.
"The main event is definitely one of those fights where you don't want to blink. I know both these fighters have the hunger and desire to put on just an amazing fight.
"Shawn Porter comes from Cleveland, Ohio, a place that grooms champions, like LeBron James. He's a real throwback fighter who works hard and will fight anybody. Kell Brook is a true champion who is hungry and determined."
STEPHEN ESPINOZA, Executive Vice President and General Manager, SHOWTIME SPORTS
"SHOWTIME is happy to be back here with Golden Boy at StubHub Center for what I predict will be one of the most exciting cards of the year.
"StubHub is a special place for boxing, one of the top two or three in the world, an outdoor venue that is a perfect setting for fights that draw great fans.
"The three world title fights Saturday couldn't be more even -they're all 50-50. All these fighters are coming to win. It should be an all-action show and we are very excited about it.