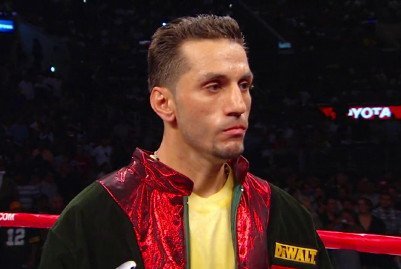 After making his sensational American network debut on HBO this past Saturday night, WBA Middleweight title holder Gennady Golovkin (24-0, 21 KOs) has become undoubtedly one of the most avoided fighters in the talent enriched 160 pound weight division.
While most of the top fighters in the division wouldn't dare issue a challenge to the heavy handed killer from Kazakhstan, former World Boxing Council (WBC) Junior Middleweight Champion Sergio Mora (23-3-2, 7 KOs) is boldly daring the undefeated World Boxing Association (WBA) Champ.
"Gennady is one of the most proficient fighters in boxing and he currently possesses what I believe I deserve; the overwhelming respect of the boxing world," claims the defensively proficient former champion. "I not only wish to congratulate Golovkin for a brilliant performance on HBO, but I also would also like to issue a challenge to fight for his WBA Middleweight title."
Despite dropping two controversial decisions to Middleweight contender Bryan Vera, "The Latin Snake" truly views his resume as a superior one to that of the current WBA Middleweight Champion.
"I know Gennady hasn't lost as a professional, but he has never fought anyone on my level. I am only one of two fighters to ever defeat the late, great Vernon Forrest, and I deserved victories over Sugar Shane Mosley and Bryan Vera. Anyone who knows boxing realizes that I gave both Mosley and Vera a boxing lesson."
Although Golovkin is one of the hardest pound for pound punchers in the entire sport, Sergio Mora not only believes that he will avoid Gennady's hardest shots, but will also convincingly defeat the WBA Middleweight Champion.
"Gennady deserves all of the praise that he is currently receiving from the boxing world, but he wouldn't be able to lay a glove on me for twelve rounds. I would make him miss while standing right in front of him all night long."
"I know what kind of fighter I am, and I know I can hand Gennady Golovkin his first loss. I've never been stopped before and I know I wouldn't be knocked-out by Golovkin. I know how frustrating it is to be an avoided fighter in boxing and he's going to be avoided by everyone in the division after his knock-out performance over Proksa."
"I'm the former WBC Junior Middleweight Champion and would easily be the biggest name on his resume. So I am officially issuing the challenge to Gennady Golovkin…come on and try to knock me out!"