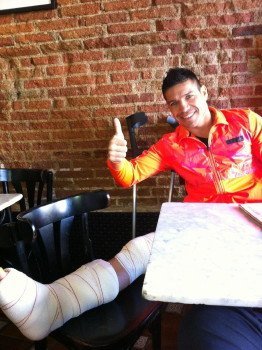 Madrid, Spain / New York, NY (11/13/12) – Yesterday afternoon, reigning middleweight champion Sergio "Maravilla" Martinez underwent surgery to repair his right knee and ankle, both which were injured in his last fight against then World Boxing Council (WBC) Middleweight Champion Julio Cesar Chavez Jr. Martinez had the operation done in Spain, where he has been living since relocating from his native Argentina earlier in his career. The operation was done by highly regarded doctor Villamor Perez, the personal physician for the King of Spain, Juan Carlos I.
"I am very, very happy with how the operation went," said Martinez. "I will be rehabbing for two or so weeks and then I will be back in the gym, and begin preparations for my next title defense, which will take place next year in my native Argentina. This will be my first fight there in many years and I am really looking forward to defending my title in front of all of my great fans in Argentina."
"We are very pleased that Sergio's surgery today was successful with no complications. He'll be back on his feet in a few weeks and able to train shortly thereafter," said promoter Lou DiBella. "He'll have no problem getting ready for an April fight and we hope to help him realize his dream of defending the WBC Middleweight Championship in his homeland of Argentina."
"Now that the surgery is complete, I have no doubt that Sergio "Maravilla" Martinez will be back better than ever and continue to show everyone that he is one of, if not the best pound-for-pound fighter in the world. We want to thank everyone who has sent their thoughts and prayers to Sergio for a successful and speedy recovery," said longtime advisor Sampson Lewkowicz.
"It was an absolutely perfect operation," said Martinez' business manager Miguel Angel de Pablos. "Doctor Villamor Perez did a magnificent job and we couldn't have been any happier with the outcome. Sergio will immediately begin working with our own personal doctor Raquel Bordons on his rehab, and will be back in the gym very soon."
TICKET ALERT!!!, ADRIAN GRANADOS VS. ANTONIO CANAS, DECEMBER 14, CICERO STADIUM!!!
CHICAGO, IL (November 13, 2012) World class professional boxing will return to Cicero Stadium on Friday, DECEMBER 14 as 8 Count Productions and Round 3 Productions present WINDY CITY FIGHT NIGHT 23 headlined by a sensational junior welterweight clash between Chicago cross-town rivals Adrian "EL Tigre" Granados and Antonio "Aztec God of War" Canas.
Advance tickets for WINDY CITY FIGHT NIGHT 23, priced at $100, $75, $50 and $30 may be purchased by calling 312-226-5800. Cicero Stadium is located at 1909 S. Laramie in Cicero, Illinois, 1.5 miles south of the Eisenhower Expressway. Doors will open on the night of the event at 7PM with the first bell at 8PM.
"This fight has been building for a long time. Canas has watched Adrian become one of the best and most popular prospects in boxing and has been calling him out for the last year. Adrian loves the idea of proving people wrong and fighting in his hometown of Cicero" said Dominic Pesoli of 8 Count Productions.
"Our shows at Cicero Stadium have always had terrific atmospheres and it's great to return with this main event along with an action packed undercard we're putting together which includes popular Chicago fighters Henry Coyle, Victor Polyakov, Junior Wright, Juan Bustamante and Jose Arambula."
The 23-year-old Granados, born and raised in Cicero, has compiled a record of 10-2-1 (6KO's) as a professional following an excellent amateur career that included being named to the 2008 Mexican Olympic Boxing Team.
The scheduled eight rounder against Canas will be Granados' third start in 2012. Fighting in front of his customary huge legion of fans at the UIC Pavilion on FEBRUARY 24, 2012, Granados won an excellent eight round battle over Chicago rival Jaime Herrera. He followed that up with a stunning second round knockout of veteran Ramon Guevara on APRIL 14 at Cicero Stadium.
In 2011 Granados produced two of his finest performances; against former world title challenger Lanardo Tyner and highly regarded Los Angeles based prospect Frankie Gomez.
Taking the fight against Tyner on two days notice at the welterweight limit on MARCH 25, 2011, Granados appeared to win a wide decision, however the judges scored the eight rounder as a majority draw.
On AUGUST 26, 2011, Granados battled Gomez in a bout broadcast internationally on SOLO BOXEO TECATE in front of a massive crowd at the UIC Pavilion. In a sensational back and forth war; Gomez was awarded a hotly contested eight round majority decision.
Formerly a professional MMA fighter, Chicago native Canas, known for his aggressive boxing style, is undefeated with a record of 6-0-1 with three knockouts.
Fighting against the much more experienced Tyron Chatman on MAY 9 in Lowell, Massachusetts, Canas survived two knockdowns in the second stanza to win the next four rounds, earning a majority draw in the six round battle.
Known as "The Western Warrior" Henry Coyle, 18-2-0 (12KO's), makes a triumphant return to the Chicagoland area following a twelve round unanimous decision over Marcelo Alejandro Rodriguez on AUGUST 17 in Castlebar, Ireland in defense of his World Boxing Foundation Junior Middleweight Title.
With his aggressive all-action style and riding an eight bout-winning streak, Coyle is immensely popular in Chicago's vast Irish community. He will be featured in an eight round junior middleweight tilt.
A member of the 2004 Russian Olympic Boxing Team and very popular in Chicago's huge Russian community, Polyakov is coming off his career best victory, a dominant ten round unanimous decision victory over battle-tested veteran Derrick Findley on MARCH 16 at the UIC Pavilion.
Known as "The White Tiger", Polyakov improved to 11-0-0 with six knockouts and earned the USBO Middleweight Title.
Heavy-handed prospect Junior Wright of Evanston, IL has wasted no time impressing the Chicago fight crowd with four show stopping first round knockouts. An outstanding amateur, Wright, 4-0-0 (4KO's), will look to continue his torrid start in a four round light heavyweight clash.
Wright's most recent first round victim was Covon Graham on JULY 13 at the UIC Pavilion.
Also in action at WINDY CITY FIGHT NIGHT 23 is highly regarded Chicago junior lightweight prospect Juan Bustamante. The 21-year-old Bustamante has impressively turned heads at the UIC Pavilion winning his first five professional bouts, two by knockout.
Most recently Bustamante, displaying a wide range of boxing skills, won a four round unanimous decision over Jose Juan Sanchez on SEPTEMBER 18 in Hammond, Indiana.
Rounding out the card, 20-year-old newcomer Jose "Chico" Arambula will make his UIC Pavilion debut in a four round lightweight bout.
Fighting out of Harvey, Illinois, Arambula has moved quickly as a professional winning his first two bouts, most recently winning a four round unanimous decision over Shannon Kelly on NOVEMBER 3 in Merrillville, IN.
Much more information about WINDY CITY FIGHT NIGHT 23 will be announced shortly.