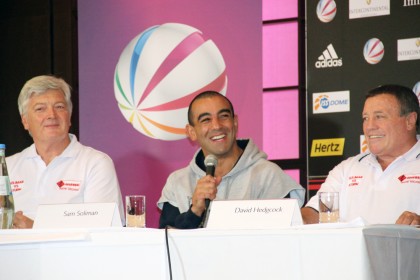 Sam Soliman denied reports that he failed a drug test taken before his win over Felix Sturm last month. Soliman was informed of reports by his manager David Stanley this morning.
Stanley told AAP: "He's absolutely gobsmacked because this (anti-doping) is a very important principle that he lives by. We understand this has all come out of the Sturm camp. I'm told that the Sturm camp is alleging that Sam has tested positive for an undetectable amphetamine, that's absolute rubbish. I'm also told that Sturm has identified who he should be fighting next so that he can then fight for the world title. The Soliman camp insisted on drug testing before and after the bout. The reality of it is there is still unfinished business under our contract, because they did not comply with any of the testing points as in steroids. I've contacted the Australian anti-doping commission to get them to get into contact with the German group because there are irregularities all over the place on this against someone who is vehemently opposed to any form of performance-enhancing drug use."
"We went into that fight without that clause and it meant a lot of anguish in that last week.
These are unfounded allegations coming from the Sturm camp." Stanley said to AAP.
Soliman himself took matters to Twitter to deny all claims:
"Drug allegations are complete nonsense and an insult. Anyone who knows me knows my views about drug cheats, the matter is now in the hands of my lawyers & it will be pursued 2 the fullest extent possible. I won't be commenting further."
The matter is now in the hands of my lawyers & it will be pursued 2 the fullest extent possible. I won't be commenting further.

— Sam Soliman (@samkingsoliman) March 2, 2013
Drug allegations are complete nonsense and an insult. Anyone who knows me knows my views about drug cheats.

— Sam Soliman (@samkingsoliman) March 2, 2013