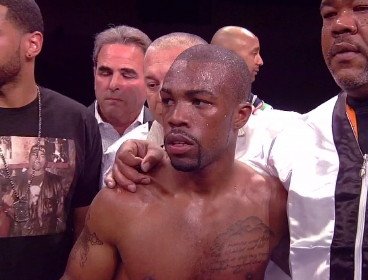 INDIO, CALIF. (Nov. 10, 2012) – Unbeaten featherweight contender and 2008 United States Olympian Gary Russell Jr., capped off "The Night of the Olympians" in dazzling style with a brutal third-round knockout win over Roberto Castaneda in the main event Friday on ShoBox: The New Generation live on SHOWTIME® from Fantasy Springs Resort Casino in Indio, Calif.
In a candidate for Knockout of the Year, the talented southpaw Russell (21-0, 13 KO's), of Capitol Heights, Md., impressively finished Castaneda (20-3-1, 15 KO's) of Mexicali, Mexico, with a picturesque, perfectly placed right-hook to the chin at 1:25 of the round.
Super middleweight Terrell Gausha, of Cleveland, Ohio, scored three knockdowns en route to a second-round stoppage over Dustin Caplinger (2-4, 1 KO) of Chillicothe, Ohio; southpaw junior middleweight Errol Spence Jr., of Desoto, Texas, finished Jonathan Garcia (3-4, 1 KO), of Aguadilla, Puerto Rico, in the third round; left-handed cruiserweight Marcus Browne, of Staten Island, N.Y., celebrated his 23rd birthday one day early by blasting out Codale Ford (2-1), of Fort Gibson, Okla., in the third round; heavyweight Dominic Breazeale, of Anaheim, Calif., registered two knockdowns en route to a 1:06, first-round knockout over Curtis Tate (4-4, 4 KO's), of Oakland, Tenn.; and southpaw bantamweight Rau'Shee Warren, of Cincinnati, Ohio, overcame a fluke knockdown to take a unanimous four-round decision over Luis Rivera (1-3), of Ponce, Puerto Rico.
ShoBox expert analyst and boxing historian Steve Farhood provided his assessment of the evening afterward.
"What we saw at the end of the show confirmed what I said at the top of the telecast, which is that Russell's talent demands that he raises the level of his opposition, and does so now," Farhood said. "That was certainly a candidate for Knockout of the Year.
"What impressed me most about the five Olympians was their commitment to body punches, which counts to next to nothing in the amateur game. That in itself showed that they are en route to developing as pros."
A boxer known for blazing speed, the lightning-quick Russell, 24, gave opponents something else to think about – his power. This was his second consecutive third-round knockout and third overall inside the distance.
"I think by the end of 2013, after three or four more fights, I'll get my shot at the 126-pound title," the WBA No. 4, WBA No. 7 and WBO No. 10 rated featherweight contender said. "People don't think of me as a hard hitter but I was known as a power puncher in the amateurs. I had a hand injury early in my pro career, but I'm 100 percent healthy now.
"Tonight, I felt I was in total control the whole time. Even when he got me against the ropes it was because I allowed him to. I wanted to see what kind of power he had. The entire time I was looking to set him up for the right hand. I got it home clean and that was the fight.
"I feel blessed to have been able to headline a card with the Olympians. They were all asking me a lot of questions beforehand like 'what should I expect,' stuff like that. I kept telling them the same thing: just trust your pedigree. Your pedigree with get you through."
Gausha, 25, felt following his corner's instructions was a key. "They kept telling me to work behind the jab, go to the body and not to get too anxious,'' he said after his fight was stopped at 1:55 of the round. "I felt I was hurting Caplinger with almost every punch, especially the right hand.
"I feel great and think I did well. I got the job done and now I'm ready to do this again. There will be no breaks for me. I want to fight again as soon as possible."
Spence, 22, turned back a determined bid from the hard-trying Garcia, who landed some decent shots before appearing to tire in the second round.
"I felt really great in there,'' Spence said. "The guy was tough, but I knew that if I took my time I'd eventually get him. When I started landing those uppercuts I knew I was hurting him, but he took them well at first and then I couldn't tell for sure if he was really hurt, or tired, or just playing possum.
"So I just played it smart, kept my cool and set him up. I'll be ready to go again in three weeks."
Browne showed excellent poise as he dominated Ford, who was decked early in the third. Ford beat the count, but Browne continued to unload with both hands. The referee halted the proceedings at 1:04 of the session.
"This was a great win for me and the perfect birthday present," said Browne, who turned 22 today/Saturday. "I got some good rounds in. The plan was to take my time and consistently work the body so I could get him in position to get him out of there with the right hand.
"This win is for the people in Staten Island and the people in New York and on the East Coast. I hope everybody across the country prays for all those who lost everything in Hurricane Sandy.''
Breazeale, 27, had the easiest time of all the Olympians as he destroyed Tate. After the 6-foot-7 former college quarterback dropped Tate the first time, it appeared the referee might stop the fight although Tate beat the count. There was confusion for several seconds when the bell sounded and cameramen got into the ring, but the ref allowed the fight to resume. Moments later, however, after a flurry of punches dumped Tate again, the ref waved it off.
"Everybody got a little excited in there for a second,'' Browne said. "Actually, I was surprised he got up the first time, but I was pleased to knock him down again.
"I hope my next nine or 10 fights are like this. I didn't even get hit, but I know I have a long, long way to go, so you can bet I'll be right back in the gym. It's going to take a lot of hard work and preparation to get to where I want to be. Heck, I might go running tonight just to burn off some energy."
Warren, 25, overcame a fluke fourth-round knockdown to win by the scores of 40-37 and 38-37 twice.
"The knockdown wasn't really a knockdown," Warren said. "I slipped. He never really hit me. I was told between rounds to try and walk him down, which is what I did, but I was so anxious and wound up so hard that when I missed with the hook I lost my balance and my gloves touched the canvas. On the way down, he tapped my shoulder. I said something to the ref like, 'for real?' and he continued to count.
"Aside from that, I thought I won easily. I hit him with everything, but I was too, too overanxious. I'll slow things down the next time for sure. I really hope they bring me back on SHOWTIME."
Rooting the 2012 Olympians on from ringside was one of their teammates, Joseph "Jo Jo" Diaz, a 19-year-old whose intelligent, aggressive style could translate well as a pro.
The event was presented by Golden Boy Promotions and sponsored by Corona.
Barry Tompkins called the action from ringside alongside Farhood and special guest analyst, former world champion Raul Marquez. The executive producer of ShoBox is Gordon Hall with Richard Gaughan producing and Rick Phillips directing.
In Friday's non-televised fights, junior middleweight Daquan Arnett (9-0, 6 KO's), of Winter Park, Fla., overcame a first-round knockdown to knock out Jeremiah Wiggins (10-0-1, 5 KO's), of Newport News, Va., in the fourth round and junior middleweight Manuel Robles (2-0, 1 KO), of Los Angeles, flattened Tim Ibarra (2-2), of Denver, Colo., in the first round.
The ShoBox Six-Pack will re-air the first time this week as follows:
DAY CHANNEL
Thursday, Nov. 15, 11:30 p.m. ET/PT SHO EXTREME
Friday's fights will be available ON DEMAND beginning today/Saturday, Nov. 10.
UPCOMING ON SHOWTIME: In a battle of world champions in the main event today/Nov. 10, on SHOWTIME CHAMPIONSHIP BOXING (10 p.m. ET/PT, delayed on the West Coast), Abner Mares (24-0-1, 13 KO's) will defend against WBA Bantamweight Super World Champion Anselmo Moreno (33-1-1, 12 KO's). In other bouts on a tripleheader from STAPLES Center in Los Angeles, Calif., unbeaten IBF Bantamweight Champion Leo Santa Cruz (21-0-1, 12 KO's) risks his belt against Victor Zaleta (20-2-1, 10 KOs) and junior middleweight Alfred Angulo (20-2, 17 KO's) will take on Raul Casarez (19-2, 9 KO's). Undefeated WBO Light Heavyweight Champion Nathan Cleverly (24-0, 11 KO's) will defend against Shawn Hawk (23-2-1 (17 KO's) in the main event on SHOWTIME EXTREME (8 p.m. ET/PT).
Four unbeaten fighters will be featured when ShoBox returns next Friday, Nov. 16, from Gulfstream Park in Hallandale Beach, Fla. (11 p.m. ET/PT). In the main event, Omar "El Boricua" Henry (12-0-1, 9 KOs) will face WBA No. 15-ranked middleweight Juan Ubaldo Cabrera (20-0, 14 KOs). In the co-feature, Angelo "La Cobra" Santana (13-0, 10 KOs) will face Juan "Johnny" Garcia (13-0, 8 KOs) in a 10-round lightweight match.
Former Two-Time World Champion and British superstar Ricky "The Hitman" Hatton returns to SHOWTIME for his first fight in 3½ years when he faces former WBA welterweight titleholder Vyacheslav Senchenko on Saturday, Nov. 24, at the MEN Arena in Manchester, England, live at 5 p.m. ET/PT (delayed on the West Coast).
Former four-time and three-division World Champion Miguel Cotto (37-3, 30 KO's) will challenge undefeated WBA Super Welterweight World Champion Austin "No Doubt" Trout (25-0, 14 KO's) in the main event on SHOWTIME CHAMPIONSHIP BOXING (9 p.m. ET/PT) on Saturday, Dec. 1, from Madison Square Garden in New York.
On Saturday, Dec. 15, at the Los Angeles Sports Arena, former Unified Super Lightweight World Champion and British superstar Amir "King" Khan (26-3, 18 KO's) will fight unbeaten Carlos Molina (17-0-1, 7 KO's) in the main event on SHOWTIME CHAMPIONSHIP BOXING (10:30 p.m. ET/PT).