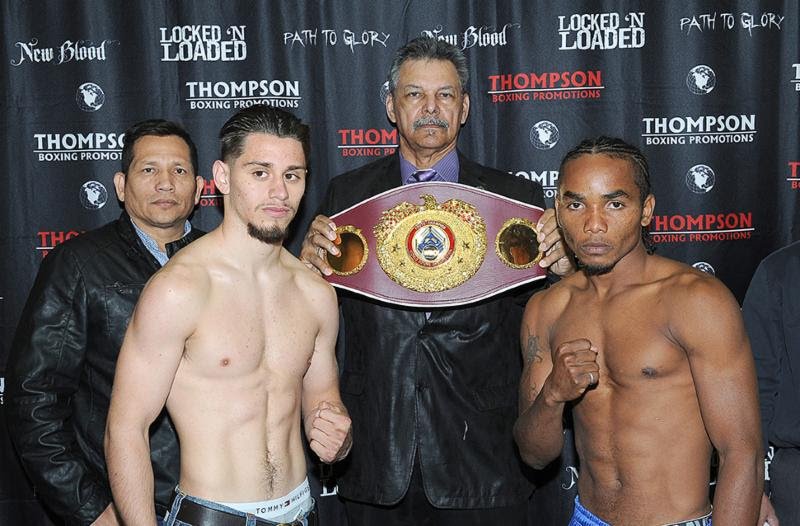 Ruben Villa (10-0, 4 KOs) cleared the final hurdle in his first attempt at a title by weighing in at 124.8 lbs., while Colombian Marlon Olea (13-2, 12 KOs) measured 124.9 lbs. at Friday's weigh in from 2 Steps Ahead Fitness in Salinas, Calif.
The pair fight for the vacant WBO Youth Featherweight Title this Saturday night from the Salinas Storm House in Salinas, Calif. The "New Blood" main event is set for 8-rounds.
Villa, a southpaw from Salinas, is making his professional hometown debut.
"There's been a lot of build up to this moment," said Villa, who is promoted by Thompson Boxing and Banner Promotions. "I need to stay focused and do what I need to do to win."
WEIGHTS
Ruben Villa, 124.8 lbs. vs. Marlon Olea, 124.9 lbs. (8-rounds)
Bruno Escalante, 115.6 lbs. vs. Diuhl Olguin, 117.9 lbs. (8-rounds)
Max Becerra, 138.4 lbs. vs. Erick Martinez, 138.8 lbs. (6-rounds)
Alberto Torres, 126.9 lbs. vs. Naciff Martinez, 126 lbs. (6-rounds)
Pedro Moreno, 136 lbs. vs. Sergio Ramirez, 134.8 lbs. (6-rounds)
Brandon Trejo, 131.5 lbs. vs. Bogar Padilla, 131 lbs. (4-rounds)
Tickets for "New Blood" are priced at $40, $75 & $125, and are available for purchase on the day of the event (Saturday) from the Salinas Storm House will call booth starting at 4:00 p.m. local time.
All fights will be live streamed on TB Presents: New Blood via our Facebook page and ThompsonBoxing.com.
The livestream starts at 6:00 p.m. PT / 9:00 p.m. ET with Beto Duran as the blow-by-blow announcer and Steve Kim providing expert color commentary.
Doors open at 4:30 p.m. local time with the first bout at approximately 6:00 p.m. The Salinas Storm House is located at 185 Maryal Dr. Salinas, CA 93907.
"New Blood" is presented by Thompson Boxing Promotions in association with Banner Promotions.
For more information, please visit ThompsonBoxing.com. To follow the conversation on social media, please use #NewBlood, #TBPresents, and #ThompsonBoxing.