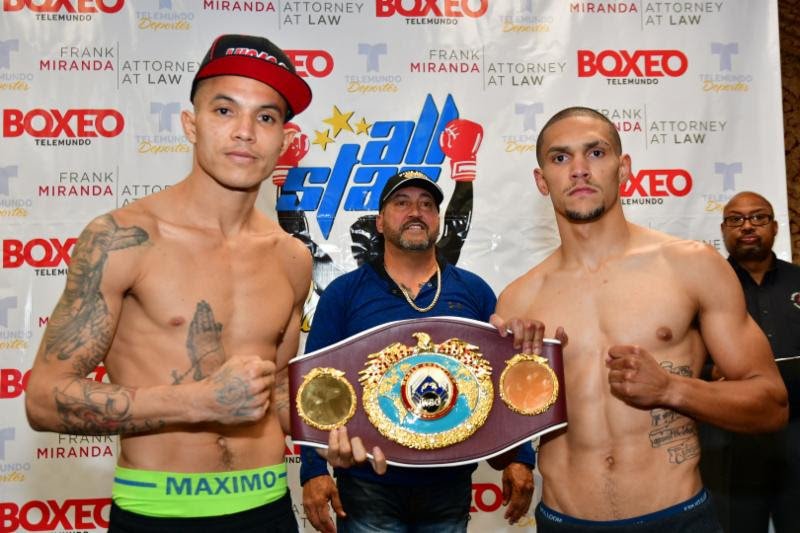 Unbeaten welterweight talent Roberto Arriaza (15-0, 12 KOs) weighed in at 146.4 lbs. at Thursday's weigh in, while WBO Intercontinental champion Sammy Valentin (13-1, 10 KOs) maxed out at 146.2 lbs.
Valentin vs. Arriaza comprises the Boxeo Telemundo 10-round main event airing at 11:30 PM ET.
At Thursday's weigh in, Arriaza appeared poised and confident in what will amount to his toughest challenge to date. Valentin is known as a strong starter and is currently ranked No. 12 by the WBO.
"All the work has been done and now it's time to perform," said Arriaza, who will be making his Telemundo television debut. "I came here to win and that's what I intend to do."
"Hurricane" Sammy Valentin vs. Roberto "Dinamita" Arriaza is brought to you by All Star Boxing, INC., in association with Thompson Boxing Promotions.
The event takes place from the Bryan Glazer Center JCC in Tampa, Fla. Tickets are available for purchase at the box office, or by calling 813-454-7800. The Bryan Glazer Center JCC is located at 522 N. Howard Ave., Tampa, FL 33606.
For more information, please visit ThompsonBoxing.com.
For regular updates on our fighters, events, and promotions, please check our Facebook Page, watch our YouTube channel on Thompson Boxing TV, and follow us on Instagram and Twitter @ThompsonBoxing.