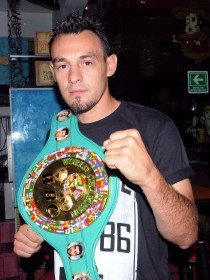 (Photo credit: Alma Montiel/WBC) September 25, 2012 – 6-Time world champion, Robert "The Ghost" Guerrero was honored by the World Boxing Council (WBC) today in Mexico City, as officially received his world title belt after defeating Selcuk Aydin last month in San Jose.
"I want to thank the WBC and their entire organization along with Golden Boy Promotions, for giving me the opportunity to fight for the WBC title. I take great pride in wearing the green belt and will continue to fight the best that come my way."
This week in the Billy C Boxing Network
The Billy C Boxing network brings another packed week of news and events. Starting Monday 9/24/2012 when Billy opened up the fresh LIVE episodes TalkinBoxing with Billy C TV&Radio episodes, Mondays show began with emails from fans around the world, thoughts on Pacquiao beginning to seek a Mayweather fight with and Julio Cesar Chavez Jr.'s apology. In addition to giving you all the latest Boxing News, Boxing History, the best guests from the past, present and boxing's future, along with Billy C's opinions, the Blast from the Past will feature Former World Champion and Boxing Hall of Famer, Matthew Saad Muhammad. This week Billy C will continue his Greatest Fights Series with the Rocky Marciano – Jersey Joe Walcott fight from September 23, 1952.
Monday Daxx Kahn attended the Miguel Cotto/Austin Trout New York City press conference held at El Museo Del Barrio located on 1230 5th Av. His recap of the event was posted on WWW.BillyCBoxing.com and will be discussed during Thursdays TalkinBoxing With Billy C TV & Radio Show. Look for Daxx to be at Gleason's The Annual DUMBO Art Under The Bridge Festival Sept 28th.
Writer and Boxing Expert, Alex Pierpaoli who does the shows weekly Blast From the Past segment will not only contribute his weekly segment but along with Daxx Kahn be in press row to cover September 29th "Road to Glory" an HBO broadcast event to take place at the Foxwoods Resort MGM Grand in Mashantucket, Connecticut. That event will be headlined by unblemished super middleweight Edwin Rodriguez defending his USBA super middleweight title against fellow unbeaten prospect Jason Escalera.
Austin Killeen recapped his night at the fights in New Mexico when he sat ringside for "WAR IN SANTA FE" that can be read in his WWW.BillyCBoxing.com column.
Check out our newest contributor Thomas Newman who covers the UK boxing scene, his column is headlined by last weekend's Burns and Mitchell in the Battle of Britain.
Every Morning you Can catch the LIVE show on WWW.BillyCBoxing.com Tune into www.TalkinBoxing.com and NOW www.MaxBoxing.com from 5:30 – 7:30 AM EST Monday thru Friday to catch the Talkin Boxing With Billy C Radio Program LIVE
Our web outlets are updated throughout the day with fresh content also we are on Twitter @TalkinBoxing and Facebook.
Holm vs. Lamare II announced for Dec. 7
ALBUQUERQUE, N.M. (September 25, 2012) — Fresquez Productions held a press conference today to announce its "Fire And Ice" card, headlined by a rematch between 12-time, three-division world champion Holly "The Preacher's Daughter" Holm (31-2-3, 9 KOs) – the recognized pound-for-pound Queen of Boxing – and four-time world title-holder Myriam Lamare (20-3, 10 KOs) for the IFBA and IBA light welterweight titles on Friday night, December 7 at Route 66 Casino Hotel in Albuquerque.
"Fire And Ice," presented by Fresquez Productions in association with Route 66 Casino Hotel, will find Holly matched against a French boxer for her third straight fight having split her last two fights against Anne Sophie Mathis (25-2). Their most recent fight this past June resulted in a 10-round decision win for Holm for the IBA, WBF and WBAN welterweight championships.
Hold won a unanimous 10-round decision over Lamare (who will fight for only the second time outside of France) back on January 23, 2008 in Albuquerque, by scores of 98-92, 97-93 and 96-94 in Holm's successful WIBA welterweight title defense.
"Holly Holm has proven that she's the best pound-for-pound women's fighter in the world and Myriam Lamare is the No. 1 world-rated light welterweight," promoter Lenny Fresquez said. "Their first fight was very competitive and I don't expect anything less in their rematch on December 7 at the beautiful Route 66 Casino Hotel."
The 30-year-old Holm (31-2-3, 9 KOs) has defeated a Who's Who list of woman boxers from the 140 through 154-pound weight classes, including Mathis, Christy Martin, Mary Jo Sanders, Mia St. John, Jane Couch, Duda Yankovich and Chevelle Hallback (twice).
Lamare, a 37-year-old fighting out of Marseille, won a 10-round decision against Hallback in her last action (November 5, 2011) for the vacant IBF light welterweight crown.
"People tell me, 'At least this fight won't be so hard,'" Holm commented. "But I think that every fight is tough," Holm commented. "When Myriam and I met last time, it was one of my toughest fights. I felt like she had me guessing her game plan from round to round. I have faith in my promoter (Lenny Fresque3z), who always believes in me, and my trainer. I've become a better person in and out of the ring. I'm as nervous as I'll ever be, but I'm excited to take on the challenge."
Supporting fights showcasing local boxers was also announced: light welterweight Matthew "Champ" Baca (1-0, 1 KO) vs. TBA (6 rounds), female light welterweight Victoria "La Reina de la Guerra" Cisneros (6-13-2, 2 KOs) vs. Australian invader Diana Prazak (11-1, 7 KOs) in an eight-round bout, bantamweight Raymond "Hollywood" Montez (5-2, 3 KOs) vs. Jazzma Hogue (2-2-1) in a six-round match, undefeated welterweights Cristian Cabral (4-0 3 KOs) vs. Grant John (2-0), plus amateur standout featherweight Jason Sanchez will be making his pro debut vs. Gene Perez (1-0), , in a four-round fight. All fights and fighters are subject to change.
For more information about "Fire And Ice" go on line to www.FresquezProductions.com or www.rt66casino.com.