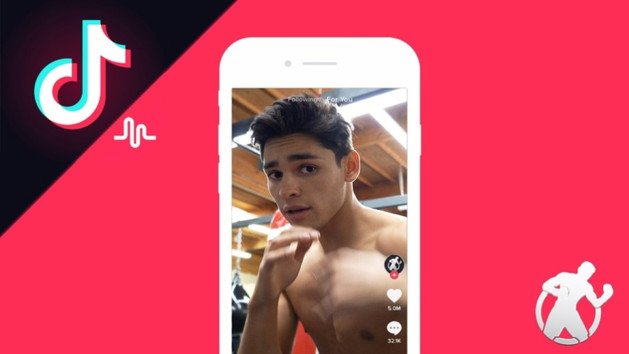 Golden Boy, the leading media and entertainment brand, has added another element to its extensive social media presence by launching its very own TikTok account. The account launched today with the inaugural post created by rising sensation Ryan Garcia (19-0, 16 KOs) ahead of his Feb. 14 return at the Honda Center in Anaheim, Calif for Golden Boy's special Valentine's Day event. Fans will get an inside look into Ryan's training leading up to his fight against Francisco Fonseca (25-2-2, 19 KOs), which will be streamed live on DAZN.
"It is very important to stay up to date with the latest platforms and developments in social media," said Oscar De La Hoya, Chairman and CEO of Golden Boy. "Our company was one of the first in the sport of boxing to develop an Instagram and Twitter account, which now boast over 1.5 million followers collectively. Social media is a great way to stay connected with our boxing fans, and we plan to do exactly the same with TikTok, where we'll develop fun and exciting content featuring some of the most popular songs and boxing stars of today."
Content for the @GoldenBoyBoxing will be made exclusively for this platform, including highlights, training videos and tips, behind-the-scenes features and comedic shorts through short looping videos with effects and musical overlays. With over 500 million TikTok active users globally, this platform will target a younger generation of audiences to develop them into long-term Golden Boy fans.
TikTok joins Golden Boy's extensive online presence that also includes Facebook, Instagram, Twitter, YouTube and our official website.
Garcia vs. Fonseca is a 12-round fight for the WBC Silver Lightweight Title presented by Golden Boy. The event is sponsored by Hennessy "Never Stop. Never Settle." The event will take place Friday, Feb. 14 at Honda Center in Anaheim, California and will be streamed live exclusively on DAZN.
Tickets for the event are on sale and are priced at $150, $100, $50 and $25, plus applicable taxes, fees and services charges. Tickets can be purchased at goldenboytickets.com, ticketmaster.com, and by phone at 800-943-4327 and at the Honda Center Box Office (Monday through Friday from 10 a.m. PT to 5 p.m. PT and Sat 10 a.m. PT to 4 p.m. PT).
Banner Promotions Signs Junior Welterweight Jamshidbek Najmitdinov
Banner Promotions is pleased to announce to the signing of top junior welterweight prospect Jamshidbek Najmitdinov (14-1, 11 KOs) to a co-promotional deal with Uprising Promotions.
Najmitdinov of of Yashkent, Uzbekistan is looking forward to getting started and moving up the ranks of the 140-pound division.
"I am very pleased to able to sign Jamshidbek, and to work with Ronson Frank and his company, Uprising Promotions. Jamshidbek is a very talented fighter who is television friendly, and we feel has the capability to be a real player in the 140 pound division, I saw his fight with Postol, and he won that fight in my opinion. He should have been credited with three knockdowns, but only got one. He is undefeated an fighter in my mind. " said Banner Promotions President Artie Pelullo.
"I am very happy to sign with Banner Promotions. I am looking forward to fighting in America. Fans will love my style, as i try to take after Roy Jones and Manny Pacquiao. I was inspired by with my countryman Murodjon Akhmadliev who won the unified super bantamweight world championship. I been getting good sparring with (IBF Number-one ranked welterweight) Kudratillo Abdukakhorov," said Najmitdinov.
"We are very excited to work with Banner Promotions. Artie Pelullo has been in the game a long time and has the ability to help get Jamshidbek to the highest level. He is very talented fighter with one disputed loss to a world champion. we are excited for this partnership that will create a lot of opportunities to be seen nationally on all the major platforms out there," said Ronson Frank, President of Uprising Promotions.
Najmitdinov on July 25, 2013 with a unanimous decision over Botir Nosirov. Najmitdinov won his first nine bouts before facing former world champion Viktor Postol.
That bout, which took place on September 16, 2017 saw Jamshidbek drop Postol three times but was denied those two of the knockdowns, due to Postol fighting in front of his home-country fans. Jamshidbek pushed the action, and established himself as one of the top-140 pounders in the world. Since that fight, Jamshidebek has won five in a row, which includes his last bout when he won the WBC CIS and Slovac titles with a 1st round stoppage over Giorgi Khutsishvili on October 6th in Uzbekistan.
"Against Postol, it was a fight that I took on short notice. I wasn't in the best of shape. I want to fight him again. I hope that he beats Jose Ramirez, because I want to fight him for the world championship when I get the rematch. I just want to tell my fans, that the best is yet to come from me, and I am looking forward to getting started in the United States," said Najmitdinov.