Share the post "Rising Heavyweight Star Magomed Abdusalamov Now Ranked WBC #4"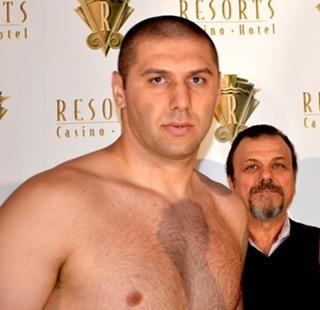 On the eve of his next concussive ring appearance, undefeated future heavyweight champion "Mago" Abdusalamov (17-0, 17 KOs) has been elevated to #4 in the latest World Boxing Council (WBC) rankings.
Abdusalamov, the reigning WBC-USNBC Champion, is coming off an impressive stoppage over former Olympian Victor Bisbal on March 8 and heading into a showdown against Argentina's Sebastian Ceballos (33-7-2, 25 KOs) on April 27 at Club Atlético Vélez Sarsfield in Buenos Aires, Argentina, as part of the Sergio "Maravilla" Martinez (50-2-2, 28 KOs) vs. Martin Murray (25-0-1, 11 KOs) WBC World Middleweight Championship undercard.
The fight against Ceballos will be televised internationally, as Abdusalamov's star continues to rise.
"Mago is a top contender now," said his promoter, Sampson Lewkowicz of Sampson Boxing. "He will only have to win a couple more fights and he will be in a perfect position to begin his championship reign, which will last a long time. I have said this since early in his career.
" He is too strong for anyone in the world to handle. Some of his opponents come out and use up all their energy in a few rounds and maybe they look like they're doing ok. But the pressure of Magomed is incredible and before long they are waiting to get knocked out like everybody else. He is the future champion of the world."
###
Promoted by Lou DiBella of DBE Entertainment, Sampson Lewkowicz of Sampson Boxing and Sergio Martinez of Maravilla Box, the blockbuster April 27 Sergio "Maravilla" Martinez (50-2-2, 28 KOs) vs. Martin Murray (25-0-1, 11 KOs) WBC World Middleweight Championship event will also include several important championship fights, including Salta, Argentina's Luis Carlos Abregu (34-1, 28 KOs) vs. Montreal, Canada's Antonin Decarie (27-1, 8 KOs) for the WBC World Silver Welterweight Championship; Argentina's Claudia Lopez (22-6, 5 KOs) vs. Santo Domingo, Dominican Republic's Dahiana Santana (31-6, 14 Kos) for the IBF World Female Featherweight Title; Argentina's Damian Marchiano (18-9-1, 7 KOs) vs. Spain's Kiko Martinez (27-4, 19 KOs) for the WBA Latino Super Bantamweight Title; Argentina's Diego Pichardo (8-3, 3 KOs) vs. Spain's Ivan Ruiz (8-1-1, 3 KOs) for the IBF Latino Jr. Bantamweight Title; and Israel "Cachito" Perez (24-2-1, 14 KOs) vs. Jorge Luis Rodriguez (14-7-1, 1 KO) in a six-round junior lightweight war.