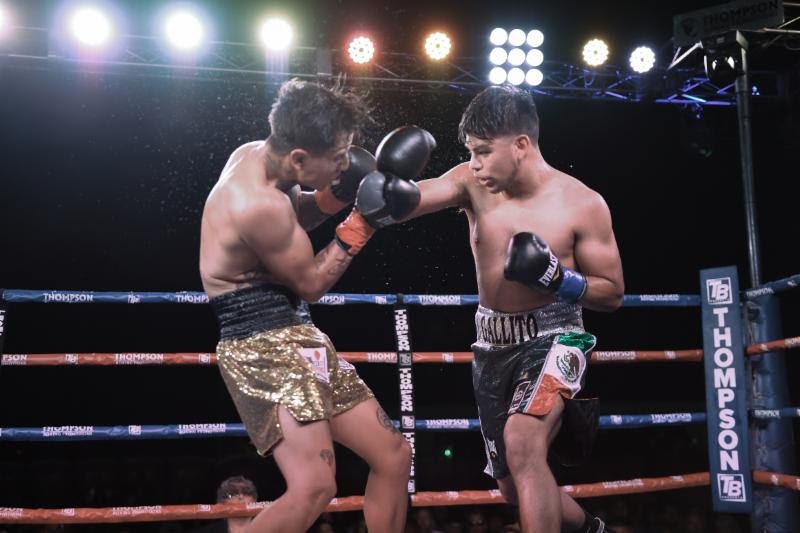 Junior welterweight Pedro Moreno (12-0, 7 KOs) outclassed Gilberto Espinoza (11-2, 6 KOs) through eight entertaining rounds Saturday night from Moreno's hometown of Sacramento, Calif.
Moreno, 22, largely boxed from the outside using a lead left hook to set up his power attack. He consistently rocked Espinoza with heavy rights and lefts. Espinoza had his best round in the fifth, when he went all in to try to rattle Moreno.
"The better fighter won tonight," said Moreno, who won with scores 80-72 and 79-73 twice. "I landed some big shots in almost every round."
Indeed, Moreno proved the bigger, stronger boxer. TB Presents livestream commentator Rich Marotta likened it to a welterweight fighting a middleweight. It was apparent to anyone watching that Espinoza's punches had very little effect on Moreno.
Welterweight prospect Luis Lopez (7-0, 3 KOs) stayed unbeaten with a unanimous decision win over Dwain Victorian (5-5-1, 3 KOs). Lopez landed the heavier shots throughout the six round fight.
Junior lightweight Manuel Jaimes (6-0, 6 KOs) continued his knockout winning streak by eliminating the game Alex Solorio (4-6, 1 KO) at the 1:03 mark of the sixth round. Jaimes roughed up Solorio throughout the fight, which was scheduled fox six. Finally, in the final round, the referee had seen enough and put a stop to it.
Featherweight Arnold Dinong (5-0, 1 KO) out boxed Francisco Camacho (7-11-1, 3 KOs) on his way to a unanimous decision win (40-35, 40-36 twice). Dinong simply outworked Camacho right from the jump. Throughout the fight, Dinong fought behind a compact, quick left hook and steady jab.
Junior lightweight Will Villa (3-0) scored a unanimous decision sweep of George Carranza (1-5) in the second fight of the night. Willa was simply the more technically sound fighter and used that ability to score points in every round.
Junior lightweight Sebastian Salinas (1-0, 1 KO) walked right through the overmatched Tyler Marshall (1-7) in his professional debut. Salinas scored the knockout win at the 1:30 mark of the opening round after he essentially mauled Marshall. The referee intervened and put the official stop to a contest that was set for four rounds.
"Path to Glory" was presented by Thompson Boxing Promotions and sponsored by Everlast.
Keith Hunter Looking for Big Fights After Krael Win
After defeating Cameron Krael and Sanjarbek Rakhmanov in his last two fights, unbeaten super lightweight prospect, Keith "The Bounty" Hunter (11-0, 6 KOs), is ready to face all the top contenders in 140-pound division.
"I feel I'm the next rising star in the super lightweight division," said Hunter, who is managed by Greg Hannley of Prince Ranch Boxing. "I showed I can win tough fights with the odds stacked against me. In my last two fights I took out two TMT fighters on their home turf. I feel I'm ready to face any of the top contenders in the super lightweight division."
This past Friday, Hunter soundly defeated Cameron Krael (16-14-3, 4 KO's) over ten rounds, winning a unanimous decision. Scorecards read 93-97, 92-98. Before his fight with Krael, Hunter won a split decision over Sanjarbek Rakhmanov. Both fights took place at Sam's Town Hotel & Gambling Hall, in Las Vegas, where Mayweather Promotions showcases their fighters.
"I knew if I came out victorious against Krael, who all the insiders know is a tough fight for anyone, I would be knocking on the door of a big fight," continued Hunter, who is promoted by Greg Cohen Promotions. "In addition, I beat Rakhmanov, who is by no means an easy fight. With these two victories behind me, I feel I'm ready for anyone."
"Hunter is in his prime right now and we know he has all the talent to become a world champion,' said manager Greg Hannley. "We are going to work closely with Greg Cohen, Hunters promoter, to see what type of step up fights are out there for Keith. Hunter's fan friendly style is perfect for TV."