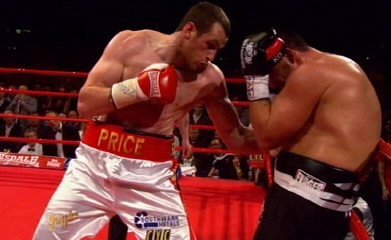 It's not only his colossal 6ft 8in, 245lb frame that promises to distinguish David Price as the biggest emerging star in British boxing.
The 29 year old Liverpudlian appears the Brit best equipped to dominate the world heavyweight division since Lennox Lewis.
Unbeaten in 13 pro gigs, with 11 victims crumbling early (10 inside four rounds), the reigning British and Commonwealth king, known as 'The Power Ranger', has lately demonstrated a frightening kayo punch to supplement the technical tools that saw him cruise to three ABA titles, a Commonwealth Games gold medal and bronze at the 2008 Beijing Olympics.
Debuting on BoxNation this Saturday, at a sold out Echo Arena in his home city, the Scouse giant intends to further enhance his standing by hammering the final nail into the ring coffin of maligned 2000 Olympic hero Audley Harrison.
Boxing writer Glynn Evans sensed a hardened mental resolve about the usually affable father of two when he caught up with him to examine his career at length last weekend.
Price v Harrison is live and exclusive on BoxNation (Sky Ch. 437/Virgin Ch. 546). Join at www.boxnation.com
Tell us a bit about your upbringing and childhood in Liverpool.
Until I was eight, we lived in Anfield in a two up, two down terrace in the shadows of the old Kop. After that, the family moved to a bigger house in West Derby, which was more suburban, a nicer area. We had a garage and a garden. My folks have stayed there ever since.
I was always a quiet, shy kid who was an easy target because of my size and I got picked on quite a bit. I was always a gentle giant. I like to think I was a nice kid.
At school, I arsed about until about year nine (13-14 years of age). Footie was my big thing. I was a massive Reds (Liverpool) fan and all I thought about was going to the match, home and away, every week, with me mates. One year, I had a really bad school report and me dad threatened to stop me going the footie unless I bucked me ideas up. After that, I started to apply myself a bit better and ended up with nine GCSEs. I actually started me 'A' levels but wanted to earn a bit of money instead so I got an apprenticeship as a gas fitter.
Were you always a big lad?
I was, yeh. I was the biggest kid in the school, long before I was in the top year. I had a big growth spurt as a teenager and was 6ft 7in when I was just 14.
I really hated it. It brought me a lot of unwanted attention off the older lads because I weren't strapping; I was all skinny and gangly. It was very hard to get decent gear or shoes to fit me. Around the age of 16, when I began going out for a drink on the town, I became a bit of a 'mark' for some knobheads. I was never a bully but I always gave as good as I got with the verbals.
What part did boxing play in developing your confidence?
Huge. As well as the rollicking off me dad, I started boxing at the Long Lane ABC and that instilled a bit more discipline and work ethic into my life. In fact, pretty much everything good to happen to me has come through boxing.
I first went the boxing gym when I was about 10. Because of my size, I had to spar with older lads and they always had the strength over me. I was only a baby and several times I'd be 'filling up' as I left the ring after being punched on the nose or lip. So, after two or three months, I stopped going.
After the family moved to West Derby, Dad bought some pads and gloves and turned the garage into a little gym and I started getting into it again.
I always wanted to prove I could go back to a boxing club. I liked the idea of being able to tell people I was a boxer so I started up again when I was 13 or 14.
You're notoriously placid. What makes you angry?
Like everyone else I get upset by the shit things that go on in the world and me bird can make me turn in the blink of an eye! It's a good job I don't have to fight her.
These last two weeks before a fight I definitely start to get a bit more 'edgy'. All the hard training and sparring is done and you're just waiting around. Lord knows what I'd be like if I had to diet like the lighter fighters.
One thing that's really irritated me since I was a kid is people shouting at each other. If one party just didn't respond it'd stop but someone always needs the last word. That really riles me. However, when opponents try to give it the verbals it never gets to me because I know that, whatever they say, won't affect anything once I get 'em alone in the ring!
Sometimes people mistake me being pleasant and relaxed, for being soft. I'm far from it!
Your hugely successful amateur career came to an ignominious conclusion when you were comprehensively dropped and stopped by Italy's Roberto Cammerelle in the Beijing Olympic semi-final. Do you look back on the bronze medal that you achieved with pride or embarrassment?
Right now, I try not to reflect on it at all. I think when I've retired from boxing it'll be something I'll be quite proud of but, for a couple of years, I was definitely embarrassed about my performance against Cammarelle.
I think one of the key factors was that I hit such a high when I stopped the Russian Islam Timurziev, who was the world number one, in the opening series (RSC2). After that, it was hard to get my level of motivation back up. Next up, I fought a Lithuanian who withdrew after a round with an injury so I'd secured a medal, the pressure was off and I became a little too laid back. I paid the price for all the world to see but it's done now. It's a chapter in my story.
Had you capitulated mentally like that before?
No, Cammarelle was the only time I 'froze'. It was a one off really, but what a time for it to happen.
I'd only been stopped once before in the amateurs, by Canada's Bermane Stiverne in 2004. I was quite new to the England set-up back then, wasn't that fit and just walked into a big right hand. It wobbled me and the ref stopped me on me feet.
Though I'd been down a few times in the amateurs, I'd always got up to win, which I like to think showed my grit and character. In the 2004 Europeans, I was only 20 – and a young 20 – when a good Norweigan called Andreas Barkhall, who'd previously stopped Robert Helenius, put me flat on my back with a big right hand. But I got up to drop him and beat him convincingly by about 10 points.
Probably the most notable time I was down, the one everyone keeps carping back too, was when that big Indian southpaw (Varghese Johnson) dropped me three times in the 2006 Commonwealth Games semi in Melbourne. I just wasn't seeing his shots but my fitness pulled me through and I stopped him in the fourth (with just 12 seconds remaining).
The only other time I can think of was when Alan Kasango, an African representing Wales, steamed out swinging, and caught and dropped me with a left hook when I wasn't concentrating in the opening round of the 2005 Four Nations. I got up to win that one on points. The Ukraine's Vyacheslav Glazkov also stopped me at the Strandja Cup in Bulgaria but that was on that stupid 20 point 'outclassed' ruling.
Today you seem so much more assured mentally. How did you address and correct your mental shortcomings?
There's been a lot of factors, natural maturity being one of them. I have to admit my confidence was pretty low after the Olympic experience and it took quite a while for me to rebuild. If you'd asked me back then if I thought I could win a world title I'd obviously have said 'Yes' but wouldn't really have believed it.
But my coach, Franny Smith, is great with the psychology. He can really read me and he'd have to take most of the credit. With each professional win, with each consistent performance, you just develop more belief.
The other big factor would be, being taken out of my comfort zone and going around Europe to spar all the world ranked contenders. I always performed and that gave me an accurate gauge that I had ability and was heading in the right direction. That's definitely been a huge confidence booster. If you asked me today 'Can you win a world title?', I'd answer 'Yes' and mean it.
How did you go about making the technical adjustments needed to evolve from elite amateur to professional contender?
Well, having signed with Hayemaker, initially, I went straight into sparring with a world heavyweight challenger in David Haye and I was doing well from the off. Also, David brought over a lot of top sparring partners like Kali Meehan and I handled them with ease.
After that, I went away to work with guys like Poland's Albert Sosnowski and Odlanier Solis, the Cuban over in Madrid, and I dealt with them really well. Odlanier has a very experienced team around him and they were impressed with me.
I worked with Dereck Chisora who proved he was above domestic level when he gave Vitali Klitschko such a hard run over in Hamburg earlier this year. I had more good work with David (Haye) before his unification with Wladimir (Klitschko).
Recently, I've been across to spar the Bulgarian, Kubrat Pulev, the current European champion. He really impressed me. He does the simple things very well. He spars just how he fights and we had war after war. One day he'd get the better of it, next day I'd be on top. Right now, I'd have to concede he's a couple of steps above me because he's faced better opposition but the spars were even.
You've exploded to prominence this year but your early pro career was littered with difficulties; the collapse of Setanta UK and subsequent split with Hayemaker, injuries…That must have been difficult.
Yeh, it was. Three weeks before my debut I injured my right hand and, though I got through my first four fights with cortisone injections, it needed sorting. But, back in 2009, I couldn't afford it. Even when I finally had the surgery I came back too quickly. It wasn't until 2010 that I really had the confidence to throw my right properly.
Mentally, that was very challenging, very worrying and I needed to dig deep inside. But, in the long run, it's been good for me.
Regarding the opposition, I always knew from my amateur pedigree that I'd not really get tested until I met opponents who were world class. Most agreed guys like Osbourne Machimana, (18-6-1), Raphael Butler (35-9) and Tom Dallas (15-0) appeared solid tests on paper before I blew them away.
Do you consider the lack of public exposure you received during your first three years as a pro a concern or a blessing?
Probably a blessing. These things tend to happen for a reason. The so-called 'flop' at the Olympics allowed me to go under the radar and, crucially, allowed me to stay hungry by progressing the hard way. I think hunger plays a big factor in professional boxing.
To raise my profile, my lawyer recently put me onto an agency in the hope of securing sponsorship and endorsement opportunities. But it's more a long term thing. Right now, I'm not overly concerned about that. I'm far more concerned about getting to the top and earning good money through my performances inside the ring.
Little is known about your coach Franny Smith who brought you through the amateurs at the Salisbury ABC. Tell us a bit about his background. What convinces you Franny has what it takes to prepare you for elite world level?
Franny had a few amateur bouts as a kid but I think he realised he was always likely to be a better coach than a fighter. At the 'Solly' there was Paul and Carl Wright, Stephen and David Burke, Derry Mathews and, when I arrived from the Long Lane club, he took me under his wing and really improved me. Even it the amateurs, he taught more of a pro style.
Back in the day, Franny used to be a bit of a lad and he quit the boxing for a bit. Initially, I wasn't too sure if his heart was still in it but nowadays he keeps himself to himself and doesn't socialise much. He's really got the boxing bug. He's got a fantastic boxing brain, knows the heavyweight division inside out and is always watching tapes and identifying the mistakes of my opponents and potential future rivals. That makes my job easier.
We get on great. He never needs to holler or shout at me because he knows I'm really hungry and always put a proper shift in.
You've proved a noticeably more explosive and destructive beast in the professional code, stopping 11 of 13 opponents. To what extent is that down to physical development and to what extent is it due to a meaner frame of mind?
I actually started knocking people out when I moved up to superheavy from heavyweight in the amateurs.
Obviously I've matured physically with age. I remember before the Olympics being very proud when I managed to bench press 125 kilos. Now I could do ten reps of that. Also, I do a lot more plyometric work on my legs which explains the improved explosiveness.
Part of it is psychological though. As an amateur, I'd move my legs a lot more but now I'm a big man and I have to exert that presence and get on the front foot. Impose myself.
Several opponents have been left sleeping on the canvas for minutes rather than seconds.
Do you ever get frightened by your own power?
You never really get a sense of how hard you're hitting in camp because you've always got huge gloves on for sparring and bags and you don't get the same sensation. Plus you're pretty tired all the time.
Then, in the week of the fight, you start to become re-energised and you begin to stick the 10 oz gloves on to smash the pads. It's then that you get the sense that you're primed to do some serious damage.
Professional boxing is a hard, hard business and you can never allow sentiment for your opponent to get in the way of taking them out; the cleaner the better. You've got to be cold blooded because they'll be looking to do exactly the same to me.
This year you've wiped out British championship level operators John McDermott (KO1) and Sam Sexton (KO4) in spectacular fashion. Did you sense that 2012 was going to be your 'lift off' year?
I just take each fight as it comes, really. If I struggle, I lower my expectations. But I've been very pleased with how things have gone.
I certainly expected the Sexton fight to go longer but, without wanting to appear big headed, I knew the writing was on the wall in the first round. I was landing my jab pretty easily and always knew that he'd not be able to stand up to my power shots, if I connected. So it proved.
What does the British title mean to you? How important is it to secure the Lonsdale Belt outright?
It's a real honour. You only have to look at the names who've held it in the past; Cooper, Bugner, Lewis. I'd certainly ha