Here are the weights and videos from Helsinki, Finland ahead of tomorrow´s Nordic Fight Night.
Heavyweight:
Robert Helenius: 113,1 kg
Sherman Williams: 120,6 kg
WBA Intercontinental Middleweight Title:
Patrick Nielsen: 72,4 kg
Jamel Bahki: 72,5 kg
Helenius vs Williams: face-to-face: The Nordic Nightmare Robert Helenius and Sherman "The Tank" Williams came face-to-face today at The Tiger Club in Helsinki, Finland prior to Saturday´s showdown.
Helenius: "I don´t give predictions. I want to show my fans a good fight. I´m in great shape." Said Williams: "I will take care of business on Saturday. A victory over Helenius in Europe will put me in line for big fights."
Robert Helenius (17-0, 11 KOs) and Sherman "The Tank" Williams (35-11-2, 19 KOs) worked out in front of the Finnish national media today. The two heavyweights will collide on Saturday night at the Nordic Fight Night at Helsingin Jäähalli. "I don't care whether I fight in an ice hall, dance hall or Ballroom, I will bring the heat and put Helenius under pressure," Williams said.
"He might be taller, but I am more good looking, I have a prettier face, so what´s the difference? It´s going to be a great fight. It´s nice to be in Finland. I brought sunshine and I am here to take care of business."
The Nordic Nightmare, not a man of many words, promised to do his talking in the ring. "Sparring went great, my shoulder is fine and I am ready to continue my march to the top of the division on Saturday night," he said.
"I respect Williams, he has been in the ring with some strong opponents. But we have worked hard in practice. I can promise the fans a great fight and a spectacular victory on Saturday."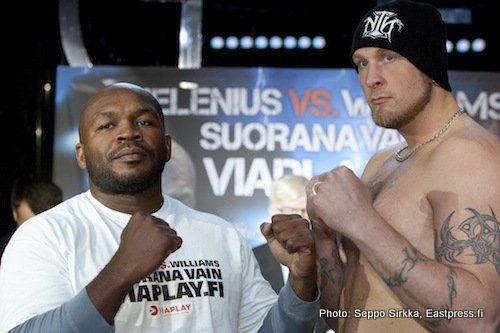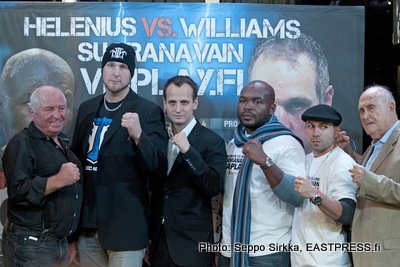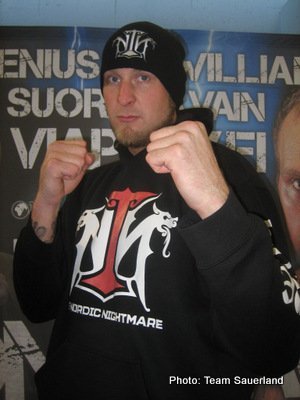 Tickets for the November 10 show at Helsingin Jäähalli can be purchased at www.lippupalvelu.fi.