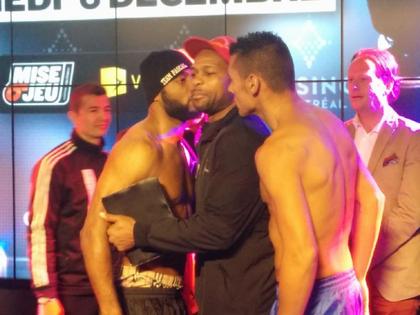 JEAN PASCAL (29-2-1, 17 KOs), Laval, Quebec, Canada 179.6 lbs.
ROBERTO BOLONTI (35-3, 24 KOs), Buenos Aires, Argentina 179 lbs.
(180. lbs catchweight)
SCHILLER HYPPOLITE (13-1, 9 KOs), Montreal, Quebec, Canada 168.7 lbs.
NORBERT NEMESAPATI (15-1, 14 KOs), Budapest, Hungary 167.6 lbs.
JOEL DIAZ, JR. (17-0, 13 KOs), Palmdale, California, USA 129.7 lbs.
PEDRO NAVARRETE (28-19-3, 17 KOs), San Juan Zitaltepec, Mexico 129.5 lbs.
STEVEN BUTLER (8-0, 7 KOs), Montreal, Quebec, Canada 151.7 lbs.
LYES CHAIBI (12-7-2, 2 KOs), Saint-Etienne, Loire, France 149.6 lbs.
YVES ULYSSE, JR. (4-0, 3 KOs), Montreal, Quebec, Canada 143.8 lbs.
LUKASZ JANIK (12-7-1, 8 KOs), Katowice, Poland 145 lbs.
BOGDAN DINU (11-0, 7 KOs), Montreal, Quebec, Canada 237.6 lbs.
MIKAEL VIEIRA (14-4-1, 7 KOs), Montlucon, Allier, France 227 lbs.
DAVID THEROUX (4-0, 3 KOs), Sorel-Tracy, Quebec, Canada 141.7 lbs.
MAURYCY GOJKO (22-44-3, 8 KOs), Lublin, Poland 141.4 lbs.
WHAT: Pascal-Bolonti PPV
WHEN: Saturday, Dec. 6, 2014
WHERE: Bell Centre, Montreal, Canada
PROMOTER: Interbox
PPV: Available throughout North America.Integrated Sports Media will distributed in the United States for live viewing at 8:00 p.m. ET – 5:00 p.m. PT on both cable and
satellite pay-per-view via iN Demand, DirecTV, DISH, and Vubiquity for a suggested
retail price of only $24.95. Plus viewers in the US can order on-line by going to
www.GFL.tv. Saturday night's event will be available on PPV in Canada on Indigo
and Bell in French and English, as well as via Rogers, Shaw and Sask-Tel in English
only.
ANNOUNCERS: Corey Erdman (blow-by-blow) & Benny Ricardo (color analyst)
INFORMATION: www.InterBox.ca or www.integratedsportsnet.com
and follow on Twitter @IntegratedPPV @InterBoxCA and @JeanPascalChamp.
TICKETS: On sale and available to purchase by visiting www.evenko.ca, or calling
1.855.310.2525 and Club de boxe Champion (1.514.376.0980)