Unified Heavyweight World Champion Oleksandr Usyk will put his IBF, WBA, WBO and IBO World Titles on the line against Anthony Joshua in the coastal city of Jeddah, Kingdom of Saudi Arabia on Saturday August 20 and LIVE on DAZN.
Weights: Oleksandr Usyk 221.6 vs. Anthony Joshua 244.5
Filip Hrgovic 242.9 vs. Zhilei Zhang 277.1
Callum Smith 174.7 vs. Mathieu Bauderlique 174.5
Badou Jack 199.1 vs. Richard Rivera 194.9
Andrew Tabiti 216.7 vs. James Wilson 238.5
One of the biggest Heavyweight rematches in the history of the sport, Usyk vs. Joshua 2, billed 'Rage on the Red Sea', will take place nearly three years on from the historic 'Clash on the Dunes' event at the Diriyah Arena that saw Joshua reclaim his Heavyweight crowns against Andy Ruiz Jr.
Oleksandr Usyk, Unified Heavyweight World Champion:
"Good afternoon Saudi Arabia. First and foremost, I want to say thank you to all who made it possible for us to fight here in Saudi Arabia. Prince Khaled, thank you so much. It is very important for me, my team, my country, and I'm really happy to be here. It's not my first time, it's my third time in Saudi Arabia. I feel like I'm going to be here again and again.
"We learned from each other in the first fight, but this is a continuation and the first round on Saturday will be round 13. We had enough time to study each other. We were born to compete for life, for belts, for everything. The one who does not compete, does not win. All our lives are competitions for something or somebody. That's why we are competing. We've had enough time to study each other and this Saturday will be a great, great fight."
Alexander Krassyuk, promoter of Oleksandr Usyk:
"Dear guests, it is a great honour for us to be here and to be hosted by Saudi Arabia. Thanks a lot to Prince Khaled and to the whole team at Skill Challenge Entertainment for the enormous work that has been done within the last couple of months.
"When we watched Usyk's videos from the training camp we realised that he looks like a cyborg. He went through hell in the training camp in the last three months. It did not kill him but it made him even stronger. I've never seen him more determined than now. Not many champions in the world can share their experience going through the war and making their way to the ring to defend their Heavyweight crown. It was an extremely complicated challenge for him, but he seems to have passed it.
"He made his decision to take the rematch in these circumstances after he had received massive support from his Ukrainian compatriots. He was in touch with high-ranking military officers and he visited the hospitals with injured soldiers. In every conversation he heard words of blessing and support to take the rematch. People wanted him to fight. People still want him to win. People want the Ukrainian flag to rise, people want the Ukrainian anthem to be heard throughout the whole planet. Not many men in the world can deliver this to millions of people. Usyk is able to do that. He does that through the sport of boxing.
"It won't sound fair from my mouth if I start to say how good this man is, since I've been his promoter for probably more than nine years. So, let the history judge how good this man is. I wish good luck to both fighters. Let the best man win."
Egis Klimas, manager of Oleksandr Usyk:
"Good afternoon everybody. Thank you for having us here in this beautiful country, Saudi Arabia. I can't explain my emotions for what I feel here – how friendly the people are and how warm we are made to feel. It's unbelievable. We're looking forward to coming back if possible/
"I want to thank Prince Khaled for putting this together. I want to thank Skill Challenge, Matchroom and K2 for finding their ways to work things out together. Of course it was a little bit bumpy as always but we made it.
"As far as talking about Oleksandr Usyk, I'm proud to represent him. I can tell you, I've never seen anybody in 45 degree heat to ride a bicycle for 100 kilometres. I've never seen anybody swimming the day before a press conference in London for 10 kilometres in the pool for 5 hours. I've never seen anybody hold their breath underwater for four minutes and forty seconds, almost passing away. I hope all of this is going to be helping him on Saturday night. Thank you, we'll see you on Saturday night."
Anthony Joshua, former Unified Heavyweight World Champion:
"Thanks to everyone in Saudi Arabia. My friends, my team at the front there Prince Khaled, Skill Challenge and his family as well. Shout out to everyone first and foremost for taking care of us while we've been here. That's it. It's a 'must-win' fight. Preparations have been tough, but I like the pressure. Robert Garcia, Angel Fernandez, members of my previous team as well; they've been pushing me, challenging me, ensuring I stay focused, and positioning me to get the job done and emerge victorious come Saturday night.
"This is what competition is all about; setting goals I want to achieve and being disciplined enough to follow them through. That's competition with myself. As you mentioned with the belts, they mean something but that's all at the end of the target. It's not like I'm skipping the process. I'm focused on the process.
"I'm looking forward to it. I want to compete. I'm looking forward to it. I can't really say much else but you've got to have a competitive spirit. I'm prepared to do whatever it takes and I'm looking forward to competing this weekend."
Robert Garcia, trainer of Anthony Joshua:
"It was a great experience. It's great being here in Saudi Arabia. Everybody has been very nice, and the hospitality has been brilliant. The team did their job, Angel Fernandez, myself and the rest of the team. The champion did what he was supposed to do. We're ready, we're ready to do it. It was a challenge coming off a loss and getting him to do the game plan and do it in training. At the end, the job was done. Anthony followed instructions. On Saturday night we're going to walk out with those belts. I think he's peaked at the right moment. This week has been pretty easy for him. He's happy and he's smiling with everybody. He doesn't have any problems. That's a good sign that things are going the right way. Training camp was awesome, sparring partners did a great job. We're ready to bring those belts back home."
Eddie Hearn, Matchroom Sport Chairman:
"This is the Unified World Heavyweight Title between two greats of boxing. It doesn't get any bigger than that. Oleksandr Usyk; an Olympic gold medallist, the pound-for-pound number one, former Undisputed Cruiserweight and current Unified Heavyweight Champion.
"Anthony Joshua; also, an Olympic gold medallist, became Heavyweight Champion in his 16th fight, unified the division in front of 90,000 people in his 19th fight, and has changed the face of the sport around the world. Two tremendous fighters, two tremendous athletes, champions, and ambassadors of the sport that people in Saudi Arabia and all around the world can be inspired by. It's been an incredible week and the best is still to come."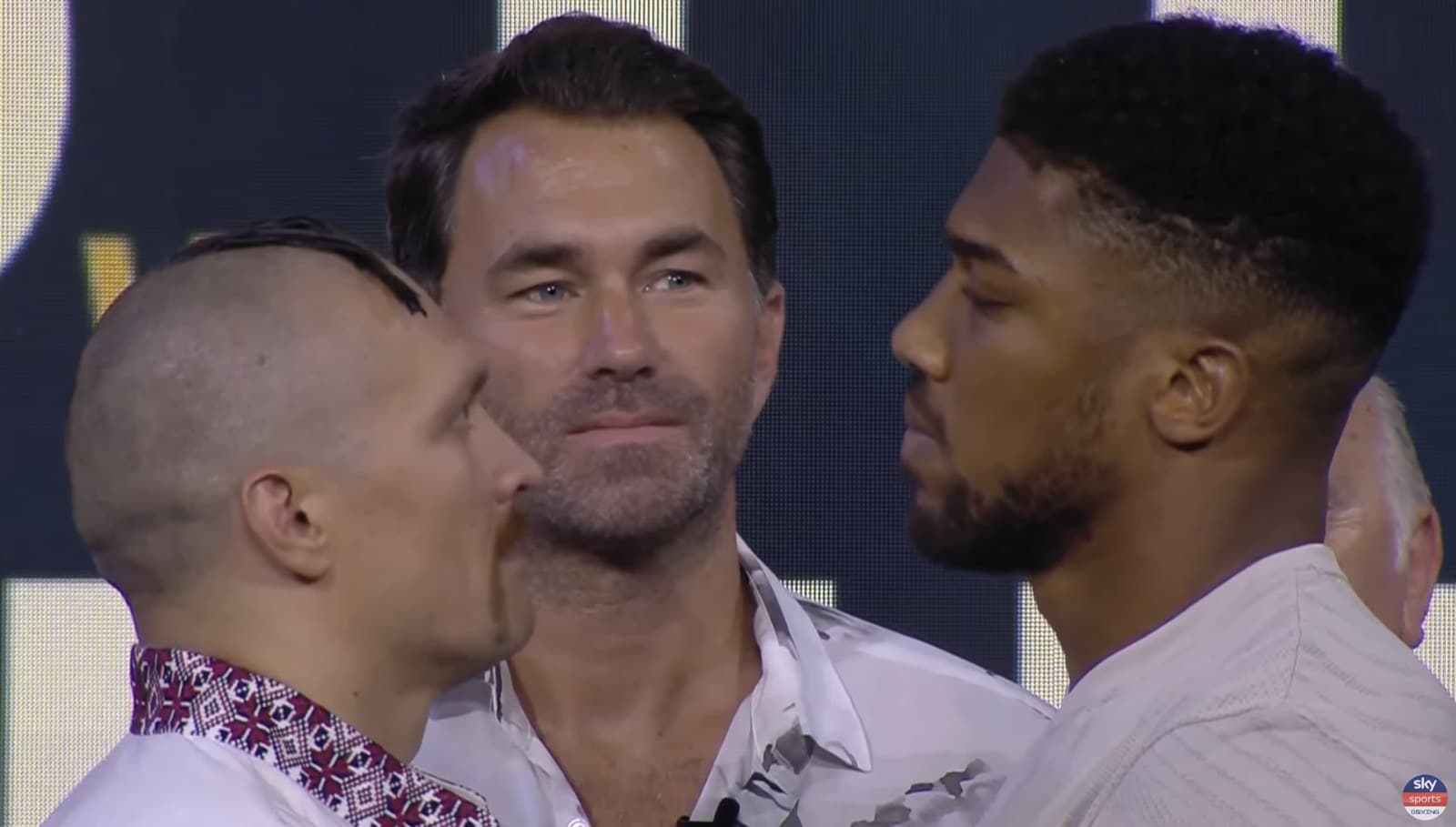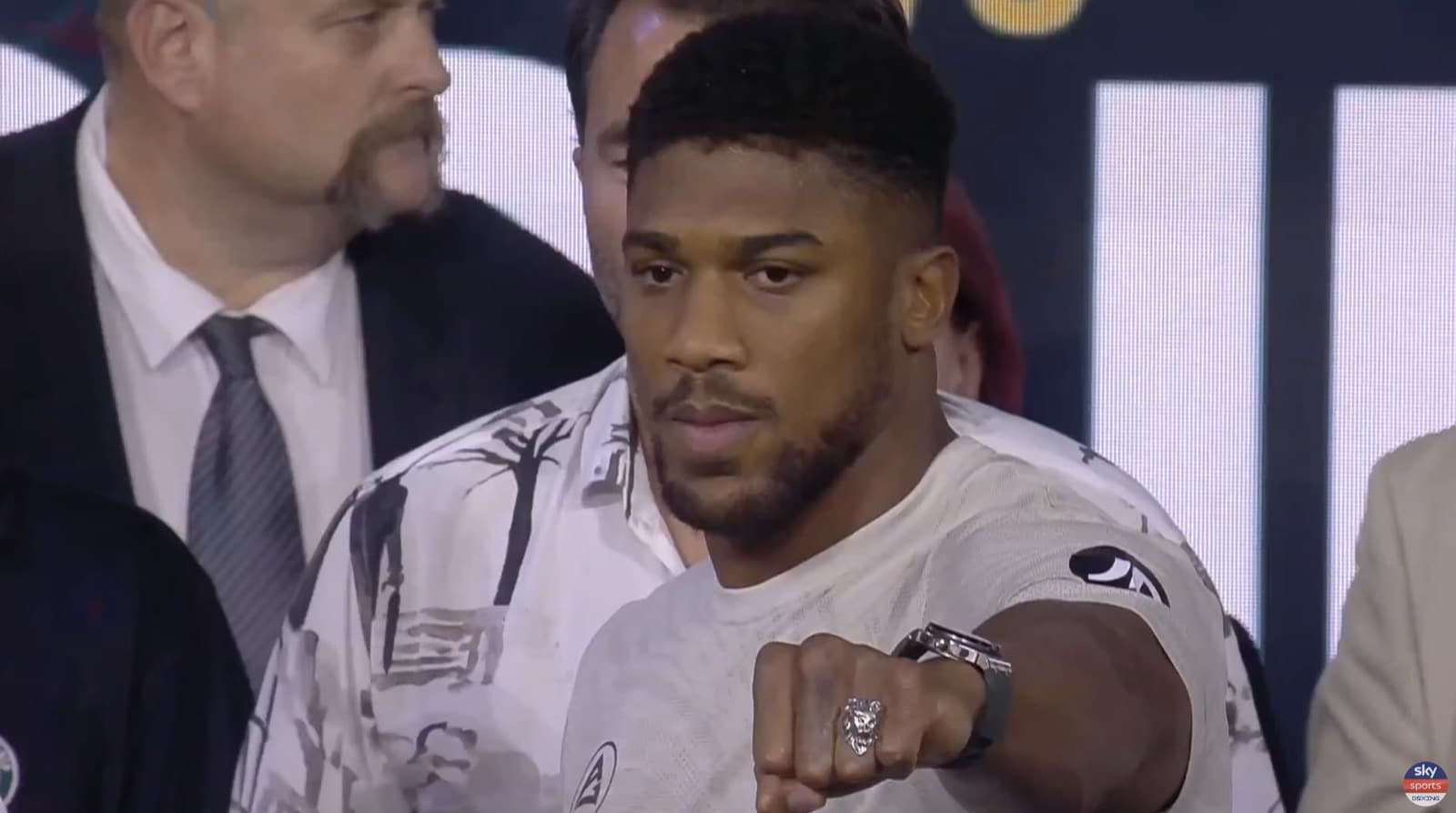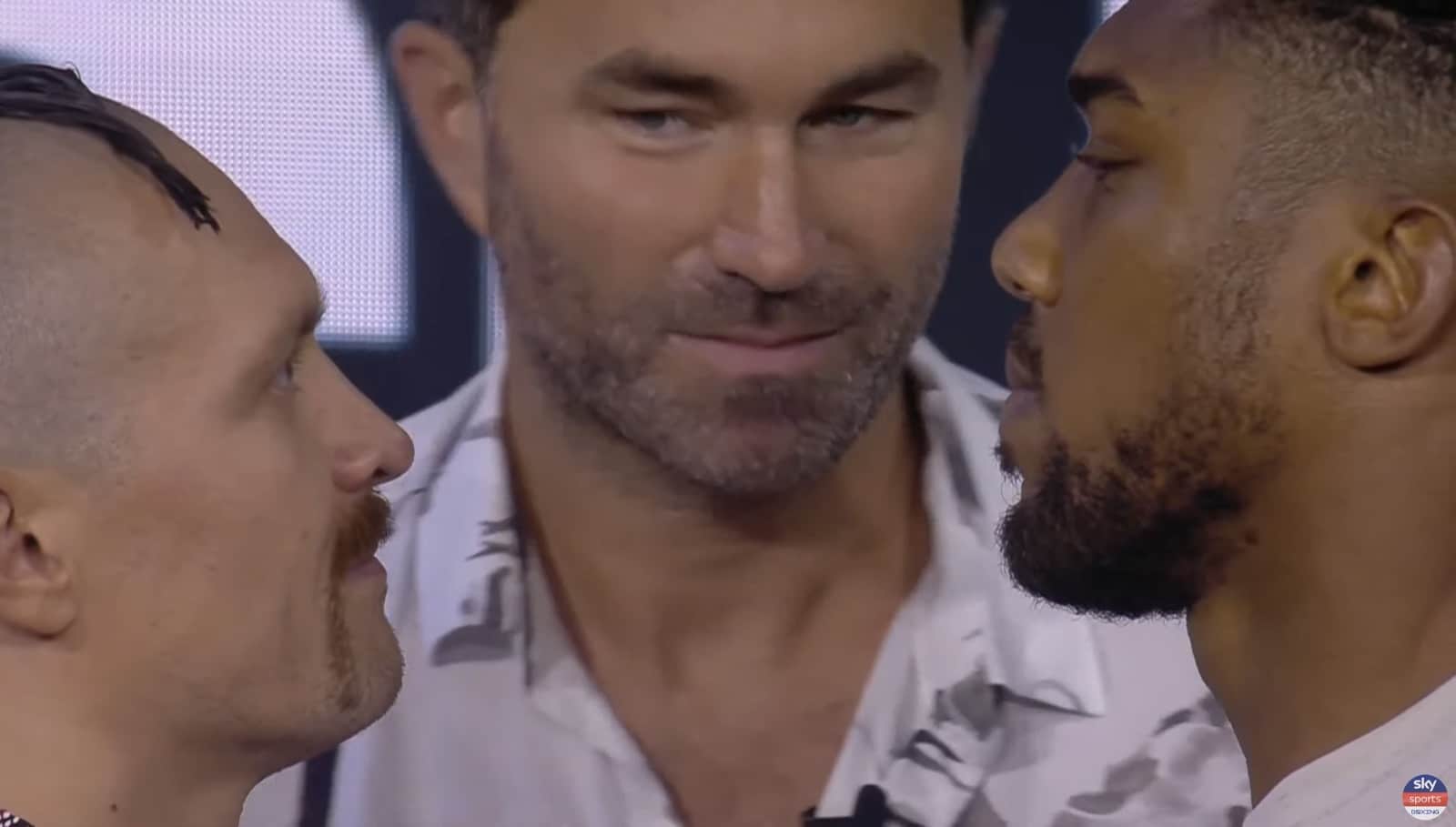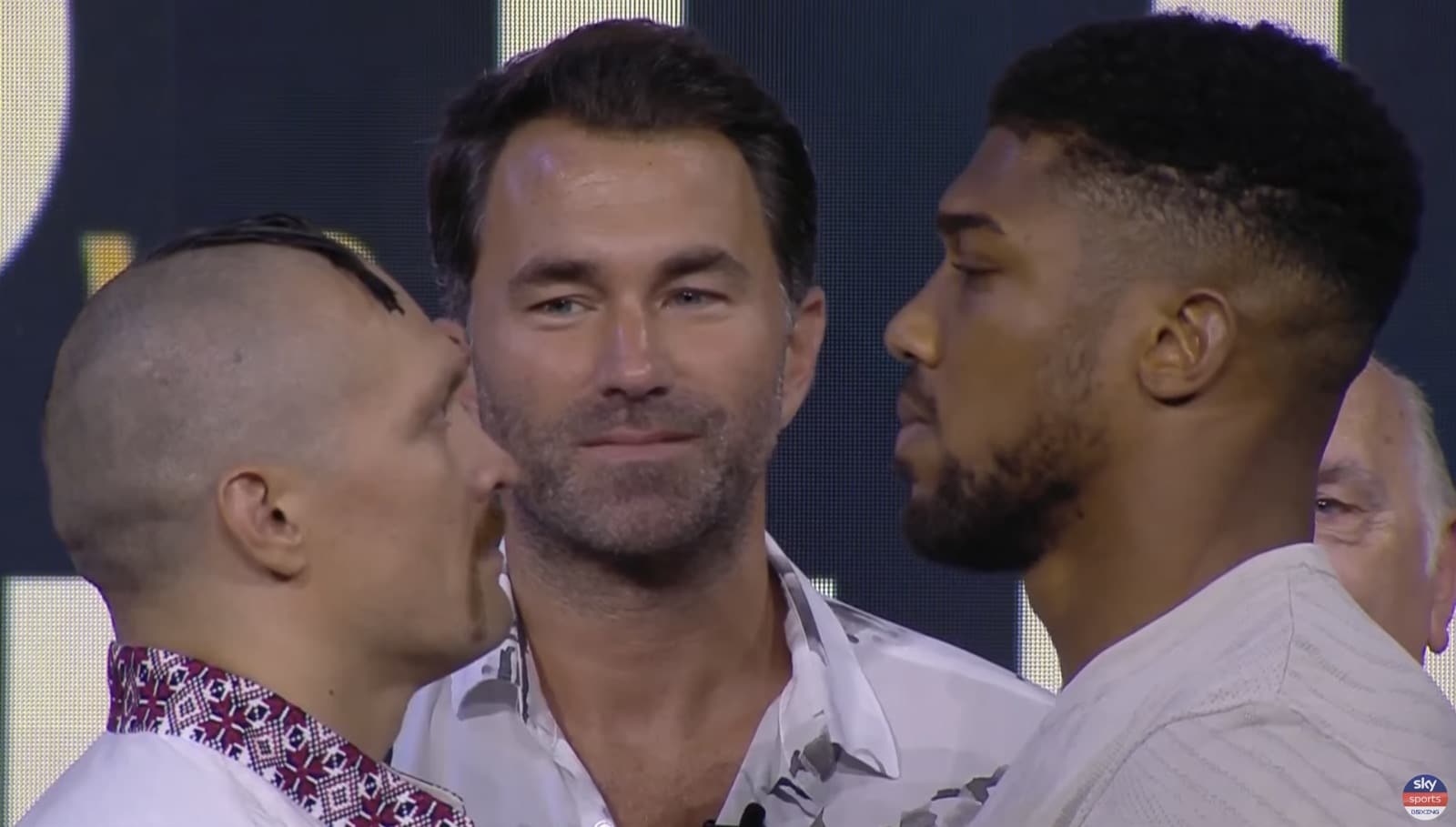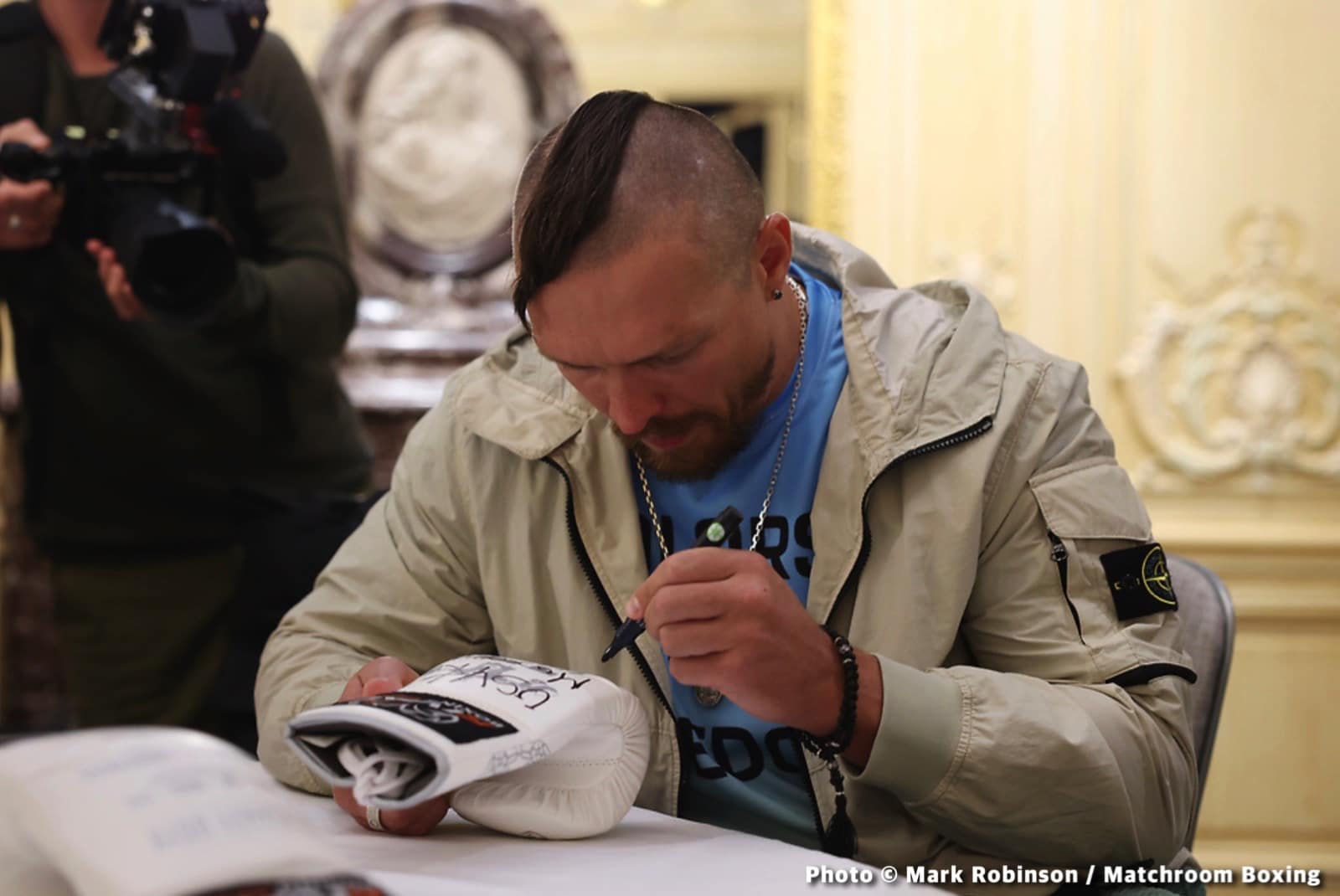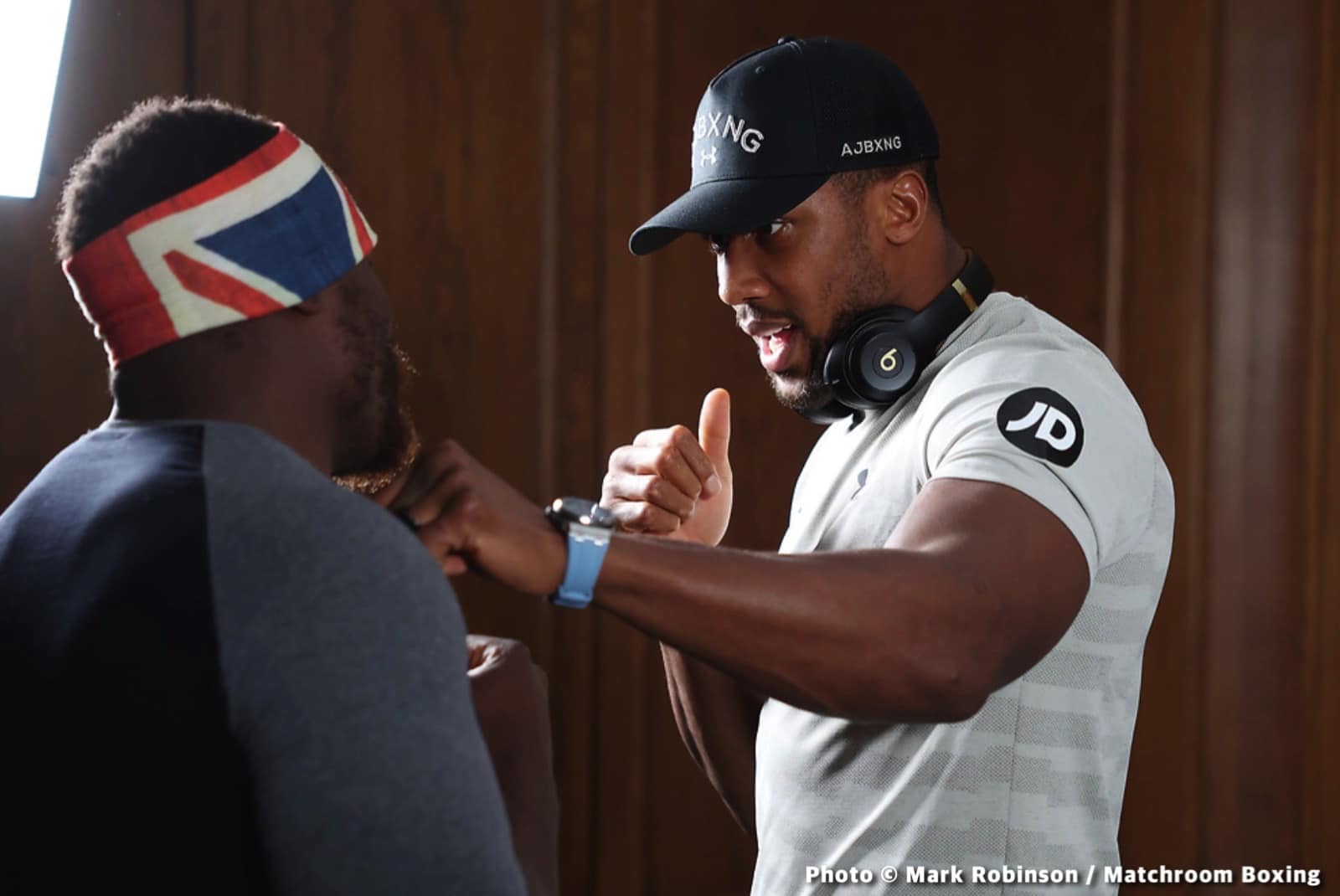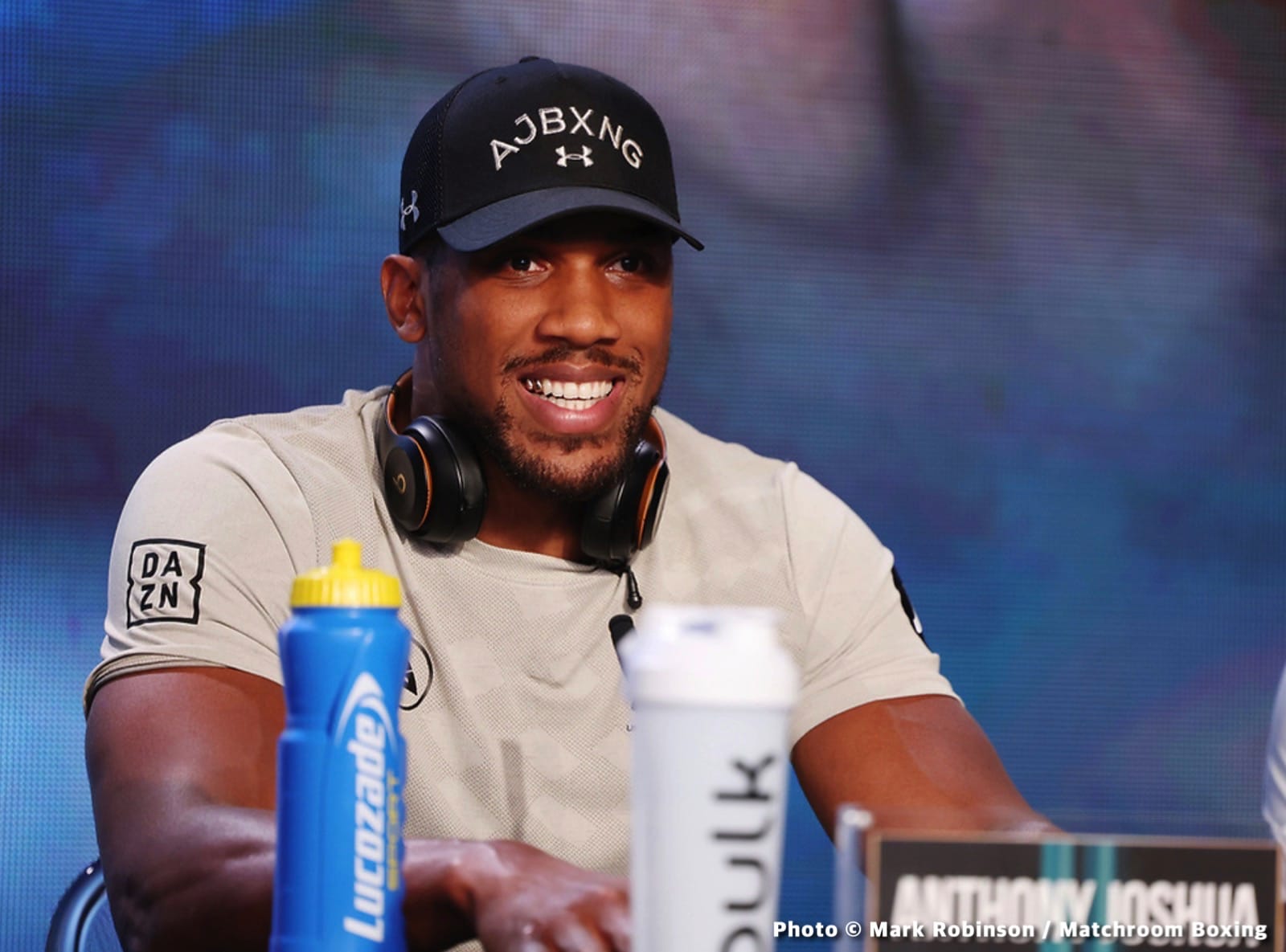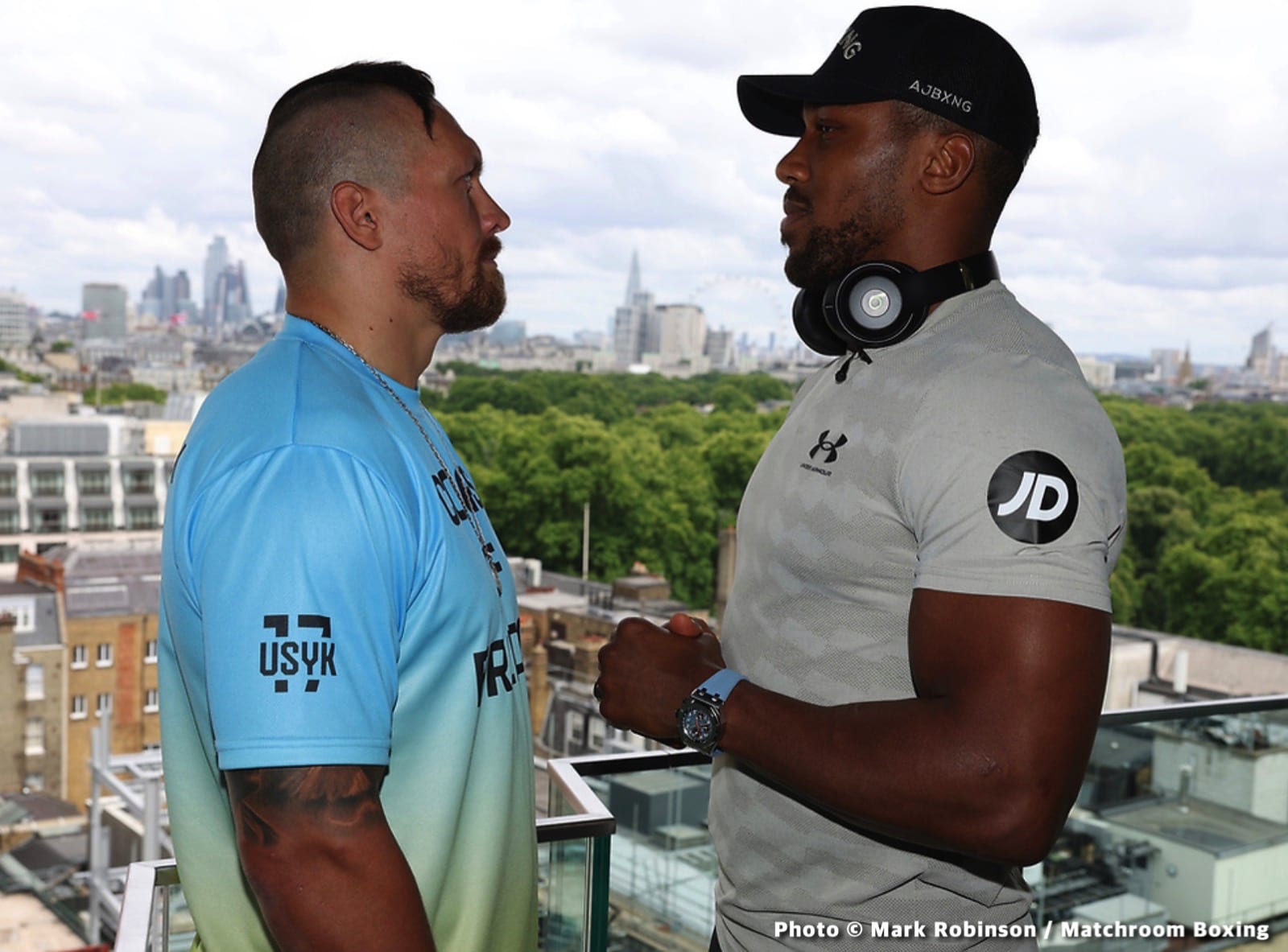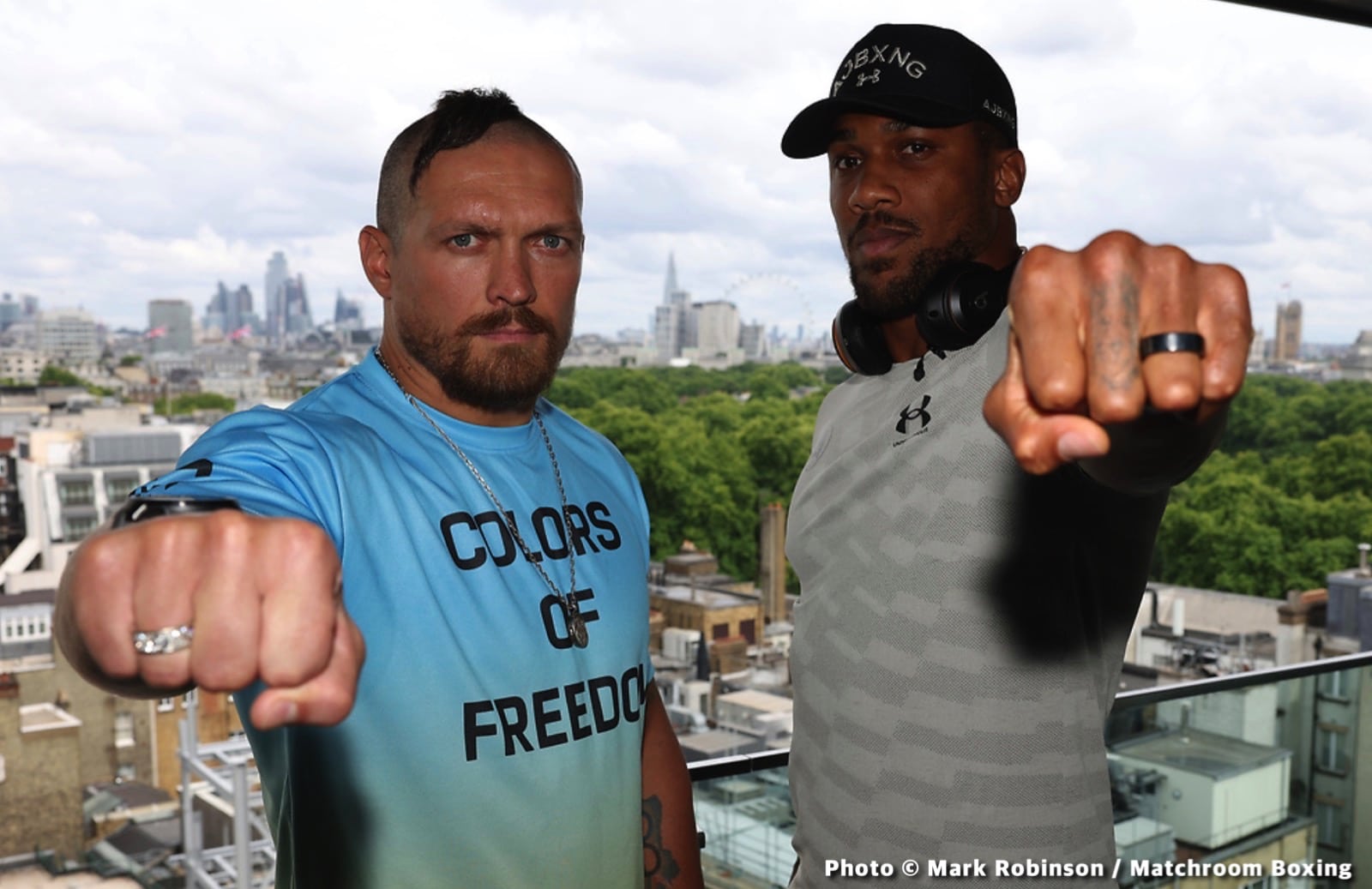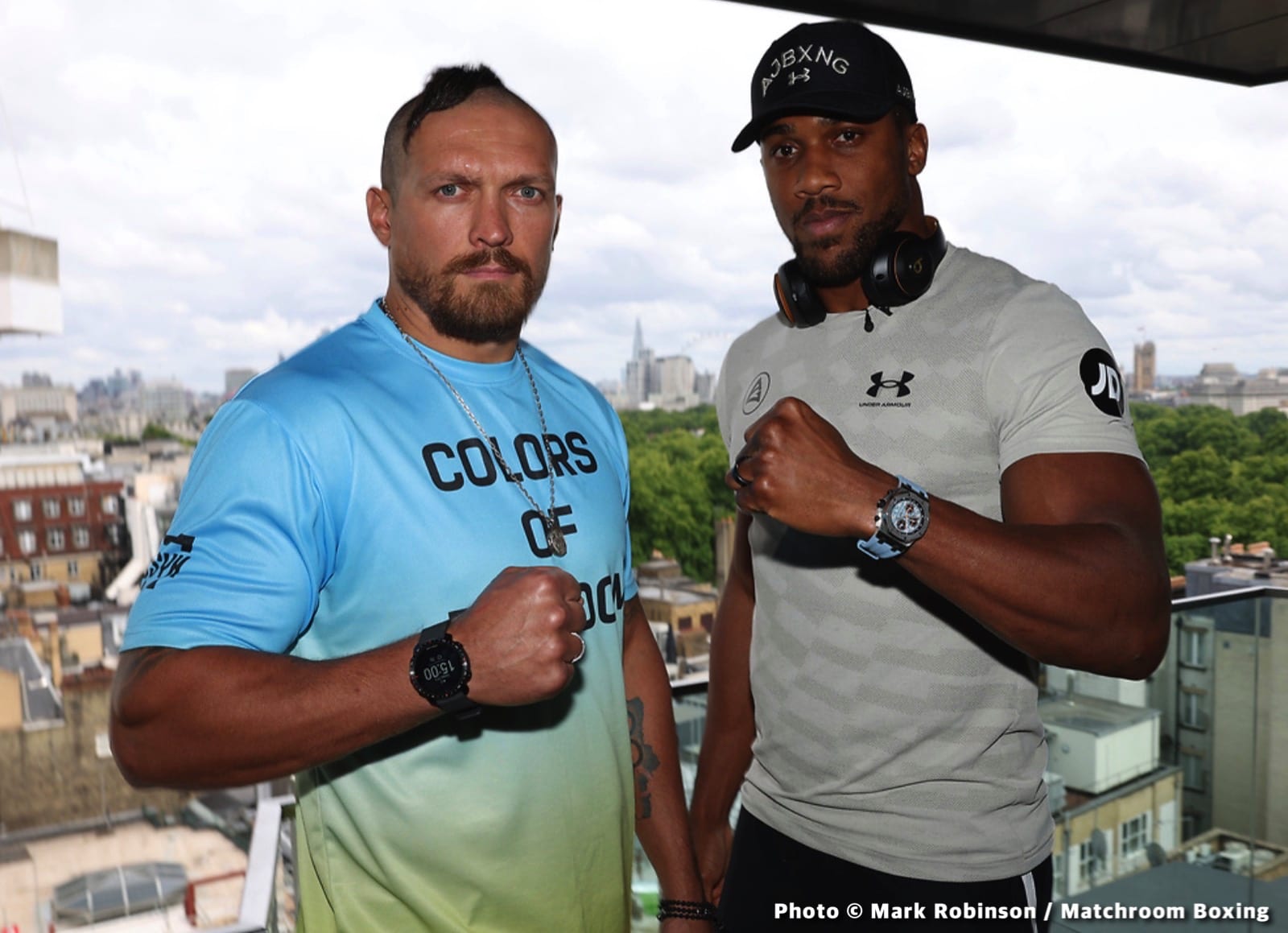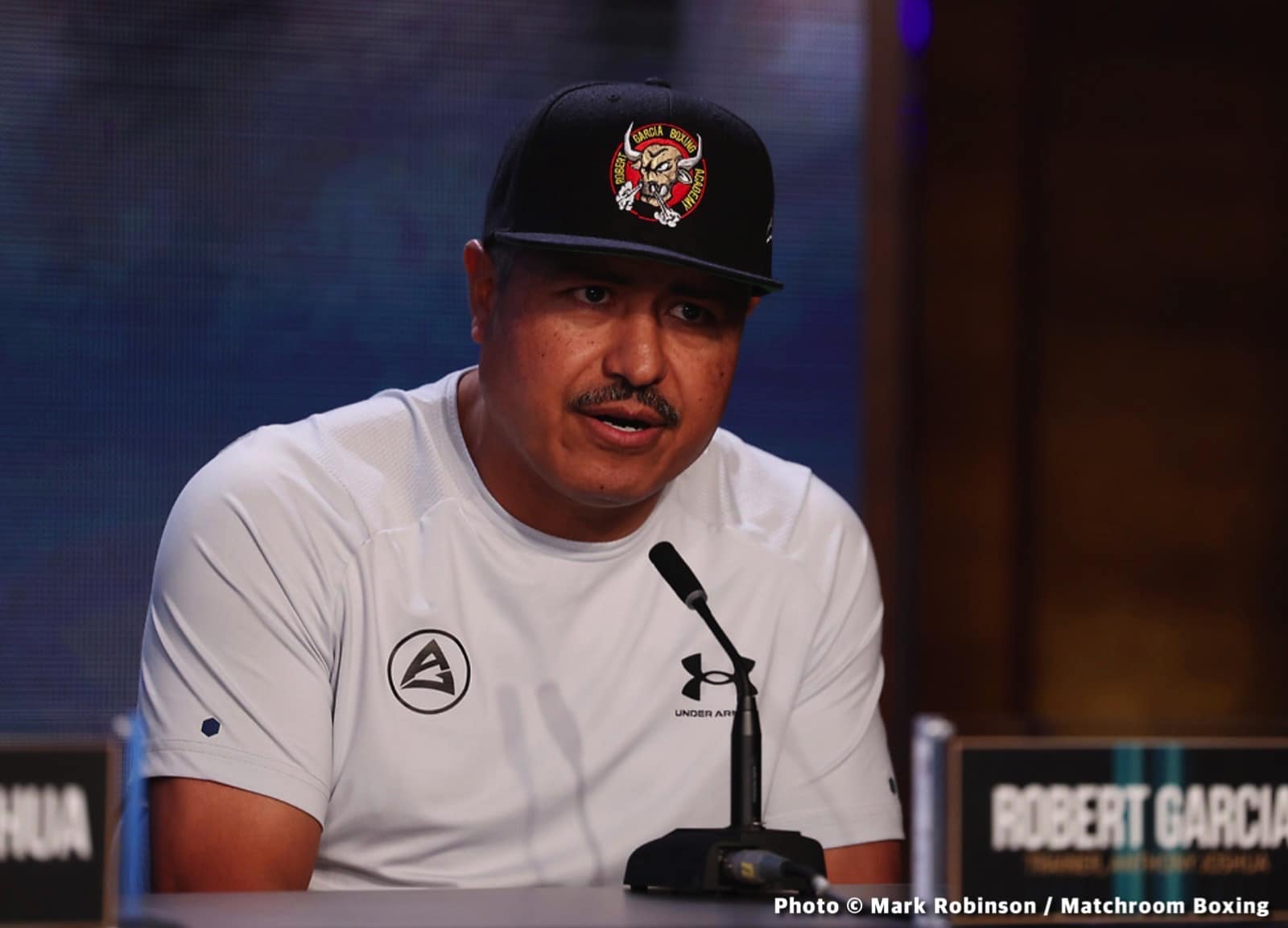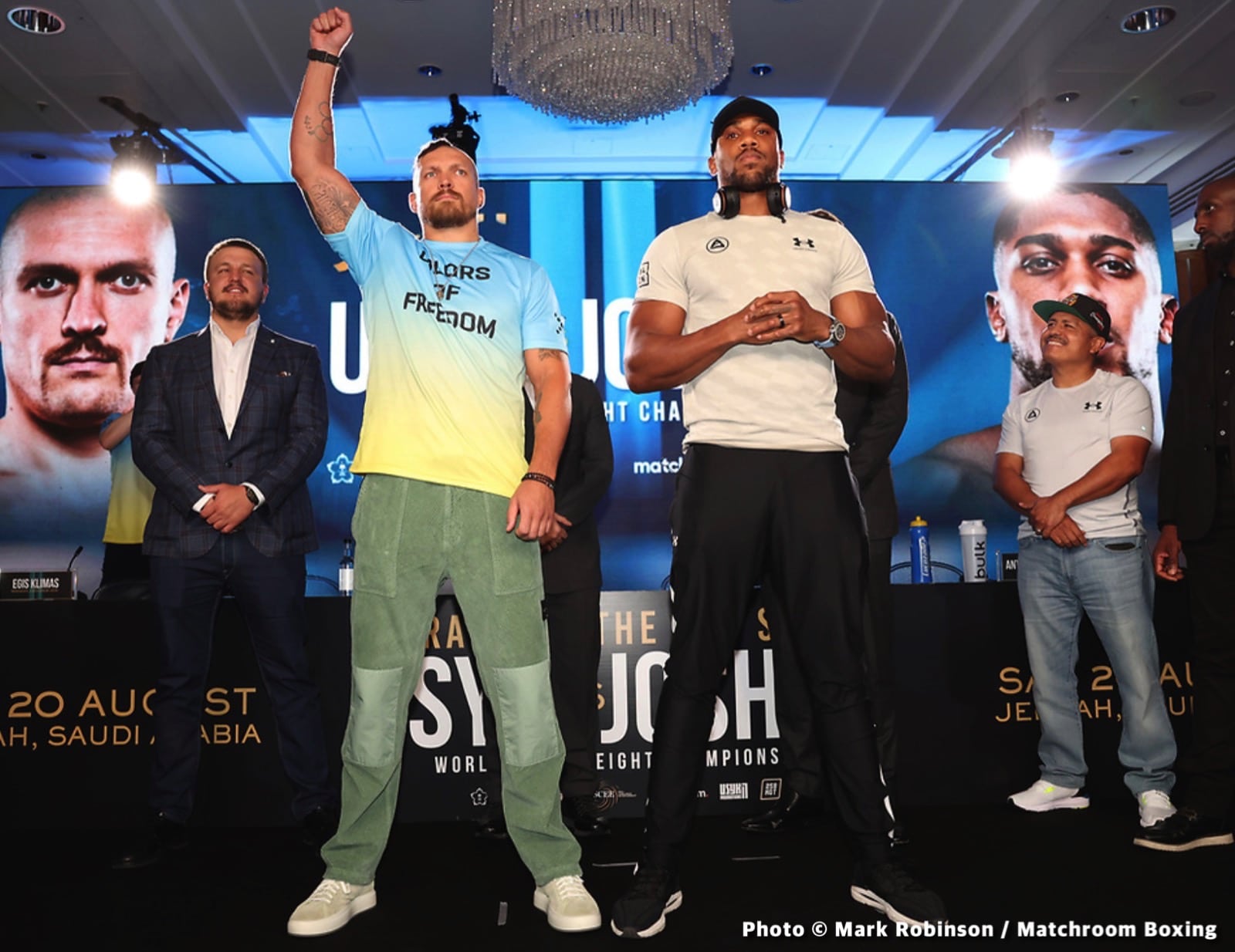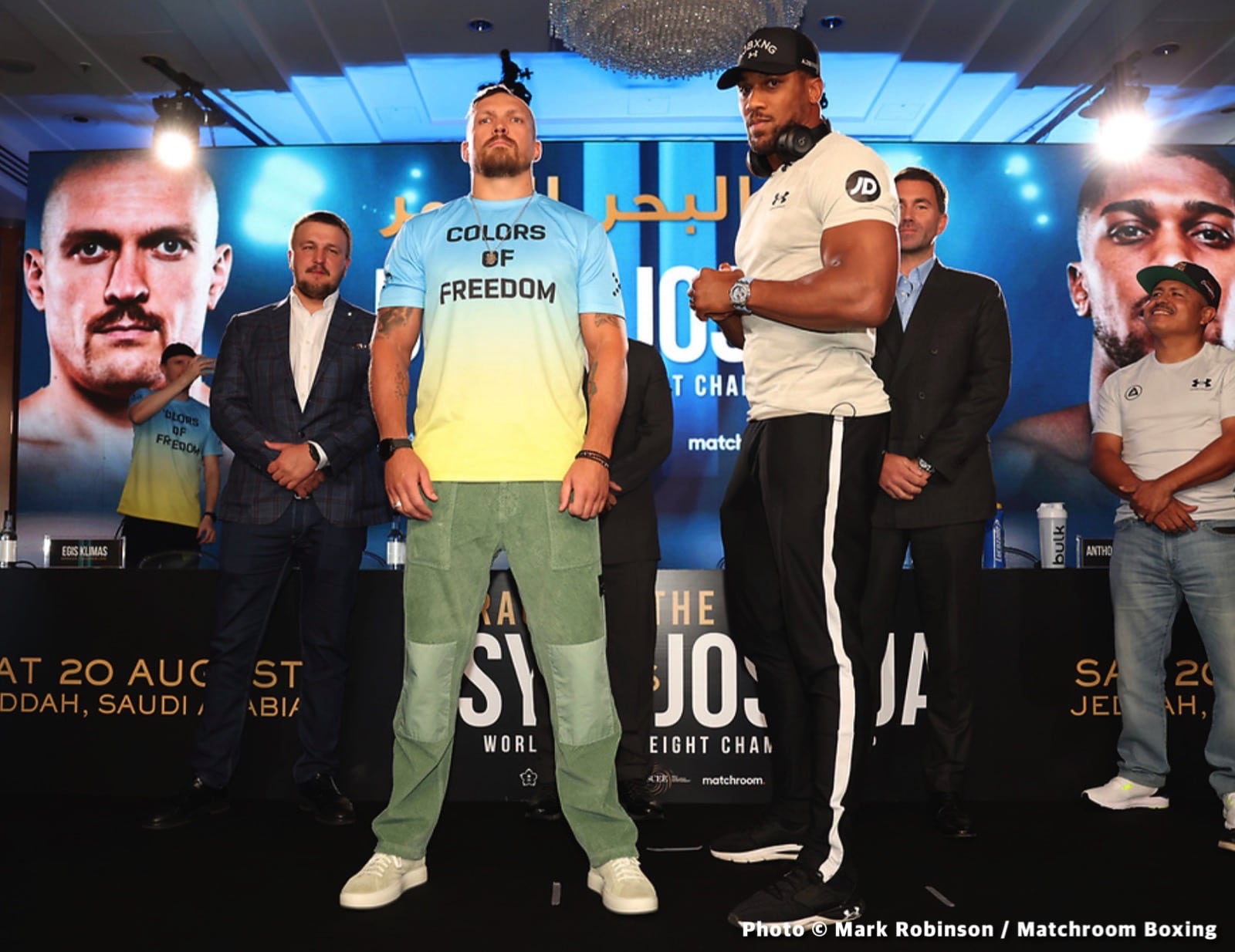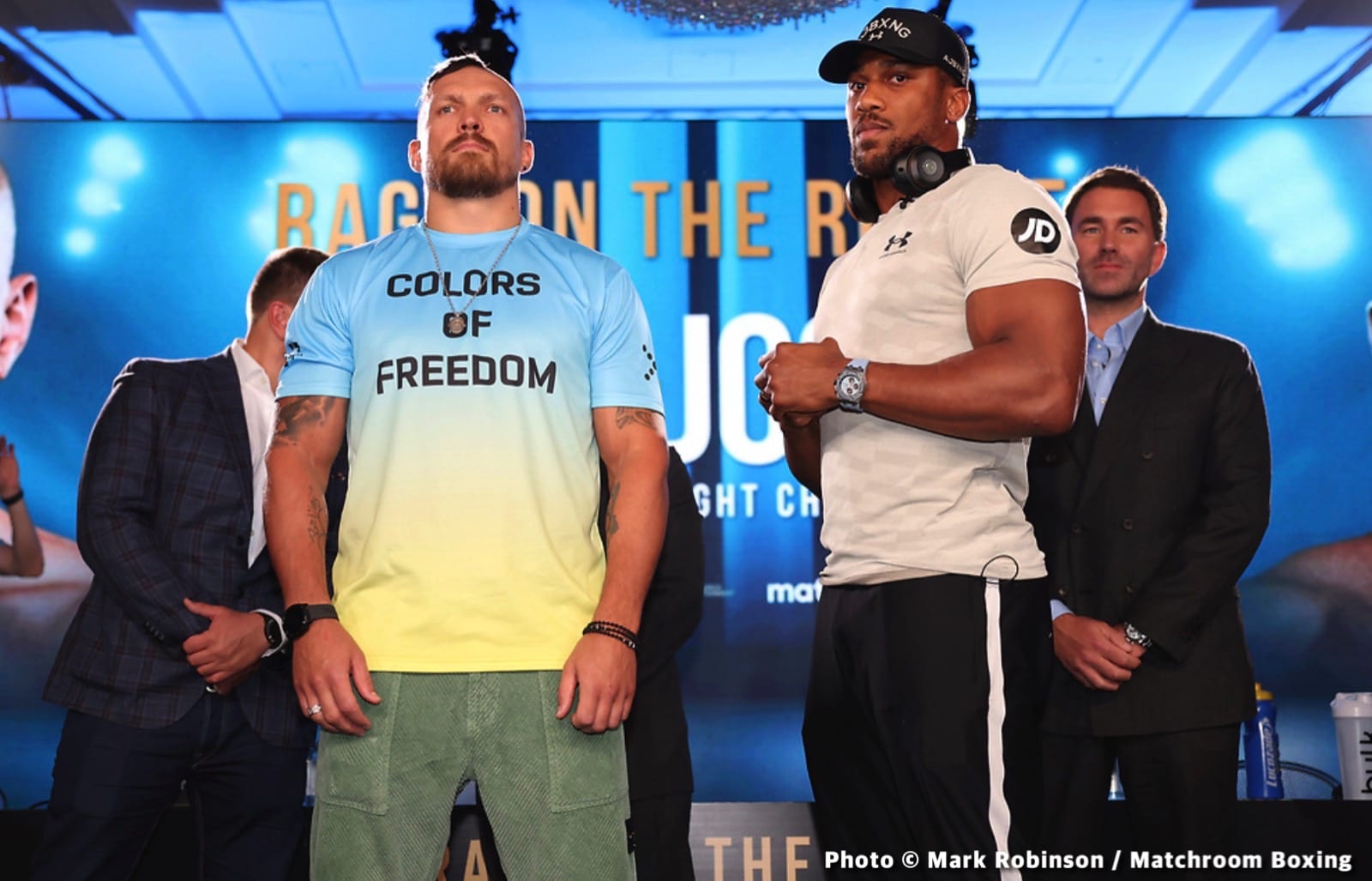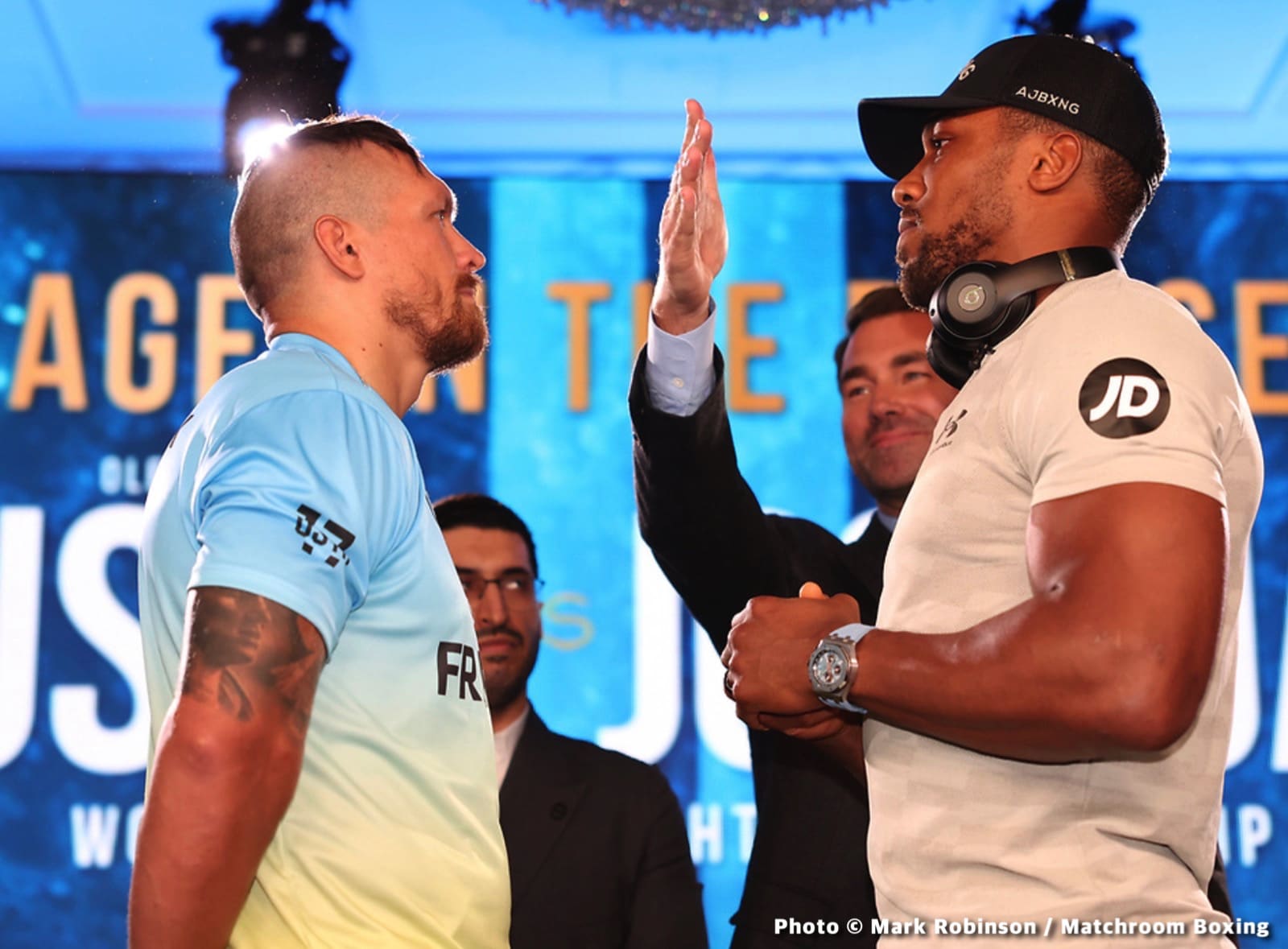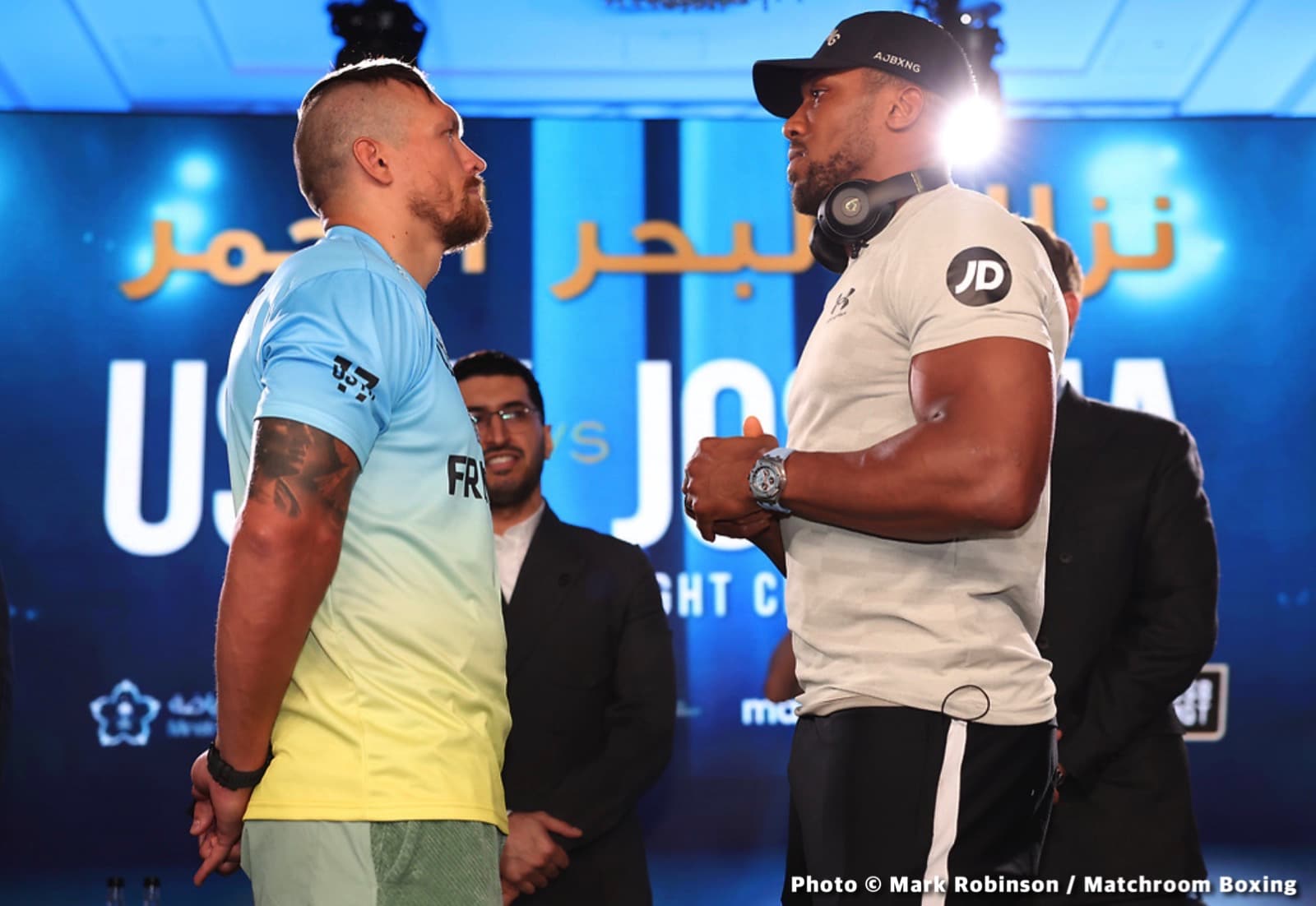 Usyk Joshua Odds
Odds  courtesy of BetOnline (www.BetOnline.ag, Twitter: @betonline_ag).
Oleksandr Usyk vs Anthony Joshua Odds
Oleksandr Usyk vs Anthony Joshua
Oleksander Usyk                         -210              (10/21)
Anthony Joshua                           +175     (7/4)
Will the Fight go the Scheduled Distance?
Yes       +110     (110/1)
No         -140     (5/7)
| | |
| --- | --- |
| Method of Victory | |
| Oleksandr Usyk by Decision or Technical Decision | 8/5 |
| Oleksandr Usyk by KO, TKO or DQ | 2/1 |
| Anthony Joshua by KO, TKO or DQ | 12/5 |
| Anthony Joshua by Decision or Technical Decision | 15/2 |
| Draw or Technical Draw | 14/1 |
Oleksandr Usyk vs Anthony Joshua Round Props        
Anthony Joshua – Round Betting                      
Anthony Joshua by KO/TKO/DQ Round 7                           22/1
Anthony Joshua by KO/TKO/DQ Round 5                           25/1
Anthony Joshua by KO/TKO/DQ Round 6                           25/1
Anthony Joshua by KO/TKO/DQ Round 8                           25/1
Anthony Joshua by KO/TKO/DQ Round 9                           25/1
Anthony Joshua by KO/TKO/DQ Round 10                           28/1
Anthony Joshua by KO/TKO/DQ Round 4                           28/1
Anthony Joshua by KO/TKO/DQ Round 11                           33/1
Anthony Joshua by KO/TKO/DQ Round 3                           40/1
Anthony Joshua by KO/TKO/DQ Round 1                           50/1
Anthony Joshua by KO/TKO/DQ Round 12                           50/1
Anthony Joshua by KO/TKO/DQ Round 2                           50/1
Oleksandr Usyk – Round Betting                       
Oleksandr Usyk by KO/TKO/DQ Round 10                           16/1
Oleksandr Usyk by KO/TKO/DQ Round 8                           16/1
Oleksandr Usyk by KO/TKO/DQ Round 9                           16/1
Oleksandr Usyk by KO/TKO/DQ Round 11                           18/1
Oleksandr Usyk by KO/TKO/DQ Round 7                           18/1
Oleksandr Usyk by KO/TKO/DQ Round 12                           20/1
Oleksandr Usyk by KO/TKO/DQ Round 6                           20/1
Oleksandr Usyk by KO/TKO/DQ Round 5                           25/1
Oleksandr Usyk by KO/TKO/DQ Round 4                           28/1
Oleksandr Usyk by KO/TKO/DQ Round 3                           40/1
Oleksandr Usyk by KO/TKO/DQ Round 2                           50/1
Oleksandr Usyk by KO/TKO/DQ Round 1                           80/1
Round Group Betting               
Oleksandr Usyk by KO/TKO/DQ in Round 7 to 9                         6/1
Oleksandr Usyk by KO/TKO/DQ in Round 10 to 12         13/2
Anthony Joshua by KO/TKO/DQ in Round 7 to 9                         8/1
Anthony Joshua by KO/TKO/DQ in Round 4 to 6                         9/1
Oleksandr Usyk by KO/TKO/DQ in Round 4 to 6                         9/1
Anthony Joshua by KO/TKO/DQ in Round 10 to 12     14/1
Anthony Joshua by KO/TKO/DQ in Round 1 to 3                         18/1
Oleksandr Usyk by KO/TKO/DQ in Round 1 to 3                         22/1

Round Group Betting               
Oleksandr Usyk by KO/TKO/DQ in Round 7 to 8                         17/2
Oleksandr Usyk by KO/TKO/DQ in Round 9 to 10         17/2
Oleksandr Usyk by KO/TKO/DQ in Round 11 to 12         19/2
Oleksandr Usyk by KO/TKO/DQ in Round 5 to 6                         10/1
Anthony Joshua by KO/TKO/DQ in Round 5 to 6                         12/1
Anthony Joshua by KO/TKO/DQ in Round 7 to 8                         12/1
Anthony Joshua by KO/TKO/DQ in Round 9 to 10         14/1
Anthony Joshua by KO/TKO/DQ in Round 3 to 4                         16/1
Anthony Joshua by KO/TKO/DQ in Round 11 to 12     20/1
Oleksandr Usyk by KO/TKO/DQ in Round 3 to 4                         20/1
Anthony Joshua by KO/TKO/DQ in Round 1 to 2                         28/1
Oleksandr Usyk by KO/TKO/DQ in Round 1 to 2                         33/1