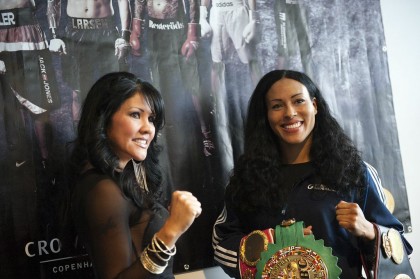 Photo: Preben Nielsen, E-Frame — Ex-playboy model and former world champion Mia St. John (47-12-2, 18 KOs) has arrived in Frederikshavn. The female boxing legend will battle it out with unbeaten Norwegian superstar Cecilia Braekhus (21-0, 5 KOs), who holds the WBA, WBO & WBC Female Welterweight Titles. "It´s great to be in Denmark," St. John said at the official press conference at Arena Nord. "Cecilia is the best fighter in the world, pound-for-pound she is the number one, but when I enter the ring to fight, I want to win. She is younger, but I have much more experience. I fight very intelligently. I have been in her position before – being the favourite, fighting at home with my fans supporting me… and then I lost. This is boxing, everything can happen, there are upsets all the time. I am here to win and take her titles."
The First Lady was happy to return to the place of her biggest success. "This is where I defeated Anne-Sophie Mathis, so of course it´s good to be back at Arena Nord. But that was seven months ago, all I am thinking about now is Mia St. John. She is a legend in the US and it´s an honour to fight her. I have trained hard to be in top shape. I know she wants my titles, but she won´t get them. I will defeat her."
Per Malmberg, CEO Arena Nord, said: "We look forward to hosting the Nordic Fight Night again and welcoming many international fans to Frederikshavn. There will be lots of Norwegians in town and for Cecilia the old saying will be very true – it´s good to be a Norwegian in Denmark!"
Said Nisse Sauerland: "It´s great to be back in Frederikshavn. We have three title fights, WBA, WBC & WBO Female Welterweight Champion Cecilia Braekhus against American legend Mia St. John, undefeated European Cruiserweight Champion Mateusz Masternak versus Sean Corbin for the WBC International Silver Title and Swedish sensation Erik Skoglund versus Luke Blacklegde for the WBC Youth Light Heavyweight Title. Plus local hero Torben Keller and exciting Danish fighters like Micki Nielsen and Dennis Ceylan. It will be a great night of boxing in Frederikshavn."
Nielsen has faced a late opponent change – he will take on Toni Visic from Croatia. Kristoffer Storm will also fight Simen Smaadal.
Two days before their WBC Youth World Light Heavyweight Title clash, Swedish sensation Erik Skoglund and Luke Blackledge also came face-to-face for the first time. Both youngsters are unbeaten – Skoglund is 15-0 with 9 KOs, while his British opponent is 13-0-1 with 5 KOs. Blackledge stopped Mads Larsen last year in June. "He is the best opponent I have ever faced," Skoglund said. "Blackledge got a good victory against Mads Larsen last year. He is very aggressive and he likes the infight. But he can´t do that against me, I am prepared for that. He better tries something else. However, I am prepared for everything. The WBC Youth Title is very prestigious and I really want to get it."
Blackledge is confident he can take out the next Scandinavian. "Skoglund´s a good fighter but I will come forward from the first bell. I haven´t really thought about how strong he is, all I know is that I will be much stronger on Saturday night. We got a lot of mails on Facebook from Danish fans saying you can´t lose to a Swede in Denmark – and I am not going to lose. I will win and take the title. I like fighting in Denmark, I defeated Mads Larsen last year and I am here to spoil the party again."
TV3+ will broadcast from 21:00-1:00. The undercard will be on TV3 Sport 2 (18:00-19:30) and TV3 Sport 1 (19:30-21:00). Tickets are available at www.arenanord.dk.