photo: WBO/JOEL COLON — Former world champions Juan Manuel "Juanma" Lopez, Wilfredo Vazquez Jr. and Samuel Serrano, along with prospects and contenders gave sports equipoment to the Pedro Albizu Campos School in Aguas Buenas, Puerto Rico as part of the World Boxing Organization's (WBO) successful program "Kids Drug Free". Francisco "Paco" Valcarcel, WBO President, lead the event telling the young students that "you can go far in your lives if you work hard and keep away from drugs. These young fighters here were students like you, they work hard and now they are great sport figures".
Other fighters like the world contenders Orlando "Fenomeno" Cruz, Jonathan "Bomba" Gonzalez, Abner "Pin" Cotto and heavyweight Victor Bisbal attended the event, bringing boxing clinics and exhibition to the students.
"Keep in school and you are going to achieve your goals. We are so happy to be here with you and along with the WBO bringing these things for you", Juanma Lopez said.
WBO "Kids Drug Free" program gave to the school basketball, volleyball and softball balls, soccer equipment, boxing gloves, athletics tools and WBO shirts to the students.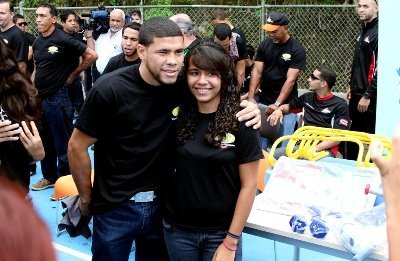 Trainers Margaro Cruz and Efrain Roman, referee Jose H. Rivera, judges Carlos Colon, Cesar Ramos and Hernando Steidel, and WBO Executive Members Adolfo Flores Monge and Manuel Marrero Hueca also were in the school.
###
Eric Hunter Ready To Shine Against Jerry Belmontes on Dec. 8 NBC Sports Fight Series in Philly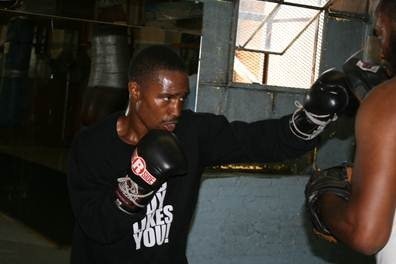 Philadelphia, PA—When Teon Kennedy sustained an injured knee last month and had to withdraw from his fight with Jerry Belmontes on Dec. 8 at Temple University, it opened the door for fellow-Philadelphian Eric Hunter.
Hunter, extremely talented but on a treadmill going nowhere, jumped at the chance to impress on national television and in front of his hometown fans as well.
The 10-round junior lightweight fight will serve as the co-feature to the main event which features Bryant Jennings, of Philadelphia, in a 12-round defense of his USBA heavyweight title against Bowie Tupou, of Tonga.
NBC Sports Network will televise the two fights beginning at 10pm (EST). First of nine preliminary matches begin at 7.15pm.
Hunter, 24, had an impressive amateur career and he is 16-2, 9 K0s, as a pro.
"I had about 200 amateur fights," he said. "I won the National PAL, Junior Olympics, Golden Gloves, Diamond Belts, all that. I got a couple of titles under my belt."
Hunter's nickname is "Outlaw" because, he says, "I didn't care how I won when I was kid. I just fought everybody."
After turning pro in 2005, Hunter (photo by phillyboxinghistory.com) racked up five quick wins, then he was idle for 10 months before fighting Carlos Vinan, of Newark, NJ, early in 2007. Hunter dropped Vinan early in the fight but faded down the stretch and lost a six-round split decision.
Two weeks later he fought again, winning the first of 10 straight fights despite another one-year gap in activity from mid-2008 to mid-2009. After beating lefty Andre Wilson, of St. Joseph, MO, in 2010, Hunter landed his first TV assignment against Cuban Luis Franco, but was disqualified in the eighth round for low blows.
"I took it hard," Hunter said. "On TV and a guy I shoulda beat. I think I really should have won that fight. Honestly, it was an easy fight for me. But you take fights on short notice (six days) and take the opponent lightly, that's what happens.
"Listening to people that you think have your best interests at heart (is what hurt me). That's what messed me up. Thinking they were going to move me. Being manipulated. (Letting) people draw you in instead of having your own mind. But now I just have to grow. Right now I'm gonna right my wrongs. That's what I'm gonna do."
Hunter was idle for 19 months after losing to Franco. He returned last July 7 and stopped Jason Rorie, of Winston-Salem, NC, in two rounds at the Convention Center in Philadelphia.
"That was my pro debut (against Rorie) as far as I'm concerned," Hunter said. "Now I have to do what I was supposed to do.
"My talent is real, real high. But I'm not proven. Maybe it's the people I associate with, or used to associate with. Maybe it's a lot of things why I'm not a world champion right now.'
"I want to show now that I'm busy and that I want to go to the top. I figure I'm one of the best fighters in Philly. You got a lot of great fighters out there. You got Mike Jones, Teon Kennedy, Danny Garcia, Hank Lundy, Karl Dargan. You got a lot of guys who came up with me and I should be right there (with them). So I'm back to the drawing board."
When he got the call to fill-in for Kennedy, Hunter did not hesitate to take on Belmontes (17-0, 5 K0s), of Corpus Christi, TX.
"I'm always in the gym and I'm blessed with this opportunity," he said.
###
Anderson ready to wage war in Newark
Hard punching Newark welterweight sensation Michael "Slick" Anderson (12-1-1, 10KO's) is ready to put it all on the line Friday night, December 7th at the Essex County College, in Newark, New Jersey when he swaps punches with Mexico's Alberto "Bombadero" Salas (12-7, 8KO's) in the ten round main event of the evening for the WCB regional welterweight title. If that weren't enough, Matchmaker Renee Aiken and All Out Promotions in association with Global Boxing Promotions have put together an explosive undercard featuring some of the top fighters the east coast has to offer. The co-feature of the evening will feature the return of exciting Jamaica Queens, New York Super featherweight Joselito Collado in an eight round contest.
Anderson of Newark, New Jersey, has explosive power in both hands as shown with ten knockouts in his twelve victories. In his last bout on October 13thMichael Anderson showed his power, needing only two minutes and thirty three seconds to stop gritty fifty fight veteran Miguel Angel Munguia. Now the stakes have been raised and the WCB title is on the line on Saturday night. At thirty two years of age Anderson knows his time is now and looks to show the people of Newark that he has what it takes to be a champion.
Standing in his way will be the always dangerous Alberto "Bombadero" Salas (12-7, 8KO's) of Hermosillo, Sonora Mexico. Salas has won seven of his last ten contests. In his last bout Salas defeated fifty-one fight veteran Ulises Duarte. With eight knockouts in his twelve victories, Salas's power makes him a dangerous opponent that could derail the comeback of Anderson.
In the eight round co-feature of the evening super featherweight Joselito Collado (13-2, 3KO's) looks to bounce back from just the second loss of his professional when he takes on the always dangerous opponent to be determined.
Undefeated light heavyweight Ronson Frank of Rosedale, New York looks to up his record to 17-0 when he swaps punches with Ricardo Campillo (7-4-1, 5KO's) in a six round contest.
If that weren't enough to make this a can't miss card, All Out Promotions has recently added undefeated Glassboro, New Jersey super middleweight contender Derek "Take it to the Bank" Webster (13-0, 7KO's) who will battle it out with Emmanuel Sanchez (4-1, 1KO) in a six round contest.
Exciting super bantamweight prospect Raul Lopez (8-1-1, 4KO's) of The Bronx, New York looks to capture his sixth straight victory when he faces an opponent soon to be announced in a six round bout.
If heavyweights are your bag, then you won't want to miss the battle of Newark as Tyyab Beale (7-3-1, 3KO's) square off with over six rounds with cross town rival Aaron "The Animal" Kinch (4-0, 1KO). Beale showed the heart of a champion in his last bout in the very same arena back in October as he had to get off the canvas to score a crowd pleasing 3rd round technical knockout of Montgomery, Alabama's Kevin Howard (3-8-1, 1KO). Kinch scored a majority decision against the very same Howard in April. In his last bout, he scored a split decision victory over a debuting Aaron Bratton in Reading, PA.
Rounding out the show is a four round featherweight contest as debuting New Yorker Pete Reyes squares off against Newark's Shakir Aquel Dunn (0-1).
The national anthem will be performed by Interscope recording artist Ashan.