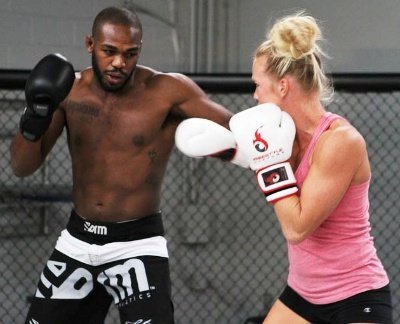 There is a strong mixed martial arts connection, as well as future crossover implications, to the December 7th IBA and WBF light welterweight title fight between 12-time, three division world champion Holly "The Preacher's Daughter" Holm (31-2-3, 9 KOs) and WIBA super featherweight champion Diana Prazak (11-1, 7 KOs), who will square-off in the 10-round main event on Fresquez Productions-presented "Fire And Ice" show at Route 66 Casino Hotel in Albuquerque.
Holm (31-2-3, 9 KOs) is the pound-for-pound Queen of Boxing whose victims among the world's best women's boxers, ranging from the 140 through 154-pound weight classes, include Ann Sophie Mathis, Christy Martin, Mary Jo Sanders, Mia St. John, Myriam Lamare, Jane Couch, Duda Yankovich and Chevelle Hallback (twice).
Holm also is an accomplished MMA fighter with a 2-0 (2 TKOs) record, both wins coming by way of kicks. Her lack of MMA fights is due to her concentration on boxing, which has been more lucrative and competitive. Holm's head trainer in boxing, Mike Winkeljohn, is one of the head coaches at the famed Jackson's/Winkeljohn Mixed Martial Arts Gym in Albuquerque. Team Jackson-Winkeljohn is recognized as one of the best in MMA, featuring UFC light heavyweight champion Jon "Bones" Jones, a training and sparring partner for Holm..
Prazak, a native of Australia, is trained by former world boxing and kick-boxing champion Lucia Rijker. One of Prazak's training partners in Los Angeles is Strikeforce bantamweight champion "Rowdy" Ronda Rousey, who won a Bronze Medal in Judo at the 2008 Olympic Games. "I train with Ronda who walks around at 145 (lbs.)," Prazak explained why her move up in weight to fight Holm won't be a problem for her. "She is a very powerful fighter and we are getting in some great sessions."
Holm certainly isn't looking past Prazak but her promoter, Lenny Fresquez, has to look to the future, ironically, and Holly may be heading towards a major MMA showdown in 2013. "Prazak is tough and we expect a very good fight," Fresquez said. "Holly is focused only on her December 7th fight against Diana, but I have to think about Holly's fight career. If we get past Prazak, I'll try and make a deal for Holly to fight (Cecilia) Braekhus (21-0, 5 KOs), something we've tried to get done in the past without success. Holly's 31 and we're not going to wait around for Braekhus. If we can't get a deal done to fight her, I will look into an MMA super fight between Holly and Ronda Rousey."
Supporting "Fire And Ice" fights showcasing local boxers will feature light welterweight Matthew "Champ" Baca (1-0, 1KO) vs. Derek Perez (pro debut) in a four-round bout, female light welterweight Victoria "La Reina de la Guerra" Cisneros (8-13-2, 3 KOs) vs. "Merciless" Mary McGee (19-1, 10 KOs) in a six-round match, bantamweight Raymond "Hollewood" Montez (5-2, 3 KOs) vs. Tony Valdez (6-6-3, 6 KOs) in a much-anticipated eight-round rematch, and amateur standout Jason Sanchez makes his pro debut in a four-round fight vs. featherweight Gene Perez (1-0).
For more information about "Fire And Ice" go on line to www.FresquezProductions.com or www.rt66casino.com.
###
ALANTEZ FOX RETURNS TO THE RING DECEMBER 8TH
November 29, 2012 – Undefeated Light middleweight prospect, Alantez Fox (7-0-1, 3 KOs), who hails from Forestville, Maryland, makes his ring return on December 8, 2012 at the Convention Center in Washington DC. Fox, who stands 6'5, will take on Weymouth, Massachusetts native, Jimmy LeBlanc (13-22-4, 5 KOs) in a scheduled 6-round bout.
Fox, who recently signed a contract with New York Based promotional, company Boxing 360, is excited to be fighting after he suffered his first blemish on his undefeated record when he fought to a SD draw against Frank Galarza (7-0-1, 4 KOs).
"I'm ready to make a round with my new promoter Mario Yagobi and Boxing 360," said Fox. "I've been working real hard since my last fight and I can't wait to step back in the ring. LeBlanc has a lot of experience, but I feel my youth and skills will guide me to victory."
Trained by his father Troy Fox, Alantez feels his father is the perfect trainer to take him to the top.
"My father knows me best and we have a great relationship," Alantez continued. "Right now we have a stong belief in one another and I see us going to the top together."
"My son and I have a mutual respect for each other and we come up with great strategies going into fights," stated Troy Fox. "If there needs to be some adjustments made in the middle of the fight, we always figure it out together. I'm looking forward to working Boxing 360 and we will be ready to go whenever are name is called."
"The goal is to keep Alantez busy for the next 12 months," said Boxing 360 Promoter Mario Yagobi. "I have a good feeling this kid is going to be something special. He has a great upside and he's a young hungry fighter that wants to be the best. I'm thrilled to be working with Alantez and his father Troy, they are great people."
###
TIMES UNION CARD RESCHEDULED TO FEBRUARY 2, 2013
New York (November 29, 2012) The professional boxing card originally set for Friday, DECEMBER 14 at the Times Union Center in Albany, New York has been postponed to Saturday, FEBRUARY 2, 2013, it was announced today by Star Boxing and the Times Union Center.
"We had a terrific card planned but the main event featuring undefeated world ranked heavyweight Joe "The Future" Hanks against undefeated Fred Allen will not happen. Unfortunately Fred Allen pulled out of the fight. This was an excellent matchup featuring two, young undefeated heavyweights from the United States, but the promoter of the event – Star Boxing has secured an even better heavyweight challenger, which will give our fans something more exciting on February 2," said Bob Belber, General Manager of the Times Union Center.
"We deeply regret having to reschedule this event, but we want to be sure to give fans an opponent worthy of facing Hanks for the title. Therefore we are moving the card to FEBRUARY 2 and we look forward to returning to the Times Union Center and presenting a terrific card featuring the Joe Hanks title fight for the great fans in the Albany area in February," said Joe DeGuardia – President of Star Boxing.
Fans may use the December 14 tickets for the rescheduled date on February 2. For any fans that prefer a refund, refunds will be made at the point of purchase by no later than December 14 . Full details of the FEBRUARY 2 event will be announced shortly.