Twelve-time, three-division World Champion Holly "The Preacher's Daughter" Holm (31-2-3, 9 KOs) held an open media workout yesterday in preparation of her December 7 world title fight against Diana Prazak (11-1, 7 KOs), headlining the Fresquez Productions-presented "Fire And Ice" card,for the women's IBA & WBF light welterweight championships at Route 66 Casino Hotel in Albuquerque.
Go on line to www.FresquezProductions.com for more information about the December 7th "Fire And Ice" world championship boxing event and Holly Holm.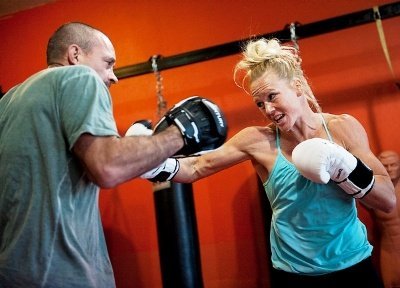 ###
Bruun vs. Madni in Denmark December 15!
Undefeated Danish Light Welterweight prospect Kasper Bruun (15-0-1) will face a true test on December 15 at the Gigantium arena in Aalborg, Denmark when he takes on Belgium-based Moroccan, and former IBC world title-challenger, Tarik Madni (17-4-1) on a show promoted by Euro Event.
Bruun vs. Madni will be one of five professional bouts on the card, which will also feature Heavyweight Claus Bertino (13-4), Light Welterweight Kim Poulsen (21-1) and Middleweights Abdul Khattab (2-0) and Stephan Alms (2-0), all against opponents TBA.
Kasper Bruun, who is from nearby Pandrup, last fought on October 5 in London where he beat Bulgarian Journeyman Radoslav Mitev, and he is well aware that he will be in for a stiffer test in Aalborg, saying:
"I know that Tarik Madni will be a tough opponent, and a good fight for me to see if I am ready to go to the next level. He has fought some very good opponents, and done well against them, so I am training really hard, and I plan to put on a great performance on December 15."
Tickets for the show are available via: www.anr.dk
###
Pacific Rim Boxing Championship
Pacific Rim Boxing Championship chairman, Mr. Edwin Puni sees the latest development in international rugby as an affirmation of the pathway been put in place to see professional boxing in the Pacific mixing it with the best in the near future.
The new playing schedule devised by the IRB, is a big boost to rugby in the Pacific with all three of the leading Pacific rugby union playing nations, Fiji, Tonga and Samoa, played three internationals, including matches against tier one teams on their Southern Hemisphere tour.
Mr. Puni said, "Bottom line is, we need more international tournaments in order for Pacific boxers to develop their talent and build their records. The establishment of the PRBC is a small step in the right direction but we need fights in Australia and New Zealand."
Last week's Danny Green vs. Shane Cameron fight saw up and coming prospect Brad Pitt in the cruiserweight score an explosive TKO win in round 3 over aging Fijian boxer Mosese Sorovi.
Samoan cruiserweight champ Vaitele Soi who boasts an impressive professional record of 20-0, 14 by way of knock out was approached to fight Brad Pitt but the deal fell through, Puni confirmed.
Puni said, "A Brad Pitt of Australia vs. Vaitele Soi of Samoa showdown is the fight to watch out for in 2013. Both are title contenders with Shane Cameron of New Zealand in the mix if he decides to stay in the cruiserweight division."
In the light heavyweight division Puni said, "I would like to see undefeated Warren Fuiava of Samoa take on Robbie Berridge of New Zealand in a title contest in the absence of Soulan Pounceby before taking on Blake Caparello of Australia."
"Pele Faumui of Samoa who is fighting Fiji middleweight champion Abhay Chand later this week in Nadi has unfinished business with Gunnar Jackson of New Zealand. A Faumui vs. Jackson rematch will be a real cracker and a more explosive fight than their last encounter on the Tua vs. Demitrice card last year."
Promising welterweight Leti Leti is currently out of sight but not out of mind.
According to Mr. Puni, "Leti needed time out to be with his family but there's no reason why we can't see Leti in action next year."
Also on Mr. Puni's wish list for 2013 is to see the big boys, Samoan born David Tua and Fijian heavyweight Kali Meehan in a home coming fight either in Nadi or Apia. "Both Tua and Meehan are great role models to aspiring local boxers. Imagine what a home fight will do for boxing in their home country."
One thing Mr. Puni is certain of, "It's time to stop having Pacific boxers turn up in the ring in New Zealand and Australia ill prepared for a quick dollar and make a mockery of the sport and an embarrassment to their country."