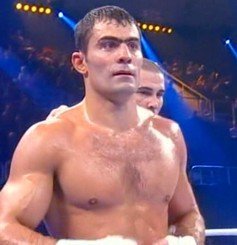 The current number 5 by the World Boxing Council (WBC), Rakhim "The Machine" Chakhkiev (14-0 (11)) watched with great interest the rematch between the reigning WBC cruiserweight champion Krzysztof Wlodarczyk (47-2-1 (33)) and his mandatory challenger Francisco Palacios (21-2 (13) last Saturday night. Chakhkiev hopes to face Wlodarczyk real soon in the ring to prove that he's the better fighter. "I definitely want to get the WBC belt in my hands. I hope that Wlodarczyk is a great champion and gives me the chance, "said Chakhkiev.
Before Chakhkiev gets the Polish fighter before his fists, he first has to face Alejandro Emilio Valori on October 12th in Hamburg, Germany. This won't be an easy fight for for the 29-year-old Chakhkiev. After all, with Valori waits (9-3 (6), the reigning Argentinian champion. "I could not care less. I want to show the world I'm the best boxer in the ring, no matter who I have before me. And of course I want to give my fans in the hall a spectacular knockout. Therefore I train hard every day, "says Chakhkiev.
A win over Valori will be a giant step towards getting Chakhkiev a world title shot. "I would love to fight at the end of the year for the championship, but it also needs someone to trust me in the ring," says Chakhkiev. "I would also like to fight [Marco] Huck and [Yoan Pablo] Hernandez. The latter I have already defeated as an amateur, "said Chakhkiev. His new coach Anthony Brooks is in certain that the world title is a Frag Eder time only. "Rakhim is a real beast in the ring and his body shots can be heard throughout the gym. I am confident that he can beat Valori without problems and soon fighting for the world championship." Brooks said. "We are working flat out on a world title fight, but that's not so easy. Not many want to fight Rakhim because he's not an easy opponent," says Waldemar Kluch. Therefore, Chakhkiev first needa to continue to pile up wins to move up in the rankings.
Vitali Tajbert back in action on October 12th
There were long months without his beloved gloves. Vitali Tajbert (22-2 – (6)) has fought his way back after several operations on his right hand injury, the former world champion of the WBC is back in full force. And on the 12th Hamburg Fight Night October 2012 in the Sporthalle Hamburg Wandsbeker the universe pro will make his comeback in the ring – "Finally!" As Tajbert admits relieved. His right hand feels better and he's got confidence in his strength back is taught. "Of course you are always cautious in the beginning in testing the injured hand. But now I can again hit 80 percent. The remaining percentages I'll get to 12. " Sparring in the units so Tajbert.
This worry is understandable, considering the problems he had last made ​​his rights. On his last point victory on 28/01/2012 in Hamburger Grand Elysée Hotel of Schwabe boxed even of opened hand. The new UNIVERSE coach Anthony Brooks is particularly pleased at the corner of his 30-year-old protege stand. The two know each other from the time together in Swabia. "I know Vitali long and knows what he is able to last. We trained very hard in the last few weeks and with the sparring get even tougher weeks to Vitali. But I am confident that he can lie down for a super performance and fight again soon for a title is, "Brooks said.