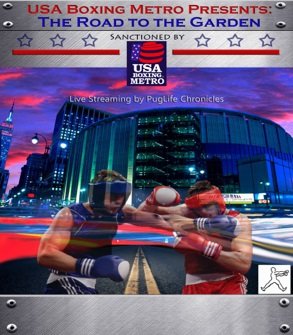 Competitors and fans alike braved the elements as Mother Nature's "bomb cyclone" struck the area, selling out the first two nights of Metro's The Road to the Garden event. World champion Iran Barkley and five-time Golden Gloves champion David Villar were amongst the luminaries witnessing the events, along with former New York State Athletic Commissioner Melvina Lathan. Yonkers PAL saw ten exciting bouts in the 152 pound (welterweight) Novice class, with nine going to a decision and one stopped by the referee:
Zachary Blumberg (Freeport PAL) defeated Muhammad Saeed, (Rustam's BC) – RSC, Rd 2.
Abdraimov Arat (Unattached) defeated Cristian Calderon (Woodside BC) – SD.
Wilson Valencia (Morris Park BC) defeated Joshua Wilson (Atlas Cops & Kids) – SD.
Patrick Gough (Green Fitness) defeated Hansel Gonzalez (John's Gym) – UD.
Richard Daunt (Finest Fitness BC) defeated Salvatore Pomilla (Champs BC) – UD.
Jayson Capetillo (Brotherhood BC) defeated Jason Castanon (Sweatbox BC) – UD.
Davaughn Stevens (John's Gym) defeated Bryant Kim (New York Athletic Club) – UD.
Kevin Anderson (Gleason's Gym) defeated Jeffrey Barreau (FDNY BC) – SD.
Lloyd Rosario (Starrett City BC) defeated Karem Elnokrashy (Mendez Boxing) – UD.
David Moore (Freeport PAL) defeated Damion Nelson (Lou Benson's Elmcor BC) – UD.
Friday night, March 2, at Church Street Boxing, the 132-pound and 141-pound Novices showed what amateur boxing is all about, hosting seven 132 pound (lightweight) bouts as well as one 141 pound (light welterweight) bout.
Desean McCain (Lou Benson's Elmcor BC) defeated Nestor Velez (Ardon's Sweet Science) – UD.
Taquee McDaniel (Eastern Queens BC) defeated Michael Feldman (Extreme Fight Club) – UD.
Brandon Pena (Atlas Cops & Kids) defeated Gerald Alvarado (Unattached) – RSC Rd 2.
Kelvin Renoso (John's Gym) defeated Elijah Brown (Brotherhood BC) – SD.
Arique Hayes (Green Fitness BC) defeated Algenis Amparo (Ardon Sweet Science) – UD.
Ronny Reyes (Morris Park BC) defeated Wagner Morales (John's Gym) – RSC Rd 2.
Musa Cham (Morris Park BC) defeated Chanel Delacruz (El Maestro BC) -UD.
Julius Wallace (Kayo BC) defeated Alex Marshall (Main Street BC) – UD.
With competitions scheduled through March and into April, the tournament promises many more exciting matches. For information, go to usaboxingmetro.com, and be sure to watch the action live on YouTube and Facebook at Puglife Chronicles (@publifechronicles).
The tournament continues this week on Thursday night, March 8, starting at 7:30 PM at Main Street Boxing, 156 Gramatan Avenue in Mount Vernon, featuring the 178 (light heavyweight) Novice weight class. On Friday night, March 9, the 165 (middleweight) Novice weight class will compete at Work Train Fight, 636 Broadway in Manhattan, also starting at 7:30 PM.