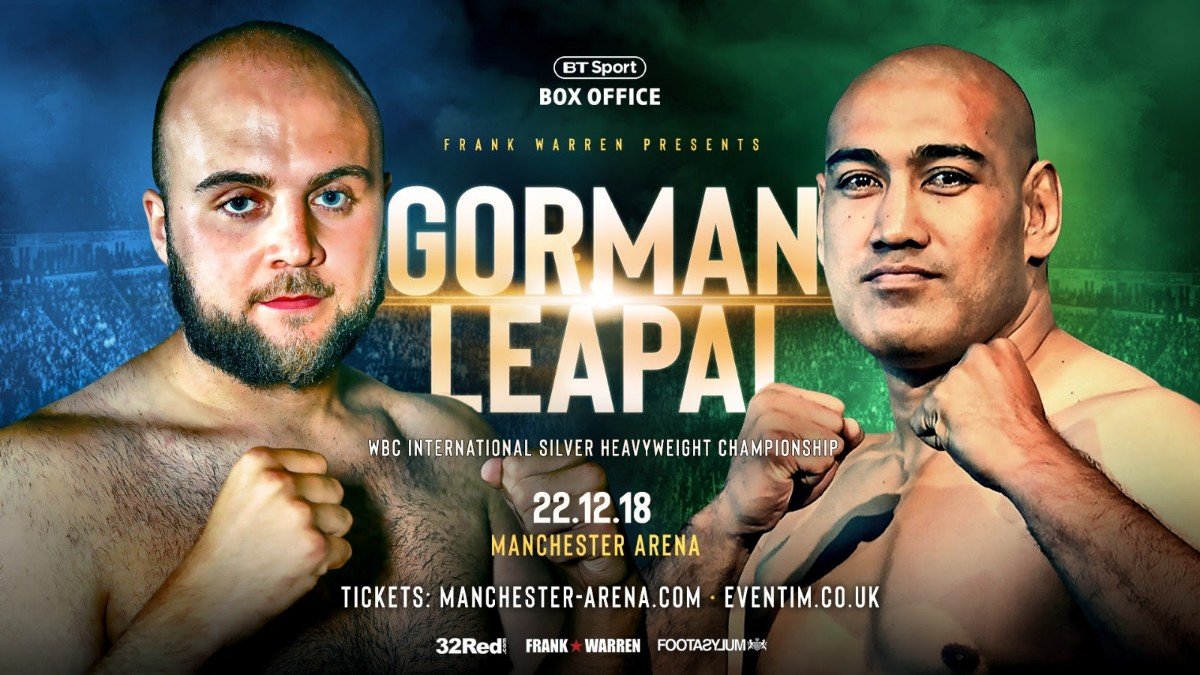 ALEX LEAPAI WARNS that the matchmakers for the Manchester Arena blockbuster on December 22 have made a big mistake in booking his services to provide opposition for Nathan Gorman.
The 32-7-4 Aussie – known as Lionheart – has mixed in the best of company across his 14 years in the professional ranks and fought for the world titles held by Wladimir Klitschko in 2014.
The veteran heavyweight believes our bright young heavies – including Gorman and Daniel Dubois – are the product of hype and he intends to place Gorman firmly in his place when he takes to the ring, live on BT Sport Box Office.
"Nathan is just a baby in the game, he looks like a big hairy baby to be honest," said the Queensland-based Leapai. "I'll be coming over to put this baby to sleep on December 22nd.
"After I bash up Gorman, I want to bash up that other kid they have over there, Daniel Dubois. These are boys in a man's game and they are going to find that out very quickly.
"Frank Warren is a great promoter who doesn't get it wrong very often. But unfortunately for him, he has got this very wrong!"
Leapai clearly cares little for the career progress of our hefty prospects and is on a mission to put the cat amongst the heavyweight pigeons when he arrives in Manchester.
"A lot of these British heavyweights are overhyped without really beating anyone. I'm coming over to burst the bubble of the latest hype job.
"I've had more knockouts than Nathan has had fights. This is way too soon for Nathan."
###
Nathan Gorman will defend his WBC International Silver heavyweight title against former World Title challenger Alex Leapai on the bumper Josh Warrington-Carl Frampton card at the Manchester Arena on December 22.
The unbeaten Gorman is causing quite a stir in heavyweight circles, with the Ricky Hatton-trained 22-year-old having now clocked up 14 fights, with 11 wins coming via stoppage.
The Nantwich-born former Team GB member won his WBC belt in late 2017 when he took on the also then unbeaten Mohamed Soltby at the Metro Radio Arena in Newcastle, stopping the German after five bruising rounds.
He has since kept busy with three fights already across 2018, with the pick of the wins coming against the rated Irishman, Sean 'Big Sexy' Turner at the Manchester Arena, where he turned up the heat and ended the resistance of Turner inside of three rounds.
Gorman appears to be on a longer-term collision course with UK rival Daniel Dubois, but his next opponent hails from the Southern Hemisphere, with Leapai based in Queensland, Australia but originally from Samoa.
The 39-year-old holds a record of 32-7-4 across a career spanning 18 years. His professional exploits earned him a shot at the unified world titles in 2014, taking on the long-term champion Wladimir Klitschko in Oberhausen, but his world title adventure was aborted in the fifth round against the then dominant Ukrainian.
He subsequently demonstrated his durability the full ten rounds against Malik Scott and Manuel Charr before getting back amongst the wins over 2017-18 with victories in his homeland over Thomas Peato and Roger Izonritei.
Gorman believes he will have to be on top of his game to see off the challenge of such a seasoned opponent.
"Obviously he is a very experienced opponent who has fought for world titles. He is a dangerous opponent, but also a good one for me, if that makes sense.
"He will be a good name on my record if I beat him and beat him in style, which I believe I can do. I will have to be on my As and Bs because he is a dangerous fella with such experience. Some people say heavyweights are in their prime when they reach their late thirties."
Gorman added that, while his own objectives will always remain first and foremost in his thinking, securing a slot on such a massive BT Box Office card is a big attraction.
"Definitely, it is a very big bill to be a part of and obviously I have got a good fight against Alex Leapai that has got me on the show."
Leapai himself firmly believes Gorman is jumping the gun by signing up for such a test at this stage of his career, considering this country's bright young heavies to be over-hyped and untested at a higher level.
"A lot of these British heavyweights are over-hyped without really beating anyone," said the confident Aussie. "I'm coming over to burst the bubble of the latest hype job.
"I've had more knockouts than Nathan has had fights. This is way too soon for Nathan."
IBF world featherweight champion Josh Warrington takes on former two-weight world champion Carl Frampton at the Manchester Arena on December 22nd live on BT Sport Box Office. Mark Heffron and Liam Williams contest the vacant British middleweight title and Belfast's blue chip featherweight prospect Michael Conlan (9-0) takes on former commonwealth champion Jason Cunningham (24-5).
Elsewhere on the bill. world flyweight title challenger Paddy Barnes (5-1) and unbeaten Light Heavyweight contender Steven Ward (9-0) return to action. Manchester's 12-0 Light Heavyweight Lyndon Arthur and 7-0 Darlington middleweight Troy Williamson also return.
Tickets are priced at £50 Upper Tier, £80 Tier, £100 Tier, £150 Tier, £200 Floor/Tier, £300 Floor, £400 Floor, £600 Inner Ring VIP Hospitality and are available.
Tickets available via Manchester Arena.