Share the post "Mike "Hollywood" Jimenez looks to return to undefeated form on November 27"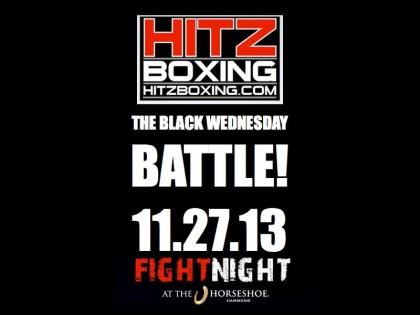 Although exciting Chicago super middleweight Mike "Hollywood" Jimenez (11-0, 8 KOs) saw his September fight against Derrick Findley (29-11-1, 13 KOs) stopped in the 7th round, he retained his undefeated record after the fight was ruled a no contest due to Findley testing positive for a banned substance. Jimenez will again try for his 12th win against no losses as he steps into the ring against "King" David Thomas (10-4-2, 8 KOs) on November 27, for a six rounder during Hitz Boxing's "Fight Night at the Horseshoe: The Black Wednesday Battle."
"My last fight wasn't my best. I trained hard and gave it my all. I showed everyone that I can hang in there and there is no quit in me," said Jimenez. "But I need to show everyone I am better than what I showed in September. You are only as good as your last fight I am ready to show what I am made of."
For his part Thomas looks to return to winning form after outings against gatekeeper Findley as well as middleweight contender Donatas Bondas (18-4-1, 6 KOs).
"For this fight I am moving up to the super middleweight division and I think the extra pounds will add to my power in the ring," Thomas recently told the ringside.biz. "This is most definitely a statement fight for me. The guy is undefeated and a win over him I feel would open some doors for me. I want people to know I can fight and beat good competition."
Jimenez, who weighed 166.25 lbs against Findley expects to take the ring at 168 lbs when he faces Thomas and is promising an exciting match.
I'll be giving fans the excitement they love to come and see. I'll be better and will put on an impressive show," said Jimenez. "My team and I will be ready for WAR as always. I'll be in BEASTMODE!"
Tickets are available at The Venue Box office and hitzboxing.com, doors open at 7:00 PM.
Since its debut in 1991, Hitz Boxing has been the midwest's leading boxing promoter. Led by Bobby Hitz, who boasted a 21-4 record with 18 KO's as a boxer, Hitz Boxing is the longest running boxing promoter in the Chicago area dating back to the bi-monthly boxing series the "Ramada Rumble," held at the former Rosemont Ramada Inn. The organization currently promotes the wildly popular "Fight Night at the Horseshoe" at the Horseshoe Casino in Hammond, IN and is the subject of the actuality show "Hitz Boxing," a web series which has amassed over 5 million internet views. Over the year's the organization has produced matches that have included some of the top names in boxing such as James Toney, Antonio Tarver, Montell Griffin, Iran Barkley, Andrew Golota and "Fast Fres Oquendo.
The $500 million Horseshoe Casino, a Caesars Entertainment Corporation property, just 20 minutes from downtown Chicago is the premier entertainment and gambling destination in Chicagoland. Where legendary gaming lives on, Horseshoe boasts more than 350,000 square feet with over 3,000 slot machines, over 100 table games, one of the largest poker rooms in the Midwest, and more. The Venue at Horseshoe Casino is proud to offer the ultimate concert and entertainment destination and premier experience in a flexible space that can hold up to 3,300 guests. Dining elegance is not overlooked and guests can choose from a variety of dining options including; Jack Binion's Steak House which overlooks Lake Michigan and winner of the 2009, 2010, 2011 Wine Spectator Award of Excellence and the May 2012 OpenTable Diners' Choice award, around-the-globe variety at the Village Square Buffet, and a taste of Chicago at Benny's Pub and Eatery.
For more information, please visit: www.chicagohorseshoe.com.
Must be 21 years or older to gamble or attend events at The Venue. Know When To Stop Before You Start® Gambling Problem? Call 1-800-9WITH-IT © 2012 Caesars License Company, LLC.
Share the post "Mike "Hollywood" Jimenez looks to return to undefeated form on November 27"