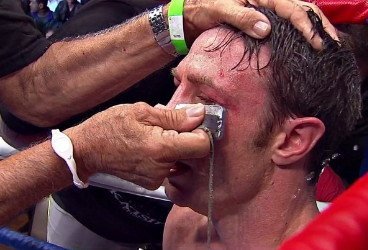 Gold Coast, Queensland, Australia October 8, 2012 – Michael "The Great" Katsidis is back in Australia with a new team, a new trainer and in full training to take on the world's elite lightweight fighters. He wants a 3rd World Title after previously winning 2 World Boxing Organization (WBO) Interim World Lightweight titles.
Michael has commenced training at KO Boxing Gym at Miami on the Gold Coast under the tutelage of former Australian Lightweight champion Danny McGrail.
Katsidis is blessed with natural power and killer instinct that makes for epic fights, however on occasion it's also meant he has stood with opponents and engaged in slug fests. McGrail has no intention of altering Katsidis natural approach however he understands that Katsidis must mix this up with increased head and feet movement when he tackles the World's elite Lightweights.
Having traveled the world and living in the USA for most of his career, Katsidis is taking a fresh approach by using a stable Australian base and a trusted team to launch an assault on a 3rd World Title.
Katsidis has a fearsome reputation as a KO specialist with a record of 28-6 with 23 KO's. His epic battle with Juan Manuel Marquez in 2010 won HBO Fight of the Year.
COMING UP THIS WEEK FROM THE BILLYCBOXING NETWORK
On Monday's Talkin Boxing With Billy C TV & Radio program Billy C discussed all the fight results and the latest boxing news that took place around the globe over the weekend. He discussed and gave his thoughts on several emails from the listeners and went into a deep discussion on Mike Tyson and New Zealand. He also gave his opinions on the World Boxing Association (WBA) and Celestino Caballero situation and then complained that it's starting to get too cold in New York.
Coming up later in the week on the program, boxing expert Alex Pierpaoli will present his "Blast From The Past" segment, which will feature former World Heavyweight Champion and Boxing Hall of Famer, Gene Tunney. The Las Vegas Boxing Hall of Fame founder and new regular contributor to the show, Steve Lott joins Billy C to kick off a new segment that should not be missed. Historian Tony Triem shines the Spotlight on the Heavyweight Division, MaxBoxing's Marty Mulcahey gives his thoughts on the big fights scheduled for this upcoming weekend and Daxx Khan will present this weekend's Boxing Schedule Round-up to help fans decide what's worth watching or following and what isn't.
Billy C will be doing a LIVE Post Fight Show on Fight Now TV and streamed on www.BillyCBoxing.com five minutes after the conclusion of the Donaire-Nishioka fight on Saturday night. James Curl is scheduled to report live from ringside during the show and several other boxing experts will be on hand to share their thoughts. The phone lines will be open and all fans are encouraged to call in with their thoughts and opinions. Look for a replay of the Post Fight Show on the BillyCBoxing YouTube Channel located at www.YouTube.com/BillyCBoxing.
The staff continues to grow at BillyCBoxing.com. Dan Henderson, our newest addition from England, will keep Boxing Fans up to date with his British Boxing Scene column. Look for all BillyCBoxing.com writers and reporters for the latest news and happenings along with their views and opinions the sport of boxing has to offer.