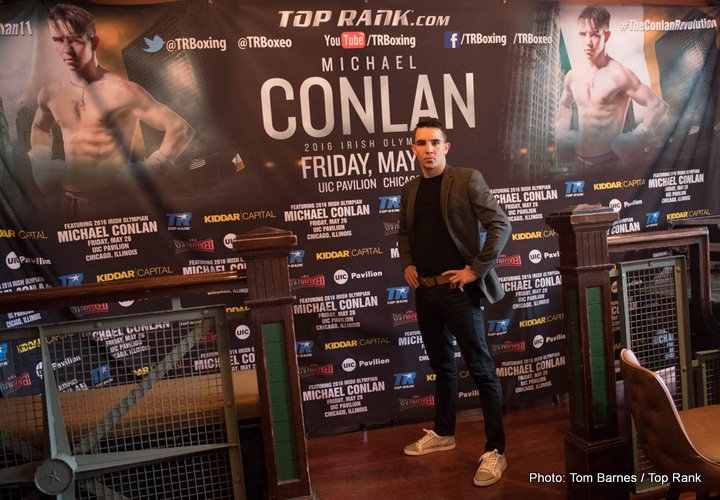 Irish Olympic hero Michael Conlan will return live to BoxNation when he steps into the ring for his second professional fight this Friday night.
The Belfast banger made a sensational start to his career when he dazzled in front of a sold-out partisan crowd at Madison Square Garden on St Patrick's Day, stopping American Tim Ibarra in round three.
'The Channel of Champions' BoxNation will once again be the place to see the 25-year-old in LIVE action when he takes on Alfredo Chanez from the UIC Pavilion in Chicago, Illinois.
Mexican Chanez will be aiming to give the Irishman a rough introduction into the paid ranks when they square off in their six-round featherweight fight.
For his debut, Conlan was led into the ring by UFC superstar Conor McGregor, before doing his thing in the ring by out-boxing Ibarra and claiming his first win.
He will be looking to do much of the same this time around and can't wait to impress the Chicago crowd.
"I'm delighted to be boxing in Chicago," said Conlan. "Chicago being heavily populated with Irish, I've already had a huge amount of people contacting me about the fight. And for Top Rank to have me as a main event again with a fantastic undercard is great. I'm looking forward to going there and putting on a great show for the fans!"
"Michael is looking better and looking sharper in the gym. You will definitely see an even greater fighter in the ring in Chicago," said Manny Robles, Conlan's trainer. "Michael is eager to grow and learn each day. He understands his responsibility not only to his management and promoter but to his people and entire country. He wants to become a world champion and make his country proud. It is my job to help get him there."
"I'm really looking forward to Michael's next fight in Chicago. His debut was a huge success and I'm sure he will be receiving a similar reception from the Irish community in Chicago and from the Chicago fight fans," said Matthew Macklin, a former three-time world champion challenger and Conlan's manager. "Michael took a week off and was back in the gym sparring Jessie Magdaleno and working on all aspects of his game. He's very much a work in progress but he has all the talent in the world and is very dedicated. I expect him to settle down more in this fight and put on a great performance."
Jim McMunn, BoxNation Managing Director, said: "BoxNation are delighted to once again feature Michael Conlan live on the channel. He is undoubtedly one of the sport's most popular young fighters and has the world at his feet. We are pleased that BoxNation subscribers will be able to watch his journey as he looks to make it right to the very top, continuing with Alfredo Chanez this Friday night."
The card will also feature former world champion "Mile High" Mike Alvarado and undefeated Top-10 welterweight contender Alex "El Cholo" Saucedo in separate 10 and eight-round bouts, respectively.
Conlan v Chanez is live on BoxNation this Friday night. Buy now at www.boxnation.com for only £12 per month with free registration (Sky customers use offer code: MAYBOXING)
###
Ireland's Olympic hero MICHAEL "MICK" CONLAN spent Wednesday meeting with media and fans to promote his first fight since making his pro debut on St. Patrick's Day at a sold-out Theater at Madison Square Garden. He returns to the ring in a six-round featherweight bout on Friday, May 26, headlining an all-action card at UIC Pavilion,. The event will also feature former world champion "Mile High" MIKE ALVARADO and undefeated Top-10 welterweight contender ALEX "El Cholo" SAUCEDO in separate 10 and eight-round bouts, respectively.
Conlan (1-0, one KO), from Belfast, spent Wednesday hosting a press conference luncheon followed by a fan meet and greet at the Irish-American Heritage Center and seeing the sights, since this was his first visit to the Windy City. The following are his quotes from the day as well as from Carl Moretti, vice president of Top Rank, who accompanied him:
MICHAEL CONLAN
"It's unbelievable to represent my country in the ring.
"I got to California to start training with Manny Robles on January 10. I love the weather in Southern California, love the heat.
"New York was something I couldn't even dream of, just a great night. That was my first performance as a professional. I just know I can do better and look forward to a better performance in my second fight. I know how good I want to be and I know I can improve on a lot more. After New York City I took some time off and spent some time with my family and just relaxed.
"This is the next step. My preparation will be the same. It's my job and I look forward to fighting here in Chicago.
"I loved what I've seen of Chicago, my first time here, it's got a huge Irish population and it's always nice to be surrounded by locals. A lot of people have contacted me by way of social media who live here in Chicago. It should be a great crowd.
"No stage fright for me at all, I enjoy the whole package, including talking to the media and meeting with fans I've always had a lot of attention on me.
"The amateurs and the Olympics are all in the past, it's all about the future now. I want to stay as active as possible."
CARL MORETTI
"New York City was an event. I have never seen a pro debut explode like that.
"One day he will sell out Madison Square Garden in the big room, there's no question. It's something we feel is attainable.
"He needs experience and is getting great experience training and sparring with world champions. He's doing everything the right way but there's nothing like getting rounds in without headgear and with eight ounce gloves.
"The more fights he gets the better he'll become.
"Boston, New York, Chicago will be the best places to host Michael's fights. But we are fielding calls from a lot of venues all over the U.S. He is an attraction.
"Especially in boxing, representing their countries while fighting in the United States is so important.
"If all goes well, he'll fight on July 2 (July 1 in U.S.) in Brisbane, Australia on Manny Pacquiao's world championship undercard. There is a large Irish community in Australia."