Share the post "Meniscal tear! Manuel Charr has to undergo surgery, will be out for a couple of weeks"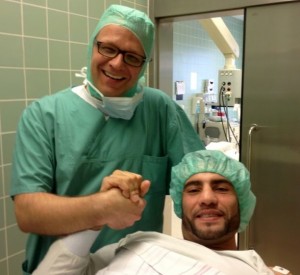 Heavyweight contender Manuel Charr has to undergo surgery in Cologne today because of a meniscal tear. He already had the injury going into his last fight against Yakup Saglam on February 22nd in Galti, Romania.
"I was in pain and couldn't stand properly but I wanted to fight anyways", says Charr. "Lots of fans recognized that I was overweight. That's because I could barely move in the last part of training camp. All I did was standing in front of the heavy bag and throwing some combinations. I couldn't do any roadwork at all. Still I wanted that fight because I am so focused on my big goal to become heavyweight champion of the world. And I won't be stopped on my way – not even by a serious injury!"
Former world champions Ruslan Chagaev and Firat Arslan withdrew from fighting Saglam last December. Charr took the fight – even with a meniscal tear. "I know how it feels to be ducked and avoided so I wanted to give Yakup the chance to fight at all", states Charr. "I am a fighter and I know that he is a fighter, too. We just cannot stand preparing for a fight which is canceled last minute. That's why I took the risk and stepped into that ring."
The "Diamond Boy" didn't look too good in the first round of the bout against Saglam. Obviously he was distracted by the injury. Still he fought his way into the bout and dominated the second round before Saglam had to give up due to an old shoulder injury.
"I know that this was quite risky. It could have been the other way around very easily. But in the end I won so it was worth taking the risk. No I can undergo surgery and then prepare for my next fights."
After today's surgery Charr will be hospitalized for a week before he can start rehab training. "Of course, I want to return to action as soon as possible but I also know that I got to take one step at a time", says the "Diamond Boy". "If everything goes well I might be back in regular training in three or fours weeks. But of course, we have to see how the surgery goes first and then listen to what the doctors say."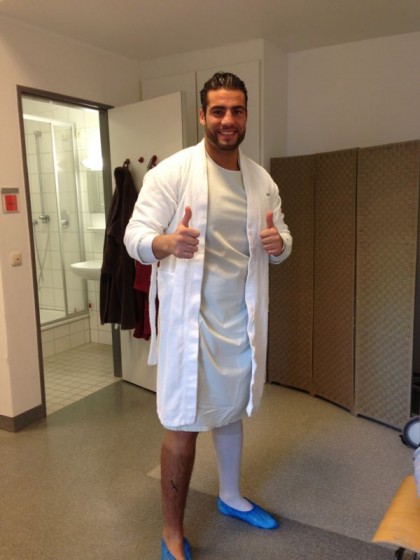 Share the post "Meniscal tear! Manuel Charr has to undergo surgery, will be out for a couple of weeks"