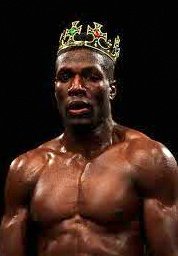 London cruiserweight Menay 'The Emperor' Edwards had frustration turn to excitement following a very eventful scenario in the lead up to his first title fight on 29th June. Edwards was scheduled to fight defending champion Hari Miles for the British Masters title on the Steve Goodwin promoted 'Trail of Destruction' show at York Hall.
Edwards, who has beaten Miles before, was suffering abuse and insults on twitter from his rival. Fed up with the insults, Edwards asked promoter Goodwin to make the fight. Goodwin arranged the fight and agreed terms with Miles' manager Carl Greaves only for the boxer to announce on Twitter he was not going through with the fight, claiming he was not being paid enough.
"Total bull****!" raged Edwards. "I have found out that Miles was being paid more than he got when defeating [Jon] Ibbotson for the title. It's just a lame excuse from a boxer that spends his life insulting other boxers and calling them out claiming he is the most avoided cruiserweight in Britain.
"He spent months insulting Tony Conquest, others and me. I want the boxing world to know this Miles is a total fraud and a coward. I don't ever want to read or hear him disrespecting other boxers again. He is a disgrace to the profession and he is the one running and doing the avoiding. What warrior vacates the only thing he has ever won or is ever likely to? I don't want nothing to do with Miles again as he would just pull out and run again."
What was frustrating for Miles turned to joy when Goodwin secured a Southern Area cruiserweight title shot on the same day against former light-heavyweight champion JJ Ojuederie.
"Miles being a coward has turned to my advantage," said Edwards "JJ is a credit to the sport unlike Miles and I am looking forward to the challenge."
There is also a quality undercard featuring some well know boxers and some exciting up and coming fighters.
Controversial Heavyweight "The War Machine" Larry Olubamiwo makes his return after having his 4 year drugs ban reduced. Larry takes part in a 6 round International contest. <<...>>
'The Rematch' features former British title challenger Michael Lomax against former Commonwealth champion Bradley Pryce over eight rounds. Pryce won their first encounter in Wales and Lomax wants revenge.
What could be fight of the night sees 'Smoking' Joe Mullender (4-0) take on former Southern Area champion Gary Boulden over eight rounds. This will be one all out war and not to be missed.
The undercard features the debut of former professional footballer Leon McKenzie who competes at super-middleweight and the debut of two exciting prospects in heavyweight Dominic Akinlade and light-welterweight, 'Showstar' Sohail Ahmad who has been working with Yassine el Maachi.
There are also many other fights on the undercard.
The Edwards v Ojuederie, Mullender v Boulden and Lomax v Pryce clashes are all well-matched fights where predicting the winner is not easy. This is what the Goodwin shows are about bringing top quality fights where you do not know who is going to win, value and excitement.
Tickets are available at £100 VIP Reserved ringside (including free private bar) £60 reserved ringside and £35 unreserved.
Tickets at www.goodwinpromotions.co.uk or 01525 851150.