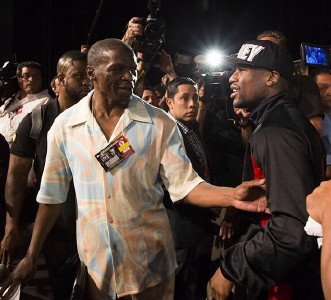 (Photo credit: Esther Lin/Showtime) FLOYD MAYWEATHER JR believes he will be proved right in bringing back his dad to train him. Floyd Sr will be the chief corner man when his son defends the WBC World Welterweight crown against Robert Guerrero in Las Vegas on Saturday night, live and exclusive on BoxNation (Sky Ch. 437/Virgin Ch. 546).
It means Roger Mayweather will not be in his corner for the first time in 13 years with Leonard Ellerbe the head of Mayweather Promotions acting as assistant and Rafael Garcia as cutsman.
Mayweather Jr believes his uncle, who is suffering from sugar diabetes, over-trained him for his points win against Miguel Cotto 12 months ago.
The 36-year-old explained: "It was an exciting fight, but I feel there are certain things my father can see that maybe Roger can't.
"When you have diabetes, your vision gets bad. I can't afford for somebody's vision to be bad in a big fight like this".
Guerrero, 30, is a big underdog with the Las Vegas odds makers, but with one loss in seven years many believe the California boxer is capable of springing an upset.
Mayweather Jr believes he'll have too many tricks up his sleeve, but Guerrero said: "I'm comfortable with however he wants to fight.
"I'll fight him on the inside. I'll fight him on the outside. Whatever, he wants, I'm ready.
"You can't underestimate him, and you can't look past anything he brings. If he's slowing down, his slower is faster than almost any other fighter out there."
Championship Boxing on BoxNation is sponsored by Rainham Steel, The UK's Number One!
Mayweather v Guerrero is live and exclusive on BoxNation (Sky Ch. 347/Virgin Ch. 546) with coverage starting on Sunday morning from 1.30am. Join at www.boxnation.com