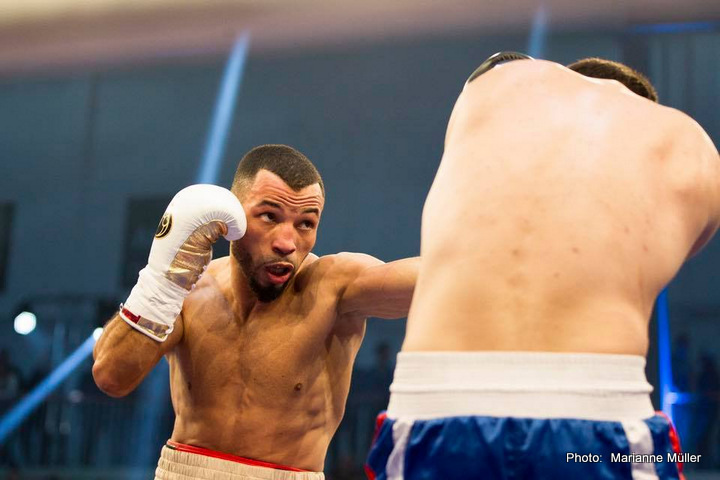 Light middleweight contender and former world title challenger Maurice Weber is ready for bigger and better things after coming back from an eleven month layoff caused by a fractured hand with a third-round knockout over Valeri Karelidze two weeks ago in Potsdam, Germany.
"It felt good to be back in the ring", Weber said. "You can train all you want, you can spar all you want – but you need the real thing to see where you stand. Granted and with all due respect, my opponent wasn't that good but still, my hand felt fine, I found my rhythm and I did what I had to do in getting him out of there early."
Maurice Weber on…
… his plans for the future:
"Like I said, it felt good to be back in the ring. But obviously, I'm looking for a bigger challenge next. I can't get into it too much right now but we are in talks for a huge fight in the fall. I'll be back in training pretty soon and I hope that I'll some big news in the next couple of weeks."
… the hand injury that led to the long layoff and the training for his comeback:
"Of course, it took a while to heal and obviously, I wanted to get back into action as soon as possible after the Culcay fight. I mean, the injury happened in the third round and I still fought on, never thought about quitting and, in my opinion, did enough to win the championship. The injury threw me back a bit but now I'm back and I'm stronger than ever. When I got the OK from my doctors, I immediately went back into the gym and started working.
I changed some things in my training regime to be even fitter, I have a new strength and conditioning coach in my corner for example. Even the small and rather short camp for my comeback fight felt great. But once I get the full eight to nine weeks, I won't be denied of my dream of becoming world champion."
… Amir Khan's fight against boxing superstar Canelo Alvarez:
"Amir visited Cologne, Germany, a couple months ago. We met and got along greatly. To me, he's one of the best fighters in the world right now. Most people write him off against Canelo but I don't agree with that. He's smaller, yes, but in my opinion, he is the better boxer and much faster. I feel Amir will surprise a lot of people on May 7. He will shock the world and defeat Canelo."