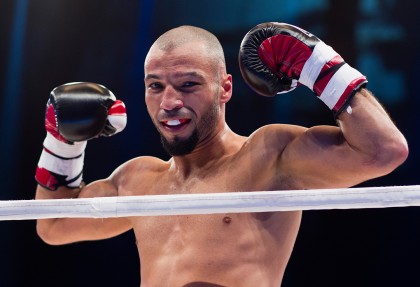 Since a career-threatening hand injury forced Maurice Weber (32) to temporarily retire for three years in 2008, he fought seven times on the undercards of his friends and promoter Felix Sturm. Weber won all seven bouts, mostly in dominating fashion. His last fight came on the eve of Sturm's record-breaking fourth world title win at the Porsche Arena in Stuttgart, Germany, on December 7, 2013. Weber stopped journeyman Volodymyr Borovskyy in just two rounds.
Following his seventh straight win, Weber spoke about necessity of easier fights after his comeback, the year 2014 and about his friend Felix Sturm:
Maurice Weber about…
… his comeback: "First of all, I'm very thankful to Felix and the whole Sturm Box- Promotion team. We have everything a fighter could wish for at our gym in Cologne. I didn't progress at my old promoter Universum because they had just too many boxers at their gym. That has changed now. Now, I have a world-class trainer in Magomed Schaburow on my side. He helped me to progress a lot. And I have the opportunity to learn from a fighter who has been at the top for more than ten years in Felix Sturm. I completed the last training camp with him and I learned a lot from it.
When I first came back, I wanted to do everything quickly. Too quickly. My dream is to become Felix' very first world champion. Therefore, I was calling out the big names and told everyone who would listen that I only wanted big fights. Now I know that those would have come way too early. I needed those seven fights against, with all due respect, lesser opposition to get my rhythm back and pick up new things. Felix always told me that and held me back. I know understand why he did that and he was absolutely right.
He also told me time and time again that I have enough time left. In our days, you can become a world-class operator in your mid-thirties. There is no need to rush since I always look out for my body. I don' t smoke, I don't drink and I always stay in shape. I have many years left on my clock. Those comeback fights where really important for me.
… the year 2014: "I want to fight for a title next year. I don't necessarily mean a world title, but a title that puts me closer to my dream of becoming a world champ. I believe I'm ready to take the next step. I still need to develop and I need to prove myself against better opposition now. My career essentially started again with my comeback in 2011. In a way, I
only have seven professional fights. I'll do everything I need to get to the next step. I can go on vacation when I did something noteworthy in the ring. 2014 could become my year!"
… Felix Sturm's fourth world title: "I told everyone beforehand: Felix is in the shape of his life. I knew that he would beat Darren Barker and become the first German four-time world champion. And he did that in impressive fashion. I hope that Barker's injury won't force him to retire. He's an outstanding athlete and deserves to continue his quest in boxing. But I believe he underestimated how strong Felix really is. Many did and that turned out to be a huge mistake. Felix is not only a close friend, but also my role model."
… Felix Sturm's career: "Felix has been on top of the world for more than ten years now. He became world champion for the first time in 2003 when he stepped in on short notice to challenge WBO champ Hector Velazco. He participated at the 2000 Olympics in Sydney. He outclassed the legendary Oscar de la Hoya in Las Vegas. And now he's the first German to win a fourth world title – at the age of 34. He deserves much more respect than many so-called experts give him.
Take a look at his career: he always learned from his mistakes, corrected them and came back stronger than before. What I learned about Felix in all those years is that he's at his best when under pressure. When he faced the hard-punching Maselino Masoe, for example. Or in his rematch against Javier Castillejo, whom he clearly beat after suffering a heart-breaking knockout loss in their first battle. Against de la Hoya or Sebastian Sylvester, where many people predicted him to lose. And now against Darren Barker. Who expected him to destroy the reigning champion like he did? Practically no one – except the people close to him. His friends, his team. Those who saw the change in him.
Felix archived everything in the sport of boxing. He didn't need to pave his way back to the top. He could've retired after the Geale and Soliman fights. But he loves the sport with all his heart and decided that he wanted to prove every critic wrong. He changed his life, he changed his attitude and he came back in convincing fashion. He's back now, once again a world champion. And honestly, I'm sure he'll stay on top for a long time now."