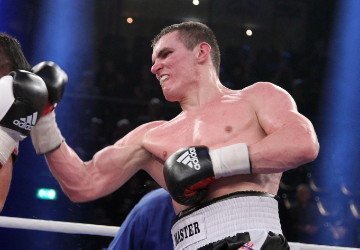 (Picture: Photo Wende) On September 15, Yoan Pablo Hernandez (26-1, 13 KOs) is going to defend his International Boxing Federation (IBF) Cruiserweight World Championship against Troy Ross (25-2, 16 KOs) at the Stechert Arena in Bamberg. Furthermore, fans of the weight division up to 200 lbs can look forward to another explosive fight that night. Highly ranked Mateusz Masternak (27-0, 20 KOs) of Poland will take on Spanish knockout artist David Quinonero (27-0, 26 KOs).
Masternak has already lifted his profile from just being a talented boxer to contender-level since joining Team Sauerland. He currently ranks at number three in the World Boxing Organization (WBO) and can also be found in the Top-15 of the WBC, WBA and IBF. Now he targets another win against 36-year old Quinonero. "He is a real good fighter with some serious pop in his fists," said Masternak. "I will not underestimate him as I have never done with any of my opponents. My focus is to beat him and that is what I am trying to do come September 15. Quinonero will be another step up to bigger and better things."
The prodigy of coach Andrzej Gmitruk already dreams about the big one: "Another win and it should be evident to everyone that I am ready for bigger fights. A challenge for the European Championship or even a chance to fight for a world title – I am prepared for it," Masternak revealed. Moreover, there is one fight on his mind, which sticks out the most – against his compatriot and WBC-Champion Krzysztof Wlodarczyk. "I do not hide the fact that I would love to fight somebody who holds a title and is also of Polish descent. It is a fight the fans in Poland already dream about for some time.
Hopefully it can be realized in the not so distant future."
However before such dreams can be fulfilled, Masternak has to beat a European top-15 cruiserweight in Quinonero. "He has his own plans and ambitions. If he beats me, it would open him doors to bigger and better match-ups. Though, I will not let my own chances slip away. Quinonero may beat me in his dreams, but I will not let that happen inside the ring," Masternak promises. Therefore the Polish Cruiserweight left nothing to chance in preparation for this fight. "My trainer always has a good workout plan arranged for me. Nevertheless, we always try to implement new exercises to improve certain things like my punching technique."