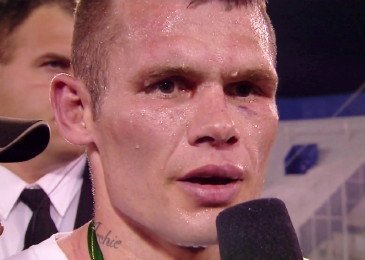 Monte Carlo, June 22 – World-ranked middleweight Martin Murray said he was in a different class to Max Bursak and so it proved at the Monte Carlo Casino on Saturday night as he dominated Bursak to claim the WBC Silver belt.
Fighting before a vociferous crowd which included his famous "Barmy Army" from England, Murray triumphed by scores of 119-109, 119-109 and 117-111.
Murray took a while to adapt to Bursak's awkward style, but once he did he was virtually unstoppable as he piled on the points and swept to a compelling victory.
Both fighters were guilty of too much clinching, which detracted from the quality of the fight, but Murray's superior speed and more accurate punching was a perfect foil to the Ukrainian's unorthodoxy.
Murray upped his game significantly from the seventh round, his slick counter-punching able to diminish Bursak's spoiling tactics.
Scores were announced after the fourth and eight rounds, according to WBC regulations, indicating Murray's stranglehold on the fight. Bursak tried manfully to stem the assault, but Murray was too quick and slick as he marched towards a probable world title fight in the principality in October, as promised by promoter Rodney Berman.
In the chief support, WBA and IBO strawweight champion Hekkie Budler of South Africa produced an outstanding display of body punching as he destroyed the ambitions of Pigmy Kokietgym of Thailand with a blistering eight round knock-out.
Budler had Kokietgym down three times en route to the knock-out, his fierce body attack doing maximum damage.
The challenger had arrived with a reputation as a hard man, but Budler was unfazed as he got to work with a sustained body attack, notwithstanding hurting his hand early in the fight.
Kokietgym took eight-counts in the fourth, seventh and eighth rounds before finally succumbing to a cracking uppercut to the body late in the eighth that sent him to the canvas for the full count.
Budler wasn't always a puncher, but in the past 12 months he has worked on his power to the point where his punching power has come into the reckoning in a significant way.
"Other champions came come, we respect them, but Hekkie will beat them all," said deligted manager-trainer Colin Nathan. "We're calling out the other champions, but I don't expect any response any time soon."
In a bruising fight for the WBA's Interim cruiserweight belt, Youri Kalenga of France via the Democratic Republic of Congo upset highly-regarded Mateusz Masternak of Poland on points over 12 rounds.
Kalenga, who goes by the nickname "El Toro" (The Bull), gored his way to an unexpected win. He appeared to prevail fairly convincingly, but had to contend with some exotic judging, winning a split decision (113-115, 116-112, 115-113).
Kalenga's relentless style proved unstoppable as he overwhelmed the Pole with a sustained attack to head and body. Masternak enjoyed occasional success with a clipping straight right hand, but his workrate was too low and he sucked up too many punches to offer a real threat.
Kalenga, raw but so strong, pressed the action through all 12 rounds and his delight at the verdict reflected the joy of a man whose moment had come.
The benefit of his first ever training camp was evident and his status as the division's new danger man was confirmed in compelling fashion.
In the show opener, Johnny Muller of South Africa discovered the folly of taking on an important fight at short notice, dropping a decision to the more experienced Doudou Ngumbu of France (via DRC) in a light-heavyweight 10-rounder.
Muller, who stepped in to replace Tommy Oosthuizen, never recovered from a head butt that opened a nasty cut over his left eye in the first round. He was always playing catch-up against a cagey opponent whose stick-and-move tactics proved effective as he won by scores of 96-94, 99-91 and 97-93.