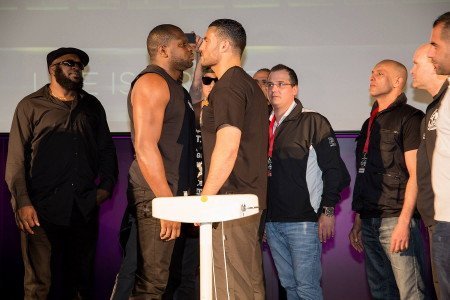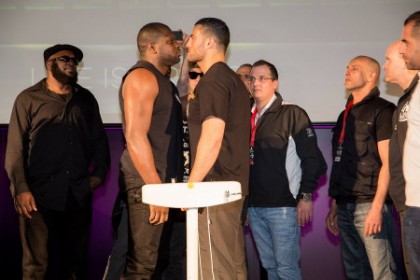 (Photo: Babak Shah Photography) This Saturday (April 12th) WBC #6 rated heavyweight contender Manuel Charr takes on Kevin "Kingpin" Johnson at Telekom Dome in Bonn, Germany. At today's weigh-in Charr brought 242.5 lbs. to the scale while Johnson weighed in slightly heavier at 244.5 lbs. Both guys left no doubt that they are ready for war. "People may not know it yet but Germany is my country", said Johnson. "They will love me once I whipped this guy's a**!"
"I will be the first one to knock out Kevin Johnson", stated Manuel Charr. "This is my chance to shine and to get closer to another shot at the world title." Both men have fought for the WBC heavyweight championship before losing to Vitali Klitschko. Johnson dropped a lopsided decision in 2009 while Charr was stopped because of a cut in September 2012. The winner will reenter the title race while it may be all over for the loser.
In the co-feature WBO # 15 rated middleweight contender Hamid Rahimi will take on Bronislav Kubin. Rahimi who made worldwide news in October 2012 when he promoted the first ever professional boxing fight in Afghanistan labeled as "Fight For Peace" weighed in at 161 lbs. His opponent was still on his way to Bonn when the weigh-in ceremony was held.
The show promoted by Manuel Charr's "Diamondoy Promotion" will take place at Telekom Dome in Bonn, Germany.