Share the post "Markussen backs Kessler to beat Magee as he prepares for new opponent; Magee arrives in Denmark"
Rudy Markussen (37-3, 24 KOs) will face Daniel Regi (16-7, 8 KOs) in his comeback bout on Saturday night at Jyske Bank BOXEN. The Hardhitter was originally scheduled to take on Ferenc Hafner, but the Hungarian pulled out on short notice due to an eye injury. "I am ready to beat whoever steps into the ring with me," said Markussen. I have a lot to prove. I´ve really had a good preparation, it has been a long one, since the summer, I am feeling really sharp and I´m ready to prove that I can still do it."
Markussen said he was still upset about losing to Magee in their clash in February. "It´s sad for a boxer to lose like that," he stated. "It was my dream fight and I still think I could have beaten Magee. I am very sad about how things turned out."
While Markussen starts his comeback on Saturday, Magee will defend his WBA Super-Middleweight Title against Mikkel Kessler. "I definitely think that Mikkel is going to win but he should not underestimate Magee," Markussen said. "Magee is a clever boxer. Against me, he walked backwards, but I think on Saturday he will jump right at Mikkel. I spoke to Mikkel about this fight and I gave him some advice. He needs to fight smart, use his long jab and his skills and move around. I think if he does that and doesn´t start fighting with Magee, I think he will stop him in the fifth or sixth round."
###
Magee arrives in Denmark
Brian Magee (36-4-1, 25 KOs) has arrived in Denmark. The WBA Super-Middleweight World Champion and his team flew into Copenhagen Airport from Dublin on Sunday afternoon and continued their trip to Herning by car. "I am happy to be back in Denmark," Magee said. "I have great memories and I love fighting here. I have knocked out Mads Larsen and Rudy Markussen, so Mikkel Kessler is the next in line. We had a great preparation in Belfast and will now go to Herning to use the last couple of days to get ready for the big fight. I look forward to facing Kessler, he is one of the all-time greats, I have a lot of respect for him but in the ring we will hate each other and I will defend my title."
Magee and Kessler clash at Jyske Bank BOXEN, Denmark´s biggest indoor arena, on December 8.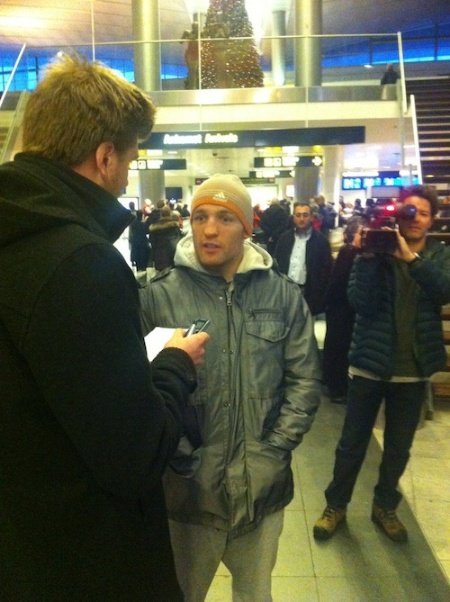 Share the post "Markussen backs Kessler to beat Magee as he prepares for new opponent; Magee arrives in Denmark"