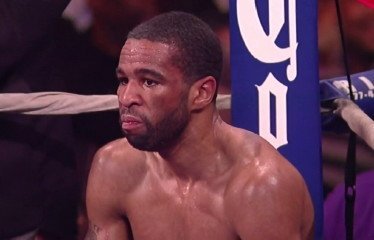 Kelly Swanson
Thanks, everybody, for joining us. We are so excited, this Saturday, May 18 at the Boardwalk Hall in Atlantic City for Lamont Peterson vs. Lucas Matthysse and Devon Alexander vs. Lee Purdy. And we're really excited to have this conference call today. We have all four fighters available and we are going to start with Mr. Purdy and Mr. Alexander.
Before we get into their comments, I'm going to turn the call over to David Itskowitch, Chief Operating Officer of Golden Boy Promotions, to give us a little information about the fight.
David Itskowitch
Thank you, Kelly. As Kelly said, our main event, Lamont Peterson vs. Lucas Matthysse, which is a 12-round 141 pound welterweight fight, and our co-main event, Devon Alexander vs. Lee Purdy, 12-round IBF Welterweight World Championship fight for Mr. Alexander's title, is Saturday May 18 at Boardwalk Hall in Atlantic City, promoted by Golden Boy Promotions, sponsored by Caesars Atlantic City, Corona, and AT&T.
We will be televising live on Showtime Championship Boxing beginning at 9:00 p.m. Eastern and Pacific, meaning we're delayed on the West Coast. Preliminary fights will air on Showtime Extreme at 7:00 p.m. Eastern and Pacific, delayed on the West Coast. And the fights will actually air immediately following All-Access Mayweather vs. Guerrero epilogue; which will start at 9:00 p.m. The event will be available using second audio programming in Spanish.
We still have tickets available starting at just $25. Ringsides are $250. We urge everybody on the East Coast, head to Atlantic City, available through the Boardwalk Hall Box Office and through Ticketmaster. Again, this is really, really, really a great show. The main event is one of the best fights that can be made around the 140 and 147 pound weight classes and then of course we've got a great world title fight with Devon Alexander and Lee Purdy.
A few notes about Fight Week-our final press conference will be Wednesday the 15th in New York City at Lucille's Bar and Grill, which is inside BB King's Blues Club in midtown Manhattan. Lunch begins at 12:30 p.m. and the press conference begins at 1:00 p.m.. And in Atlantic City on Thursday we have fighter roundtables beginning at 1:00 p.m. at Caesar's Atlantic City in the Apollo and Zeus rooms and Lamont Peterson, Lucas Matthysse, Devon Alexander, Lee Purdy, Anthony Ogogo and Haroon Khan will all be available there.
Then we have our weigh-in, which will be open to the public, and it will in the lobby of Caesars Atlantic City beginning at 3:30 p.m. on Friday. We urge everybody to come out. We usually have a pretty good turn out in the lobby of Caesar's for our weigh-ins there. And then of course fight night is Saturday the 18at Boardwalk Hall. Doors open at 3:30 p.m. and our first fight also begins at 3:30 p.m.
Now I'll introduce the fighters to say a few words. Before I get to Lee Purdy, I just wanted to acknowledge Eddie Hearn, the Managing Director of Matchroom Boxing, who we've been working with on several of our shows of late, working with his fighters and it's been great working with them.
One of those fighters is Lee Purdy, who has amazed British boxing fans by sailing to the top of the welterweight division despite having no amateur career. He can get into that, but from what I understand he did not have a single amateur fight yet he has risen to be the number four-rated IBF Welterweight Contender.
He's been a pro since 2006. He brings in a knockout streak into his first world title fight having finished off four consecutive opponents, including Cosme Rivera, who he defeated in March. He stepped up to take this fight after countryman Kell Brook was injured and was unable to participate and he's looking to make his mark in the United States by upsetting Alexander on Saturday. He has a record of 23-1 (13 KO's) from Colchester, England, Lee Purdy. Lee?
Lee Purdy
I'm excited for the fight. I'm ready. It's about late notice but I'm in good shape and I'll be dangerous for 12 rounds.
Itskowitch
Thank you. Now to say a few words, a young man from St. Louis, Missouri, the former IBF Junior Welterweight and WBC Super Lightweight World Champion, owns wins over Lucas Matthysse, Marcos Maidana, Juan Urango and Junior Witter. In 2012, he moved up to Welterweight and captured the IBF Welterweight World Championship by defeating Randall Bailey in October at Barclay Center.
On May 18 he finally makes the first defense of his new crown after several postponements due to injuries between him and Kell Brook. There were a couple of postponements and then finally Kell Brook fell out of the fight. But we're ready to go on the 18 in Atlantic City. With a record of 24-1 (13 KO's) Devon Alexander "The Great." Devon?
Devon Alexander
Thanks, Dave. 'Finally' is the word. I'm finally going to get in the ring after about six months of going back and forth. I'm ready to rock and roll. I'm fast. I'm feeling strong. It doesn't matter who I fight on the 18, Lee Purdy is a suitable opponent. I know he's going to come to fight but it's not going to matter because I'll be ready for anybody May 18.
I want to thank Golden Boy Promotions, my team and everybody else for staying on it, staying on it and continuing to get the right opponent. You guys got the opponent and now I'm ready to rock and roll.
Itskowitch
Thank you, Devon. I guess now we can turn things over to the media for Q&A.
Q
This is a question, this is a little off the beaten path for Devon. That is in 2004 you were going for a spot on the Olympic team. A guy that you're familiar with, Rock Allen, got it. I'm sure you're probably aware that a couple of years ago he had that serious car accident and hasn't fought since and apparently never will fight again.
Your thoughts on that and have you guys had any contact with him over the last eight or nine years? Are you a little disappointed maybe that there's no possibility probably that either one of you will ever fight him as a professional?
Alexander
Rock Allen, I did hear about the accident. I had sent my condolences and a few interviews I did after the accident, after I heard the accident had happened. It is terrible that it did happen and that goes to show you how life can take a turn for the worst or the better. For his case, I think it did for the worst.
He beat me in the Olympic trial finals in 2004 when I was going up to try to go the Olympics. Of course I wanted to get that defeat back. I was anxious to get a gold medal but I lost to Rock Allen 16-16, and they went to the scoring and he threw one more punch than me and got a decision.
I always wanted to get that back but I've moved on from that and now this is a professional game. I have no attachments to that. I'm world champion now. As far me fighting him, I've been passed that.
Q
Okay, just a follow up question, this is for Lee Purdy. There are a few fighters, that are in the Hall of Fame, Dwight Muhammad Qawi, is one, that didn't have any professional bouts. How much of a disadvantage was it, obviously you've overcome it, to go at the professional boxing with no aperture background?
Purdy
I did actually have amateur background. I only had the six when I was 11 years old but it doesn't make much difference. I've put in the hard work over the last few years to get where I am today.
Q
Devon, I wanted to ask you about-like you mentioned in your opening remarks about sort of just the general ups and downs of having your fight with Kell Brooks scheduled and postponed I believe three times. Once because of an injury that you suffered with your bicep and then two times because of injuries that Kell had. And I just wanted to get your take or just your thoughts about just sort of the emotional roller coaster of thinking you're going to fight and the fight gets cancelled because of your own injury, and then, his situation comes up.
How do you go back and forth from being in a hard camp to like maybe just easing up a little bit? I know how you and Kevin worked together to get to the point now where you have to change everything up and now you're focused on a new opponent, Lee Purdy, who is a whole different kind of fighter than Kell Brook was. What's that been like for you over the past, I guess, about, like you said, six months or so?
Alexander
As far as me fighting Kell Brook, it was a roller coaster going back and forth. He got injured, postponed it, then I got injured and then he postponed it again. Then he got injured again then we had to do something else.
So it was a roller coaster and it was very frustrating but I'm a firm believer in it's going to happen when it's supposed to happen. Everything happens for a reason. No mistakes happen. No mistakes happen and in boxing, whatever happens, it's supposed to happen and I'm a firm believer in that.
I'm fighting Lee Purdy for a reason. He must be a suitable opponent. He must be the guy I'm supposed to be fighting at this particular time. So I wanted to fight Kell Brook because they consider him one of the best at 147. I wanted to beat him but they put Lee Purdy in front of me and now I've got to beat him.
Q
How is your bicep?
Alexander
My bicep is good. It's good. Right after I injured my bicep I did therapy on it. I started doing immediate therapy. When I found out it was just a little tear in my bicep, I found that it was healable with therapy and going to the therapy every other day would help it and now it's ready to go. I'm ready to rock and roll 100%.
Q
When you switched up opponents and you changed over from Kell-and you guys have been talking a lot of smack with each other, I guess, but Kell Brook and Lee, they're in the same promotional group. How much do you know about Lee Purdy and if you're able to beat his stalemate do you think it kind of sends a message to Kell Brook that you're not to be messed around with?
Alexander
I'm a student of the game. When they say I was fighting Lee Purdy, immediately me and my coach and got on it and see what had to deal with because I'm a student of the game. I don't take anybody lightly.
With that being said, I do want to make a-I want to send a statement to everybody at 147 that I am a force to be reckoned with and that's what you're going to see on fight night. I'm ready for whatever. I'm versatile anyway. It didn't matter if they switched it up to whoever. I was going to be ready for May 18th. I saw all different type of styles, punchers, boxers, sluggers, whatever you name, I've seen it all and I'll be ready for whatever he brings.
Q
All right, great, thank you, Devon. I have a question for Lee. Lee, it's good to talk to you today. When this fight came up for you can you describe-because it kind of came out of left field, can you describe what your thoughts were when you were told, "Hey, I have an opportunity now to fight Devon for one of the world titles?"
Purdy
When you lace up a pair of gloves when you're a young boy this is what you dream of and now it's come true.
Q
What was it like for you when you heard? I guess was it Eddie Hearn that told you about it or was it somebody else that told you about it? What was your immediate reaction?
Purdy
It was my manager and I didn't have to think twice about fighting Devon. Obviously I saw him fought before and then I believe I can cause him some problems.
Q
Who was your manager, by the way?
Purdy
Tony Sims.
Q
Tony Sims, okay. And how did he tell you? Just call you up and say, "Hey, Lee, we have this opportunity," or did he say, "Hey, guess what? You're getting a title shot?" I'm trying to get an idea of idea of what that conversation is like when it sort of comes out of nowhere and you're not training for a world title fight and all of the sudden within a few weeks you're going to be stepping into the ring with Devon Alexander.
Purdy
He called me up and he just said, "You've got to fight Devon for his IBF title because Kell Brook pulled out." And I said yes straight away.
Q
But before you knew when the fight was, where the fight was, how much money you were going to be making, anything like that?
Purdy
Yeah, before I knew anything about money, where the fight was, I just said yes straight away.
Q
So what are your thoughts then about coming to America to fight this fight on a very big TV stage, at least in this country. I assume it's going to be televised also back to England as well. Listen, I don't think it's any secret to say Lee Purdy comes into this fight as an unknown fighter in the United States, certainly as an underdog in this fight. You don't seem like you have anything to lose and you sound confident. So what are your thoughts about coming here to try to take this title back to England?
Purdy
When me and Devon step into that ring it doesn't matter where the ring is in the world. It's the ring at the end of the day and Devon that's going to be in front of me. I'm in great shape and I'm ready to put a big statement out there.
Q
Devon, I want to pick up on what you said. You want to leave a statement to the rest of the 147-pound division. Your last two fights, in fact your last three fights, but in your last two fights you impressively lost very few rounds, if any. And what do you think that says about your skills, number one, and number two, do you feel like you're ready to step it up in terms of maybe getting a knockout?
Alexander
For sure, for sure. I'm comfortable at 147. I believe in my skill. I believe in my skill and a lot of people actually don't give me the credit that I deserve and take me lightly and take me for granted, which is cool, which is cool. I'm going to continue to beat these guys. I'm going to continue to beat whoever they put in front of me.
Sometimes you've got to make people respect you and that's what I'm going to do. I just got to continue to win, continue to stay in the gym, continue to learn, continue to progress and continue to step up my game in the ring. Fight better opponents. I'm looking to fight better opponents. I never shied away from any opponent. I'm just looking for the best. After this fight I want the best but we've got to deal with May 18th first.
Q
Okay. When you go back and you look at the Maidana fight, you came close to stopping him. In your estimation, is that true and if so why didn't that happen?
Alexander
Yes, actually when I went to go look back at the fight I did like, "Damn, I could've stopped him," but I was just so anxious to put a hurt on him. I wasn't relaxed enough and just wanted people to know that Devon is back. At 147 I'm better; I'm stronger and I wasn't as calm as I needed to be for me to see the knockout.
When I went back and looked at it I was like, "Wow, I could've hit him with this shot. Hit him with a fasts shot," and it could've ended a fight, but the Maidana fight is over. I'm constantly learning. I'm smart in the ring. So I'm going to make up for that. There's better things to come for Devon Alexander. I assure you that.
Q
Okay, so you're saying basically you can pick up where you left off in the Maidana fight. If that opportunity presents itself against Purdy, who is a good puncher, solid puncher; like Dave Itskowitch was saying, has four straight knockouts, do you think that you've learned enough from the Maidana fight to compose yourself and finish off an opponent like that?
Alexander
For sure, for sure, for sure. It's long overdue. Lee Purdy's coming to fight. He's hungry. He wants my title, but he's just in the wrong spot right now, the wrong time, the wrong time for him. I'm in another lane. He's in another lane, but my lane is going. If he thinks he's headed for super stardom he's in the wrong place at the wrong time.
Q
Okay. My last question for you, when you say super stardom and bigger, better things would it be presumptuous of me to say you're talking about Floyd Mayweather?
Alexander
Let me get past Lee Purdy first. We'll talk about the future, but I want to focus on him first.
Q
Lee, since you accepted this fight, how much have you been able to go back and check out Devon's last two or three fights, Matthysse, Maidana and Bailey, who are all three power punchers, and assess how he did against them given your propensity to knock guys out?
Purdy
I've watched him a lot. He holds a lot. I've come all this way to fight … he doesn't allow the holding; it'll be a good fight.
Q
How do you deal with a guy like him who obviously has taken advantage of situations using his boxing skills? Whether you say it's the ref or not, how do you do what those three guys couldn't do?
Purdy
I believe I'm stronger than the three other guys and I punch harder than then and it's going to make for an exciting fight.
Q
Okay. So you actually think you have an advantage over the guys he's faced?
Purdy
Yeah, mate, definitely. When he gets close to me of course he's going to want to hold, but my strength, and I'm not going to stop punching until he lets go.
Q
Last question, I guess have you been able to talk to Kell Brook about Devon, since he's your promotional stable mate? Have you been able to get anything from him? Do you talk to him much about what he was going to do against Devon, as far as scouting report?
Purdy
I haven't spoke to Kell. Me and Kell have two different boxing styles. I couldn't pick much off of Kell anyway.
Q
Hi, good afternoon, both fighters. I'd like to just wish both of you the best of luck Saturday night Atlantic City. Looking forward to seeing both of you in the ring. I just have a question for each guy. I'd like to start out with Devon.
Devon, you worked for a fight against Kell Brook for months and months and months after all the postponements that took place. Obviously Kell Brook was a bigger, higher profile fight for you than the fight you'll have Saturday night.
So I guess my question is how do you guard yourself against a bit of a let down, given that you were expecting to be facing a little bit more of a higher profile opponent on Saturday than what you're having? You're also linked obviously via Twitter to a potential Floyd Mayweather fight not too long ago. So how do you guard yourself against a let down, given that this is not the fight that you were preparing for and probably not the fight you were expecting to have this Saturday?
Alexander
You don't worry about. You don't worry about. You have no control over what happens in boxing. Boxing, it changes every day. When you wake up you can hear something in one day; you wake up and it's changed again. You just can't let it bother you. You just have to continue to train, continue to do what you got to do for you and your team, getting your team together and just coming up with the best moves to make. That's what I did.
I'm going to make the best fight we can for Saturday night and we got Lee Purdy. We have to handle business as usual. I wanted to fight Kell Brook but he was injured so we had to switch him to the side because we couldn't worry about him no more. We had to move on because it would be going on six to seven months dealing with me and Kell. You couldn't worry about it.
For the Floyd thing, it was just a Tweet everybody went crazy over. I was still focused on Kell Brook at the time. I wasn't really tripping over Floyd because I had an obligation to fight Kell Brook.
As far as being let down, I'm not let down at all because I always stay positive. I'm a positive person and I believe everything happens for a reason. Everything happens on time. I'll be ready for whoever, like I said, on May 18, and that's Lee Purdy. So I'll be ready for him.
Q
All right, thank you so much, Devon, and good luck to you in the fight on Saturday. Lee, I guess I have one question for you.
Lee, as a fighter who comes into this bout on Saturday, as I think some others have touched on, a relative unknown in the United States. We've seen this happen from time to time. A guy like yourself gets a call for a big fight, cashes it in and makes good on it and becomes the next big star in boxing.
Could you just tell us briefly, for those of us who have never had the opportunity to see Lee Purdy fight, who you are as a fighter, what type of fight you're looking to bring on Saturday night and how you hope to impress the audience, not only here in America but back home, and bring that world title back to England?
Purdy
It's a fight for as long as it takes. I didn't come all this way to America to let the fans down. That's exactly what I'm going to do. I'm going to come in to fight and I'll find a way to win.
Q
Okay, great, thank you, Lee. And again, thank you both guys and good luck to both of you on Saturday.
Q
Devon, how the postponement affected you, because sometimes fighters, a fight gets postponed due to injury maybe once and then a new date is made, but three postponements, two to Kell Brook and then one to you, how did that affect you mentally and also in your training regimen?
Alexander
It didn't affect me mentally at all it was just frustrating. Frustrating that you training for this guy. You're in a gym. You've got sparring partners flying in. You have all this going on and he pulls out again. Thinking a definite fight's going to go on. We're definitely on for May 18. It's frustrating. But like I said, at the end of the day my team got together and said we had to move on and that's what we did.
Now our full focus is on Lee Purdy. We're 100 percent focused. We know he's a tough cookie. He's coming to take my belt and we're 100 percent prepared for him. Like I said, I'm on a different level and I'd be ready May 18 for whatever he brings.
Q
What kind of changes do you see or differences do you see in Lee Purdy and Kell Brook as fighting styles and how did you have to adapt, since you were training for Kell Brook, in your training and then all of the sudden have to change everything for Lee Purdy?
Alexander
Like I said earlier, of course you had to change the game plan up a little bit, but I have saw every style there is in boxing. I have saw it. Whether it's speed, slugger, whether it's boxer, boxer/puncher, whatever, I done seen it. So it wasn't that hard to adjust to what Lee Purdy will be doing, what we saw what he'll be doing and it was just a flick of the wrist.
I think I'm talented enough to adjust to anything, any situation, any style they put in front of me. With all that said, it wasn't that hard. My coach said it was Lee Purdy. My coach gets right on it. Started to figure the game plan out. That weekend he came up with the game plan and we already set it in motion. We're ready.
Q
Devon, I know you were talking about the 2004 Olympic trials and your loss at that current time. How has a loss against Tim Bradley affected you? Do you see maybe a possible rematch with him in the future? Is that something that has kind of eaten away at you and something that you want to go forth and redeem?
Alexander
That's a fight that's just going to just have to happen with time because at this time he was Top Rank. I was Golden Boy. So I'm really not worried about the fight with Timothy Bradley because we're on two different roller coasters.
But if it was to happen, I would love to make it happen if it was right, if the time was right and everything, if those pieces came together for it. But as of right now, I'm just focused on moving forward and becoming one of the best boxers at 147. So we'll just see what happens in the future.
Q
All right, best of luck on Saturday night. Lee, my question for you is since you haven't had like an amateur background, how do you think that's going to affect you in a fight, especially against a top-level opposition in Devon Alexander?
Purdy
The amateur style is different to the program. We're 12 rounds and it's not all just about skills because in the amateur it's three rounds. We've got 12 rounds in and it comes more to just skill. In the prior ring you need heart, you need power and you need your ability to get through a long 12-round fight and I believe I've got all of that in abundance.
Q
We've seen a couple fighters especially that haven't had a great amateur background and kind of turned pro at a late age, kind of like Sergio Martinez, fighters in that class. Do you consider yourself in the same class as Devon Alexander? He says he's going two different lanes. Do you see yourself in the same lane as him or do you see yourself better or do you see yourself on the same platform?
Purdy
Of course I'm on the same platform as him. I'm in position to challenge Devon's title and come May 18I'm going to show the world what I'm all about.
Q
Good afternoon, gentlemen. This first question is for Devon. Your last time out against Randall Bailey wasn't the most prettiest fight to watch. The crowd kind of got a little bit upset and booed a little bit. Do you feel this time that you've got to do a little bit more in the ring to kind of please the crowd and maybe kind of build that buzz for the bigger fights that you're looking to get maybe down the road?
Alexander
Of course. I think everybody in the entertainment field wants to be entertained. This is boxing. You have to be entertaining, of course. I felt that at that time, being smart, that fight was about being smart and getting the title; getting the title and getting out of the ring with the title. That's what I did.
In this fight, you have to be smart but you can do a little bit in this fight. I'm expecting an exciting fight because Lee Purdy's exciting. He's going to come to fight and I'm willing to fight too, myself. So it's going to be a good fight May 18th.
Q
And then my next question is for Lee. With this being your first time fighting here in the States, what can the U.S. fans expect to see from you in this fight and what about Devon's style do you think that you can expose during the fight?
Purdy
America's going to enjoy my style. I've come to fight for three minutes of every round. They're going to expect me to put pressure on Devon. Of course I'm not going to sit back and let him out box me. I'm going to put my heart and soul into this fight and come out victorious.
Swanson
Okay, I think that was the last call for these guys. Do you guys want to make one last comment and then we're going to switch it over and put Lamont and Lucas on the line. Why don't we start with you, Lee, if you want to say any last comments. Lee?
Purdy
No, that's good, thanks.
Swanson
Okay. Thank you so much for joining us and we'll see you this week. Good luck at the fight. Devon, for you?
Alexander
Thanks to all the media. Thanks to everybody that had the questions for me and see you Saturday night.
Swanson
Okay, all right, so both Lamont Peterson and Lucas Matthysse are on the line. I'm going to send it back to Dave Itskowitch to make the introductions for these fighters. Dave?
Itskowitch
Thank you, Kelly. Before I introduce Lucas to say a few words, I just want to acknowledge our co-promoter who we promote Lucas with and that's Mario Arano from Argentina. I just wanted to acknowledge him before I introduce Lucas. As I said earlier in the call, this fight is really one of the best fights that can be made in and around the 140 and 147 pound weight classes. Lucas Matthysse is one of the most feared fighters in the game today, most notably because of his crushing knockout power, but I think he's surprised many people with his boxing ability as well.
He bounced back from two controversial split decision losses to Zab Judah and Devon Alexander, each in opponent's hometowns to score five straight victories with all those wins coming by way of knockout. A lot of people that watched those fights believe that Lucas won both of them and should be undefeated right now.
In his last three fights, the 30 year old has torn through stiff competition defeating former three division world champion, Roberto Soto, then number one rated WBC Super Lightweight contender, Olusegun Ajose and top contender Mike Dallas Jr. He'll be looking to stake his claim as one of the top ten best pound-for-pound fighters in the world this Saturday when he squares off against Lamont Peterson. He has a record 33-2 with 31 knockouts, from Trelew, Argentina, he's been nicknamed by some media members "The Machine," Lucas Matthysse.
Now I will introduce Lamont Peterson and I just want to acknowledge Barry Hunter of Headbangers Promotions, who's also Lamont's trainer and father figure. And I also want to acknowledge Cologne Hunter of Headbangers Promotions who's an integral part of Lamont and his brother Anthony's lives and has been for a very long time.
Most of you know Lamont rose from a very difficult childhood, being homeless on the streets of Washington D.C. He eventually went on to win the Unified 140 pound World Championship in front of his hometown fans in D.C., just a short ways away from where he was homeless a few years before that when he defeated Amir Khan in December of 2011
He's currently the IBF Junior Welterweight World Champion. In his last fight he dazzled his hometown fans with an 8th round technical knockout win over former world champion Kendall Holt. We're extremely pleased for him to be fighting under the Golden Boy Promotions banner for the first time in this fight. With only a three-month layoff, Peterson's looking to capitalize on a quick turnaround when he faces one of the hardest punchers in the sport. He has a record of 31-1-1 with 16 KO's, from Washington D.C., Lamont Peterson. Lamont?
Peterson
Training camp went well, it's pretty much over. I'm anxious for the fight this weekend. I'm looking forward to it. It should be a great night of boxing, great for my career; great for the sport of boxing and everybody else that's involved.
Q
Good afternoon, guys. The first question is for Lamont. I'm just wondering how do you see Lucas stacking up with the competition that you've had so far? Where do you rank him in terms of competition?
Peterson
Of course I'll have to see this weekend, but as far as what I see on paper and on film, he's right there with the rest of those guys, if not better. He's a top guy. We're fighting each other for a reason, because we're two of the top guys that want a challenge and that's what we're going to do Saturday night.
Q
Do you think that he has greater punching power than perhaps some of the other guys that you've faced, like Holt or anybody like that?
Peterson
I'm not sure because I normally don't worry about anybody's punching power before the fight. I understand that it's boxing and I'm going to get hit. So I just don't worry about it. That's something that's a given. If I get hit hard or not, that really doesn't make a difference to me. I'm willing to take any shot that anybody can give out.
Q
What did you get out of the fight against Holt? What did you learn about yourself in that particular fight?
Peterson
I really didn't learn anything about myself that I didn't already know. It was good to get back in the ring. It had been a while since I'd been in there and I just wanted to get in there and really get my feet wet again and that's pretty much it-getting comfortable because I knew these big fights were going to be coming and coming fast.
Q
Lucas, do you think you have to go into this fight with the mentality that you have to get a knockout because you've lost so many tough decisions to top opponents of in championship caliber fights?
Matthysse
I'm not coming in with that mentality. I've been training a lot because i know that i am going up against a very experienced fighter.
Q
Do you think you'll get a fair decision?
Matthysse
Yes, I'm not worried about that. I'm going to come out to do my work. I'm going to work just like I've been working hard for the fight and I believe the judges will give a clear decision.
Q
A couple questions first for Lucas. Lucas, can you give us an idea of when you realized you'd be able to be a fighter with great punching power? And how much confidence that gives you maybe if you're behind in a fight where you know you can win it just with one good punch?
Matthysse
Early on in my career I found out that I had a good punch. I've obviously trained hard throughout my career to obtain that. And , yes, it gives me calm. It gives me a lot of confidence and I'm very calm in the fights because I know what the opponents are thinking about in order to land one punch they might get caught with one of my punches. So obviously it's a great deal of confidence that I have because of my punch.
Q
Can you talk a little bit about kind of the pride you take in having as many knockouts as you have, is it something you wear as a badge of honor? I know you talked earlier about not approaching this fight thinking that you have to win by knockout, but what's the pride level you take in knocking out your opponent?
Matthysse
Yes, there's a lot of pride and there's a lot of pride and obviously it's one of the most important things in boxing, being able to knock someone out, something that's very, very important to this sport. I feel a lot of pride and a lot of happiness.
Q
Lamont, we talked about your defense and how much pride you take in it. Going into a fight like this where you're facing a guy that has potential for a one-punch knockout, is defense even that much more important for you? Will it be that much more important for you on Saturday night?
Peterson
I won't worry about defense too much. I'll just worry about-the only thing on defense I'll worry about, just not getting hit clean and that's always the case in every fight. Because at the end of the day, whether a person can punch or not, if the person can punch really hard and he hits you clean then yes, you're going to go out. But even if the person can't punch that hard, if he hits you clean you can go out. So I mostly concentrate on not getting hit clean and that's what I'll do in this fight.
Q
Lamont, again, against Holt you talked about how you were kind of measuring him up in the first couple rounds and then feeling him out and then you started, in the fourth round, taking over. Is that a strategy you think you may be employing again this time when you fight Matthysse?
Peterson
You've seen a lot of my fights. That's kind of how I work or go about things. People can call me a slow spotter, but I guess that's the case. I take my time. I figure things out and after a few rounds I start taking over.
Q
I have a question that's a little bit of course. And that is Philadelphia's like a one-hour drive from Atlantic City. You have a history in the amateurs with Rock Allen. You're probably aware of the horrible automobile accident he was in a few years ago that ended his career. Have you had any contact with him over the last seven or eight years or at least since the 2004 Olympic trials? I was a little curious that both you and Devon, who were at the trials with him, being on this card as world champions. And the other thing is are you a little sad maybe that you won't get a chance to resume your rivalry that you had with him in the amateurs as a professional?
Peterson
I haven't been in contact with him since the amateurs. We were never one-it was kind of like a rivalry so we never really talked much. I talked to his father once or twice last year and he said that they were doing pretty good. He kind of gave me an update on him.
As far as the rivalry thing and the pros, I was looking forward to it but that's life. You know how life goes. A lot of things that you want and that you're expecting sometimes never happen. I just hope the best for him, for a full recovery. I heard he's doing pretty well now. I'm sad that he's not going to be able to continue his career because he really could fight and had a promising career, but the main thing is I'm happy that he's alive and he's healthy.
Q
One of the things, I think it was Dave Itskowitch that said at the beginning was that Lucas was one of these fighters that very few people really want to fight. You seem different than that, that pretty much within a couple of days after your victory against Kendall Holt or even maybe that day or the next day there was discussion that you would make this fight.
It was just a matter of working out the deal, but you and your team, Barry and everybody, seemed very anxious and interested to fight Lucas Matthysse. And I'm wondering what was it about Lucas that made you different than pretty much everybody else in the weight class that was running towards a fight with Lucas as opposed to away from a fight with Lucas?
Peterson
It was nothing about Matthysse that I saw in the ring. It was the media who said things like, "No one wants fight him." I'm in a division, in the same division, when I hear things like that, that are not true, it kind of gets under my skin. I'm like, "I'll fight anyone." Not being angry or anything, it's just the fact that I want to prove to everyone I'm the best at the weight class.
A lot of people, when you hear about the best in the weight class, they were saying his name. So of course that was the person that I wanted to fight to prove myself and to let people know that someone out here wanted to fight him.
Q
I'm also curious about this. Listen, it's a great match up, as we've all talked about. This is not anything bad about it. I love this fight, but I am curious as to the reason why you both have selected to do this fight at 141 pounds when you both have belts-you have your IBF title. He has his interim title-and why it is not for either of those belts at stake? Could you talk about your take on that?
Peterson
With me I always thought that we were fighting for my belt. I wasn't sure if we were fighting for his belt. But for the most part, that's what I expected until a few weeks ago when it was said that it wasn't. I guess at the end of the day I heard a few different stories. So when you hear a few different stories some of them are not correct and one might be correct.
But the main thing is you have two of the top guys fighting each other. To me, I won't say belts don't mean anything, but as far as where I'm trying to be in this sport and trying to be the best fighter at the weight class and possibly another weight class, those belts mean nothing-
Q
But the thing is, Lamont, you wanted-if it had been your decision solely…?
Peterson
I would've made 140 pounds easily and defended it, no problem, not one problem.
Q
Okay. Lucas the same question about the situation with title? My understanding is that you were the one that wanted to still have his interim title. So because the IBF, for obvious reasons, would not allow a unification between its title and an interim title you made the decision to hang onto the interim title to sort of maintain his mandatory status for the Garcia Title. Could you explain what your thought process was in making this a non-title fight?
Eric Gomez
I can answer that for you, if you'd like.
Q
I'd like to hear the answer and I'd also like to hear Lucas' opinion.
E. Gomez
Okay. Well basically the IBF has a rule. The IBF has a rule and they do not allow or they do not recognize interim titles. So if Lucas was going to put his title in play they would not approve the fight. So that was a big obstacle for us. We all put our heads together and the best outcome would be to make the fight at 141.
Everybody knows that both guys are two of the top guys in the division. Everybody obviously recognizes that Lamont is the world champion. He won the title. It's his title. And Lucas, he won his interim title. So because both organizations couldn't come to an agreement, they talked amongst themselves. I understand the Mauricio from the WBC spoke to their people and then tried to work something out and they couldn't come to an agreement so we all decided the best thing to do was to fight at 141.
Q
That with Lucas having the interim title that the idea of any interim title is to get a shot at a regular world title. That by getting this fight with Lamont he would be fighting for Lamont's major world title and therefore the interim title wouldn't really be necessary.
E. Gomez
Yeah, he obviously fought very hard and he paid the sanctioning fees to the WBC. So he wanted his belt in play.
Matthysse
Obviously an agreement couldn't be reached for the title but I'm fine with it. I'm calm and I'm fine with it because everybody knows that this is an important fight. Whether there's a title or no title involved, this is a very important fight. Two top guys fighting each other so this is an important fight, but I feel fine. I'm calm and it's still a very important fight.
Q
Okay, and just one other thing for both guys. Lamont, your first, like Eric just said and Lucas said, a very important fight, a good fight in the weight class, two of the top guys, but having talked to Richard Schaefer from Golden Boy, he looks at this as having had Danny Garcia get his win against Zab Judah a couple of weeks ago and you two guys are going to go at it on Saturday. What he would like to do is take Garcia, who won the fight in April against Judah, and the winner of your fight on Saturday, be it yourself or Lucas, and make perhaps what could be even a bigger fight sometime in the fall, maybe September, between the winner of Saturday's fight between you guys and Garcia to unify some of those titles. What are your thoughts about using this fight to get into that fight and then your thoughts about that match up possibly?
Peterson
I'm okay with any of those match ups. At the end of the day, those are some of the top guys in the division and to me that's what boxing's all about. Once you get to this level it shouldn't be any more C class fighters. There should be top-level guys, top five. I don't even want to say top ten. It should be the top five guys. And those are some of the names that are in the top five, in my book, so I have no problem with that lineup.
Q
So you like the idea of using this to get into a big fight with Garcia if you win Saturday?
Peterson
Yeah, yeah, I'm definitely okay with it.
Q
Lucas what are your thoughts about the winner of this fight getting a shot to unify with Danny, who's through his half of the mythical bracket?
Matthysse
Yes, definitely, definitely, that's what I want. I want that, if that's the reason for this fight. I hope that everything comes out okay because yes, I would love to fight Danny Garcia.
Q
If I could just please start out with Lamont. Lamont, obviously you got the biggest win of your career when you upset Amir Khan and then you were out of the ring for an extended period of time before returning against Kendall Holt. So I guess my question for you, Lamont, is you know boxing as well as anybody does and it's not just about winning fights. It's also about being in the forefront of people's minds when you're trying to make fights and you had that extended period of time where you were out of the ring. So I guess my question is how important is it for you, on a big stage on Saturday night, to make an emphatic statement that not only is Lamont Peterson back but that he never was really gone to begin with?
Peterson
It's very important. Every fight right now is important to me because you're at the top level right now and every fight that you win, every fight that you're in is a big fight and if you win that big fight you're going to a bigger fight. I'm 29 years old now. So I'm, some people might not say this but, on the tail end of my career. I don't plan on doing this much longer.
Everyone knows that in boxing a loss is a setback. So it's important for me to go out and win for many different reasons. I'm still trying to bury that whole drug testing situation. People seem to forget very fast about how I performed up and to that Khan fight. And then after the Khan fight a lot of people were saying I need this and that and this and that. But people forget that I've already been a top fighter and I just want to get paid to go out and to prove to people that Lamont Peterson's still a top fighter and a world champion.
Q
Just one more for you, Lamont, if you don't mind. Obviously you haven't stepped in the ring yet with Lucas, but everyone on the call and I'm sure yourself and your team are well aware of the reputation he brings into the ring as being a very, very strong power puncher. I know obviously you haven't fought him yet and you'll be better in position to answer this question on Saturday or even Sunday, but where would you rank him among the punchers you've faced in your career before him?
Like I said, he has that reputation as being a knockout artist, a very fearsome power puncher. So where would you rank him in terms of the punching power that you've seen in the past in your career and do you feel that he could present any sort of a problem for you come Saturday night with that power?
Peterson
Like you said, it's hard to tell. I'd have to answer that question after Saturday night, but as far as from what I feel and think, he's a strong guy and he can punch. It's not the fact that-you have good punchers who don't have good knockout ratios. I think the fact that he works hard and the fact that he gets a lot of knockouts, for the most part, the punching power, but a lot of times you can get power from just working, just knowing how to break someone down. I think that's more the case with Lucas than anything.
Q
All right, thank you so much, Lamont, and again, the best of luck to you on Saturday night. I have a quick question for Lucas. It's a little similar to the first question I had for Lamont in that Lucas, you have a reputation. You're a big puncher. Lots of guys have seemingly gone out of their way to try and avoid fighting you for that reason. So my question for you is, given the fact that in the two losses you have in your career against Alexander and Judah, you knocked both guys down. There was a lot of discussion and debate over whether you truly deserved to lose those fights. And with your reputation of being an avoided fighter, how important is it for you to get a win on Saturday night, because if you lose it's going to make it a little bit more difficult given your reputation to get another big fight like this? So how important is it for you Saturday night to make a statement against Lamont and establish yourself as a star in the sport that people can't avoid?
Matthysse
Yes, it's very important. Winning this fight on Saturday and doing it in big fashion is going to open doors. It's going to open a lot more doors. So it's very, very important. Probably the most important fight of my career. I'm looking for the big fights. I want the big match ups. We want the big names and it all starts Saturday.
Swanson
Okay, so that was our last question. Lucas if you want to say any last minutes comments before we let you go and then we'll finish up with Lamont.
Matthysse
Great, thank you for the support, everybody, and it's going to be a great fight on Saturday. Don't miss it and we'll see you there.
Peterson
I'm looking forward to Saturday night. I'm a boxing fan so the fight's right there to make me excited even though I'm the one fighting. Just thanks for everybody's ongoing support. DC will be in the house. I'm looking forward to it. I'll see you on Saturday.
Swanson
Okay, great, thank you so much. Okay, that wraps up our call and we look forward to seeing everyone at the Fight Week activities and then again in Atlantic City this weekend. Thank you very much.
END OF CALL
Peterson vs. Matthysse, a 12-round 141 pound catch-weight fight,will take place Saturday, May 18 at Boardwalk Hall in Atlantic City, New Jersey. The event is promoted by Golden Boy Promotions, sponsored by Caesars Atlantic City, Corona and AT&T and will be televised live on SHOWTIME® at 9:00 p.m. ET/PT (delayed on the West Coast) immediately following ALL ACCESS: MAYWEATHER vs. GUERRERO Epilogue. In the co-main event, IBF Welterweight World Champion Devon Alexander defends his title against IBF number four rated welterweight contender Lee Purdy. SHOWTIME CHAMPIONSHIP BOXING® is available in Spanish on secondary audio programming (SAP). Preliminary fights will air live on SHOWTIME EXTREME® at 7:00 p.m. ET/PT (delayed on the West Coast).
Tickets priced at $250, $125, $75, $50 and $25, plus applicable taxes and service charges, are available for purchase at the Boardwalk Hall box office, by calling Ticketmaster at (800) 736-1420 or online at www.ticketmaster.com.